This is not just any crab meat appetizer. This is an authentic, Louisiana recipe that I've been enjoying for decades and if one thing's a fact…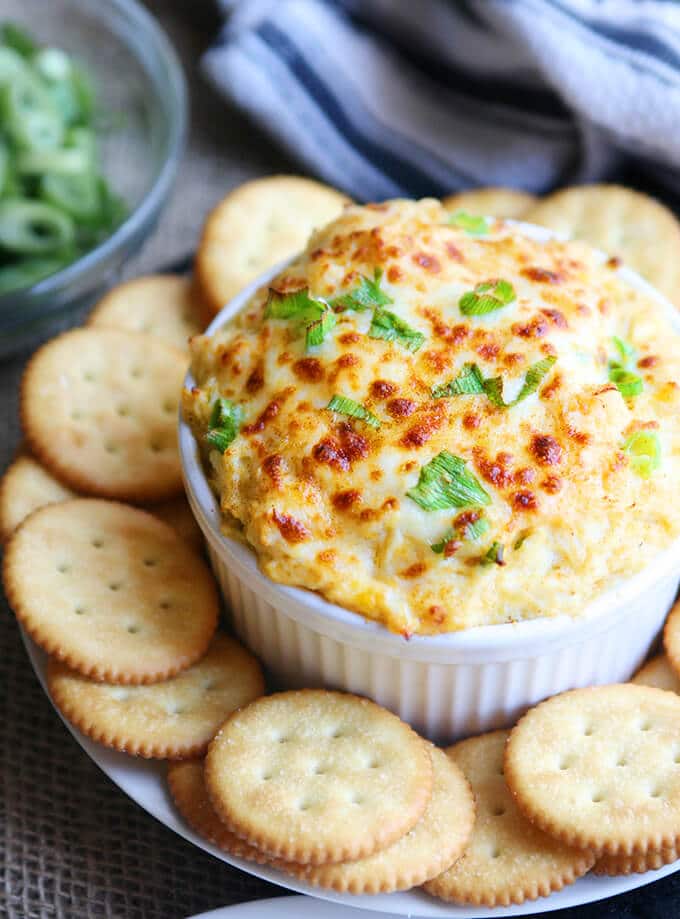 Cajuns know how to cook some seafood!
Once upon a time … not so long ago … there was a little restaurant in the town of Maurepas, LA that sat on the famous Amite River called Val's Marina. When I was growing up, it was one of my favorite places to eat seafood. Every single time we went there I ordered the Crab Meat au Gratin appetizer for my dinner. Yes…it's so good that I would eat an appetizer for dinner.
I know…I'm such a rebel.
Crab meat is my absolute favorite type of seafood. I love the flavor and how delicate it is. When you combine it with cheese, one of my other favorites, the result is one ridiculously good crab appetizer!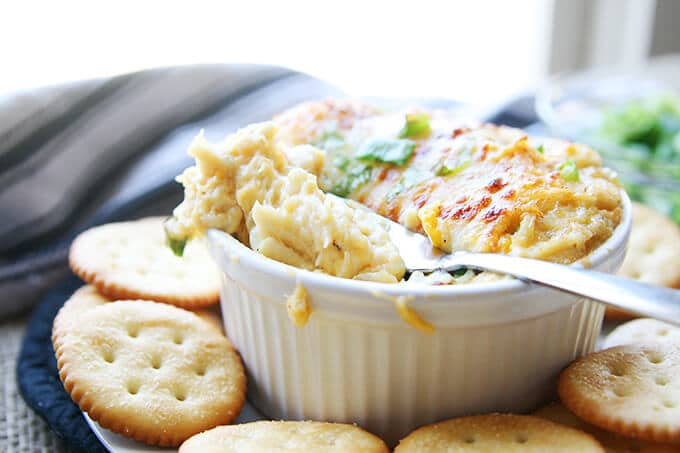 This stuff is so easy to make!
---
Start out by making a roux from the butter and flour. A roux is a combination of flour and fat that is cooked together until it turns a light brown. Some people use butter, some people use vegetable oil or lard, it's really a personal preference. The roux is what thickens the dish and gives it extra creaminess and pizzazz.
Pizzazz? I just used the word pizzazz. I haven't heard that word in a very long time! It makes me think of that song "Putting on the Ritz" that came out in the early eighties. Which by the way…I seriously thought they were saying "Put it on a Ritz". Maybe I thought of that song because of the crackers I used in this post..geez…I'm getting old. Anywho…
When the roux is nice and light brown, you will saute the vegetables in it until they are transparent. Add the cheese and seasonings to the mix and now you're ready for the star of the show…..white lump crab meat….yum yum yum! Gently stir in the crab meat and then transfer the mixture to a small baking dish. I used a large ramekin.
Top the mixture with more shredded cheese, green onions and paprika and then put it under the broiler for about 5 minutes or until the top is starting to turn brown and all of the cheese has melted.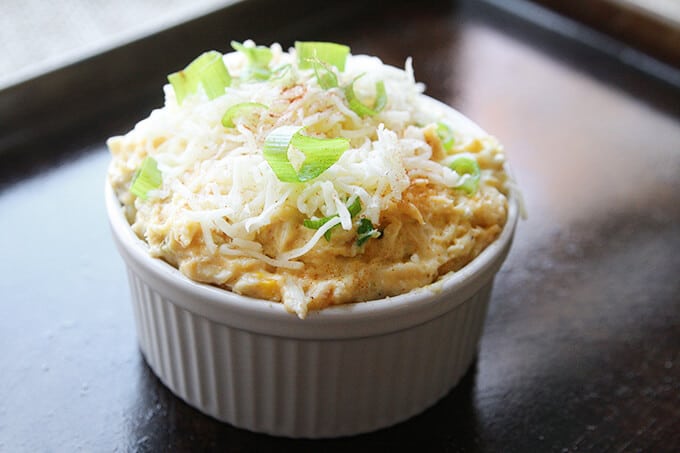 It goes great with saltine crackers, butter crackers or even on top of some crusty french bread slices!
It's so good….I could eat this stuff with a spoon…no crackers needed!Once you take a bite of this Crab Meat au Gratin, you'll be hooked!
It's definitely a party pleaser!
P.S. I've got street cred…I am a Cajun 🙂
Tip: You can make this ahead of time and put it in the refrigerator until you're ready to serve. I would cover it with aluminum foil and bake it at 350 degrees for about 20-25 minutes before topping it with the extra cheese and popping it under the broiler. Just make sure it's heated through.
Side note: Unfortunately Val's Marina is no longer open due to the devastation caused by Hurricane Katrina in 2005.  Hopefully I can keep their Crab Meat au Gratin alive in their honor!
---
Crab Meat au Gratin
Ingredients
½ stick butter
3 tsp flour
½ cup onions, chopped
¼ cup celery, chopped
5 oz. can of evaporated milk
1 egg yolk, beaten
¾ cup swiss cheese, shredded (reserve 3 T for topping)
1 slice american cheese
8 oz. of white crab meat
½ tsp salt
¼ tsp black pepper
¼ tsp cayenne pepper
¼ cup green onion, chopped
dash of paprika
Instructions
Turn oven broiler on
In a heavy saucepan, melt the butter over medium heat, add the flour and stir until combined
Add the onion and celery to the roux and cook on low-medium heat until the vegetables are tender
Stir in the evaporated milk and egg yolk, keep stirring until fully blended
Add the swiss cheese, american cheese, salt, black pepper and cayenne pepper and stir continuously until the cheese has melted
Gently stir in the crab meat and cook on low heat for 5 minutes
Scoop the mixture into a small oven safe baking dish and top with shredded swiss cheese, green onion and paprika
Place the baking dish onto a cookie sheet and place under broiler for 5 minutes, or until the cheese has melted and started to brown
Remove from oven and serve warm with crackers
 Try my Hot Onion Dip. It's amazing!