The BEST banana pudding is made from scratch with homemade gluten-free Nilla Wafers! Vanilla pudding is folded into a thick, whipped cream that's been blended with cream cheese and then layered between slices of bananas and cookies.
It's rich. It's creamy. And it's absolutely bursting with banana flavor!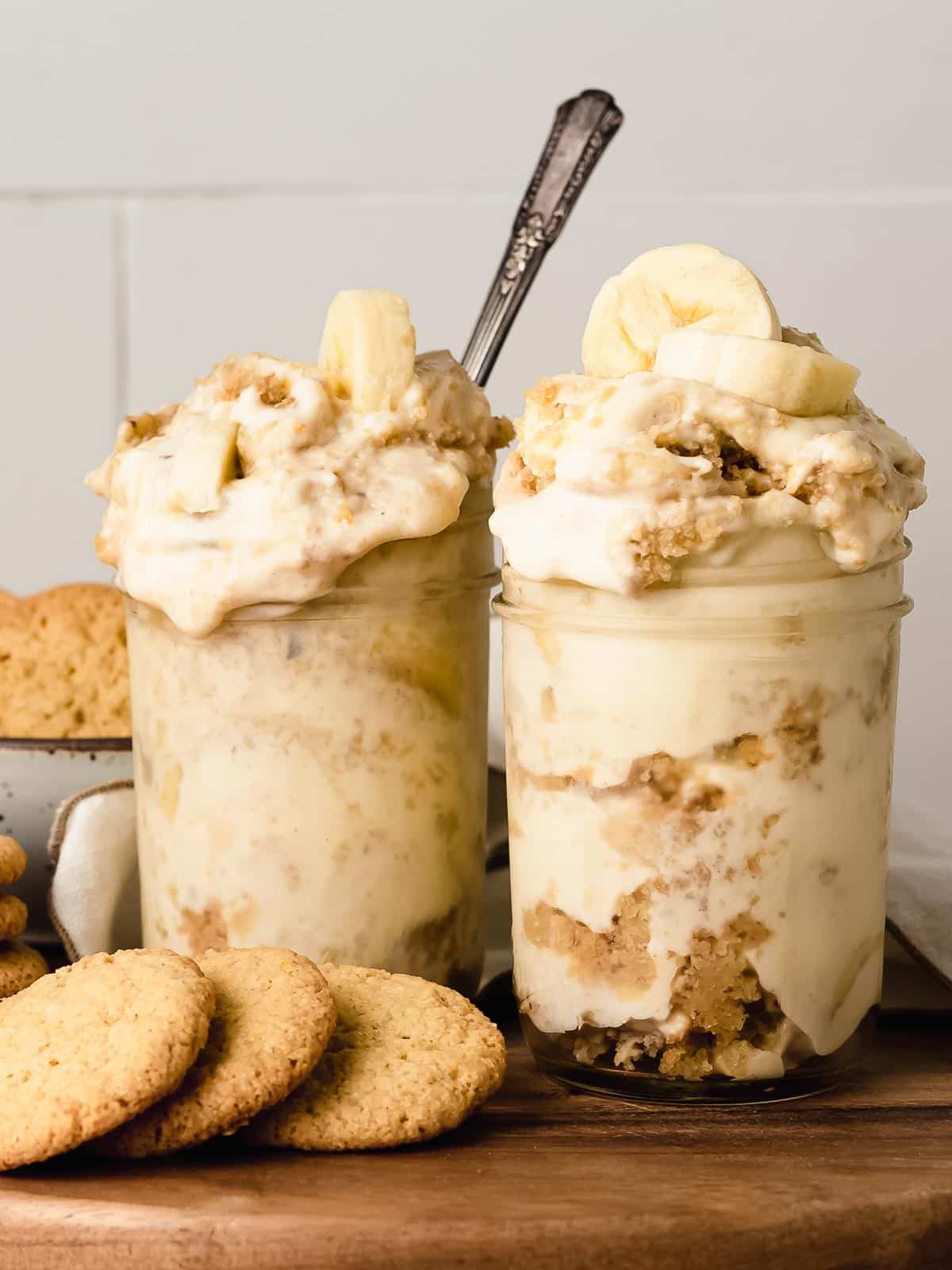 Ingredients needed
There are 4 components to this amazing summertime dessert. Each one is made from scratch for the most decadent banana pudding you'll ever eat!
Vanilla Pudding: Whole milk, sugar, tapioca starch, egg yolks, butter and vanilla extract. Non-GMO cornstarch can be used in place of tapioca starch.
Homemade Gluten Free Nilla Wafers: Almond flour, tapioca starch, cream of tartar, salt, baking soda, butter, vanilla extract and egg.
Whipped Cream: Heavy cream, cream cheese, sugar and cream of tartar.
Bananas: Choose slightly ripened bananas.
How to make gluten-free banana pudding from scratch
Cook the pudding. Milk is whisked over medium heat with tapioca starch, sugar and a pinch of salt until it starts to thicken. Half of the mixture is poured into a separate bowl with egg yolks while whisking, in order to temper the eggs. It's poured back into the saucepan and cooked for one more minute. The pudding is removed from the heat and butter and vanilla are whisked in.
Bake the wafers. Almond flour is combined with the remaining ingredients in a bowl until combined. After chilling for 30 minutes, the cookies are baked for 20 minutes in a 325°F oven.
Make the whipped cream mixture. Homemade whipped cream is beaten with cream cheese.
Assemble. The vanilla pudding and whipped cream are folded together and then layered between the gluten-free Nilla wafers and sliced bananas.
Tips for Success
The very first thing you need to do is get your pudding cooked and that's because you're going to want to let it cool down in the fridge so that it's nice and cold when you go to assemble everything.
It's very important to temper the eggs correctly. This technique keeps the eggs from becoming scrambled from the heat of the milk as you pour it into the bowl. As soon as you start pouring the hot milk, start to whisk and don't stop until it's fully blended. It's easy!
Make sure to let the cookie dough chill in the fridge to firm up before shaping them. This will make them much easier to handle.
Feel free to substitute the homemade gluten-free Nilla wafers with store-bought if you don't feel like making them from scratch.
Ideally, you'll want to make this the day before you serve it. That way it can be nice and chilled when you're ready to serve it.
How to store
Store leftovers covered in the fridge for up to 2 days.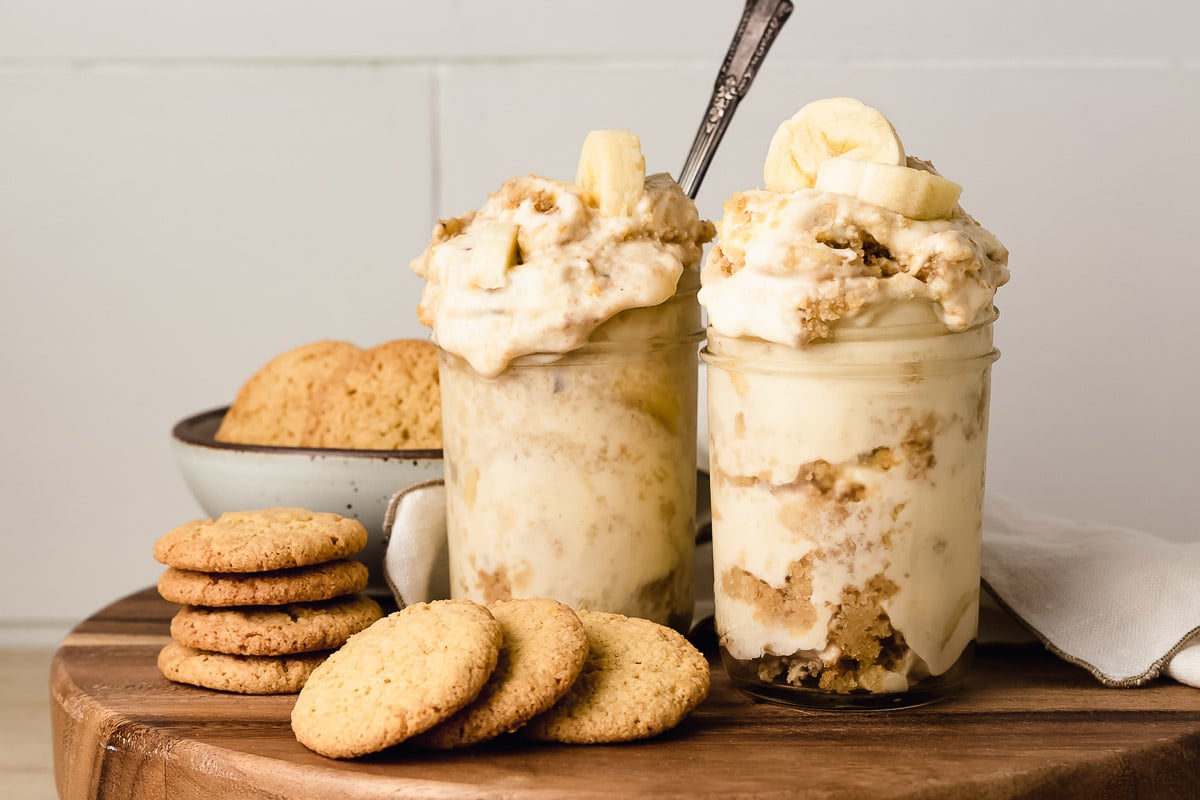 More gluten-free recipes
Do you like this recipe? Make sure to subscribe to our newsletter and we'll send you the latest and greatest!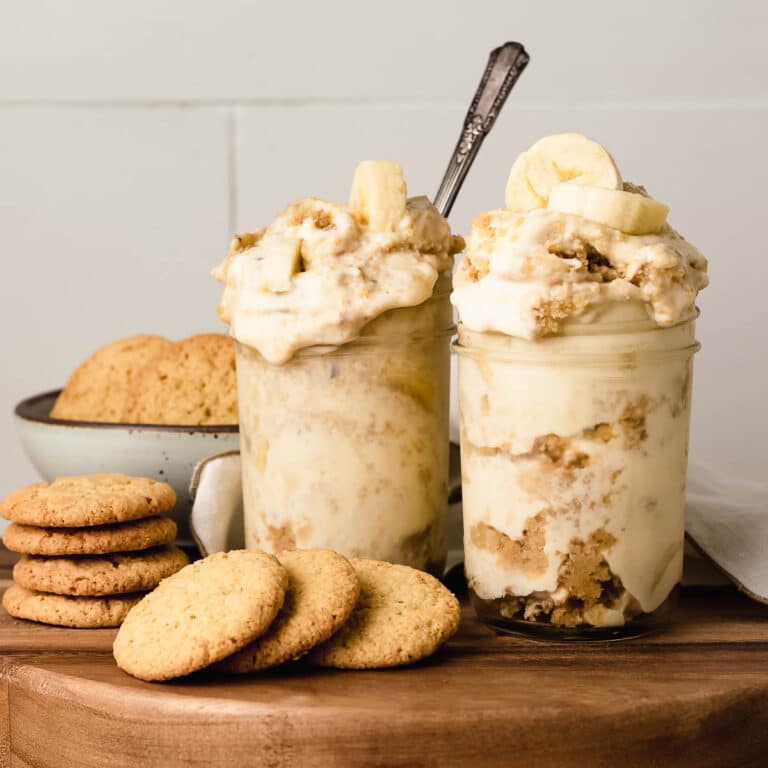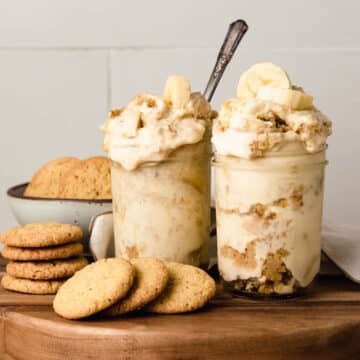 Gluten-Free Banana Pudding
A rich, decadent banana pudding made from scratch with homemade gluten free Nilla Wafers.
Ingredients
Vanilla Pudding Ingredients
2

cups

whole milk

⅓

cup

granulated sugar

2

tablespoons

tapioca starch

or cornstarch

½

teaspoon

salt

2

large

egg yolks

2

tablespoons

unsalted butter

1

tablespoon

vanilla extract
Whipped Cream Mixture
2

cups

whipped cream

8

oz.

cream cheese

room temperature
Other Ingredients
1

batch

gluten-free nilla wafers

or box of Nilla Wafers

7

large

ripe bananas
Instructions
Vanilla Pudding
Thicken the milk: Whisk sugar, tapioca starch and salt in a saucepan. Whisk in the milk. Heat the mixture, whisking constantly over medium heat. Once it thickens, cook for one minute.

Temper the eggs: Add the egg yolks to a large bowl and add half of the milk mixture, whisking as you add it so that it tempers the eggs.(This will prevent them from scrambling.)

Finish: Pour it back into the saucepan and heat for one minute, whisking constantly. Remove from heat, add the butter and vanilla, and stir until melted. Cover with plastic and chill in the fridge.
Whipped Cream Mixture
Beat: Beat the cream cheese until smooth. Add the cream cheese to the whipped cream and beat until just combined. Chill until ready to assemble.
Assembly
Layer all of the ingredients in 9 x 13 dish, cover and chill for a minimum of 2 hours. Store leftovers in the fridge for up to 2 days.