"Tiramisu cheesecake is my daughter's favorite. It tastes just like Tiramisu!"
Believe it or not, I'm often referred to as the "Cheesecake Guru". I must admit I love to bake cheesecakes and over the years I've gotten pretty darn good at it. Tiramisu Cheesecake is just one of many cheesecakes that I love to bake.
Baking a really amazing cheesecake isn't that hard at all! When it comes to cheesecake, planning is important.
Here are a few things to remember when baking cheesecake. Follow these rules and your cheesecake will turn out perfect every time!
Always, always, always start with your ingredients at room temperature before you start mixing them together. If they are cold when you go to put them together, you will get a really lumpy cheesecake!
Don't over mix the ingredients. You don't want to incorporate too much air into the batter.
Line your spring-form pan with parchment paper. This makes it so much easier to remove the cheesecake from the pan.
Use a water-bath. A water-bath ensures that your cheesecake will be flat on top, won't have any cracks and the texture will be smooth and creamy. You won't have a dried out cheesecake! (Check out my How to Create a Water Bath video below)
I only use name brand cream cheese. I won't mention the brand … but I'm sure you know which one I'm talking about. The brand name cream is a little more expensive but it has a tangier flavor and it mixes much smoother. Totally worth the extra money.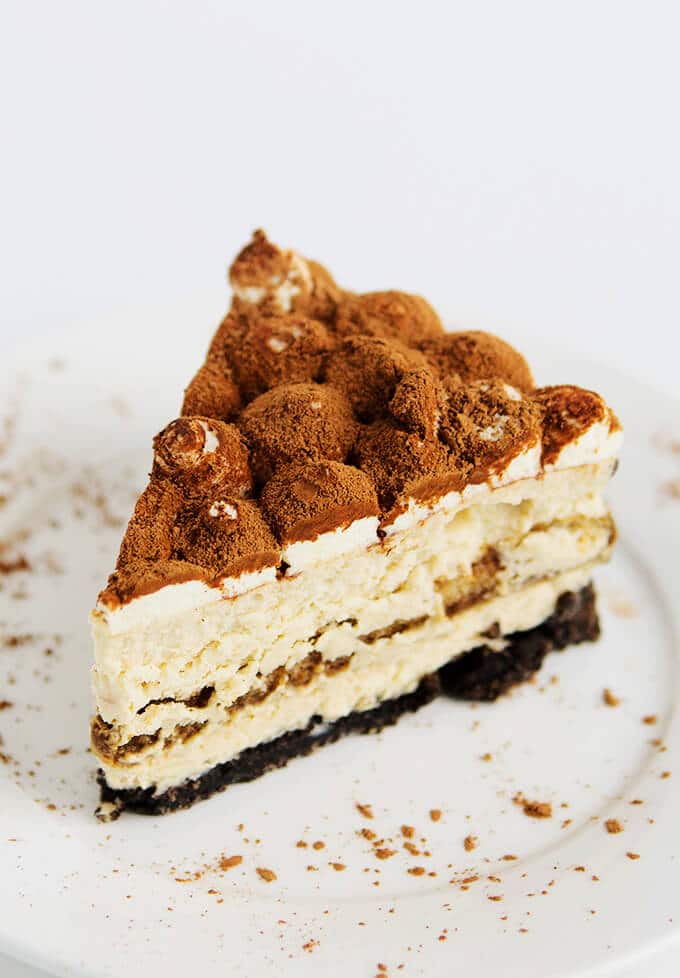 If you love coffee and cheesecake, this is one recipe you really need to try. The combination of flavors and textures are absolutely divine.
This is my daughter Juliana's favorite cheesecake so I make it for her birthday every year.
The crust is made from a combination of crushed lady fingers, Oreos and espresso powder.
The cheesecake filling is flavored with a few tablespoons of espresso and has a layer of lady fingers dipped in more espresso right in the center.
It's rich and creamy … just perfect!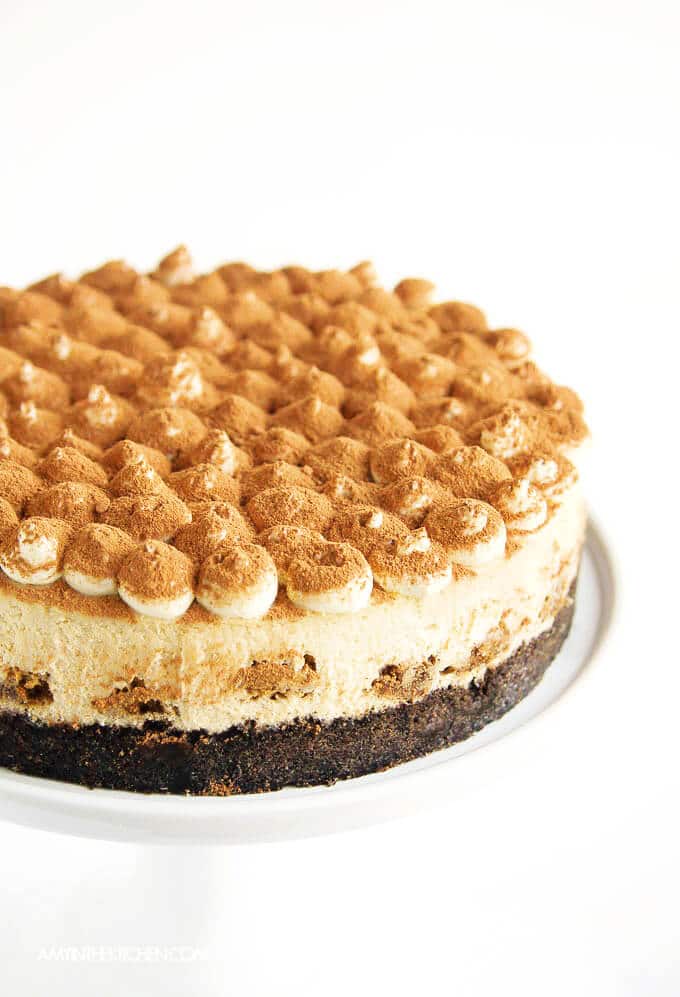 I can literally feel my pants getting tighter as I look at this TIRAMISU CHEESECAKE … Ya'll … for real … this is a tried and true … tiramisu show stopper! (I'm a poet and didn't know it!)
I've made this soooo many times for parties and EVERYONE raves about it.
Look here … I am the cheesecake queen … you can trust me when I say that this cheesecake will knock your socks off! ⠀
I mean literally … your socks will be across the room as soon as you take the first bite. Maybe just don't wear socks when you eat this …⠀
This Tiramisu Cheesecake is to die for!
I hope you enjoy this very easy to make, Tiramisu Cheesecake as much as we do!
Print
Tiramisu Cheesecake
Author:

Prep Time:

20 mins

Cook Time:

60 mins

Total Time:

1 hour 20 minutes

Yield:

8
---
Ingredients
Crust
12 Oreos
12 lady fingers
1 tsp espresso powder (optional)
6 T melted butter
Cheesecake Filling
32 oz. cream cheese, room temperature
1 cup granulated sugar
2 T unsalted butter, room temperature
2 eggs, room temperature
2 tsp vanilla extract
1/4 cup flour
12 lady finger biscuits
1.5 Cups prepared espresso (6 T separated)
Whipped Topping
8 oz. heavy whipping cream
4 oz. cream cheese, room temperature
1/2 cup milk
1 packet of Jello white chocolate instant pudding mix
1/4 cup cocoa powder
---
Instructions
Preheat oven to 350 and line a 9″ spring-form pan with parchment paper. If using a water bath, cover the bottom of the pan with foil.
Crust
Place the Oreos, lady fingers and espresso powder into a food processor and crush finely.
Pour in melted butter and pulse until fully combined,
Press the mixture into the bottom of the pan making sure it is compact.
Place in the oven for 10 minutes,
Remove from oven and set aside.
Turn oven down to 320
Cheesecake Filling
Using a stand or electric mixer, beat the cream cheese, butter and sugar until smooth. Scrape down the sides a few times.
Add eggs one at a time making sure they are fully incorporated after each addition.
Add the vanilla extract, 6 T of prepared espresso and flour, scraping down the sides of the bowl as needed to make sure everything is well combined.
Pour half of the cheesecake filling into the spring-form pan.
Dip the lady fingers in the remaining espresso and place over the first layer of filling.
Pour the remaining cheesecake filling over the lady fingers and smooth the top with an off-set spatula.
Place in water bath if using one.
Bake for 45-60 minutes. The middle of the cheesecake should jiggle a little.
Turn the oven off and let the cheesecake cool in the oven for 45 minutes.
Remove it from the oven and let cool completely on a counter top.
Place in the refrigerator overnight to chill.
Whipped Topping.
Beat the heavy whipping cream until it forms stiff peaks. Put in refrigerator to chill while preparing the remaining ingredients.
In a separate bowl, beat the cream cheese, milk and Jello until completely smooth.
Stir the chilled whipped cream into the cream cheese mixture until it is fully incorporated.
Place mixture into a piping bag with a large tip, I used Wilton 2A, and then decorate the top of the cheesecake.
Dust the top with powdered cocoa.
Keep chilled until ready to serve.
More delicious Cheesecake recipes!
The BEST ever Vanilla Bean Cheesecake with White Chocolate Mousse