The best beignets recipe tastes just like the ones from Cafe du Monde in New Orleans. Warm and fluffy donuts are covered with powdered sugar and served with coffee for a delicious treat.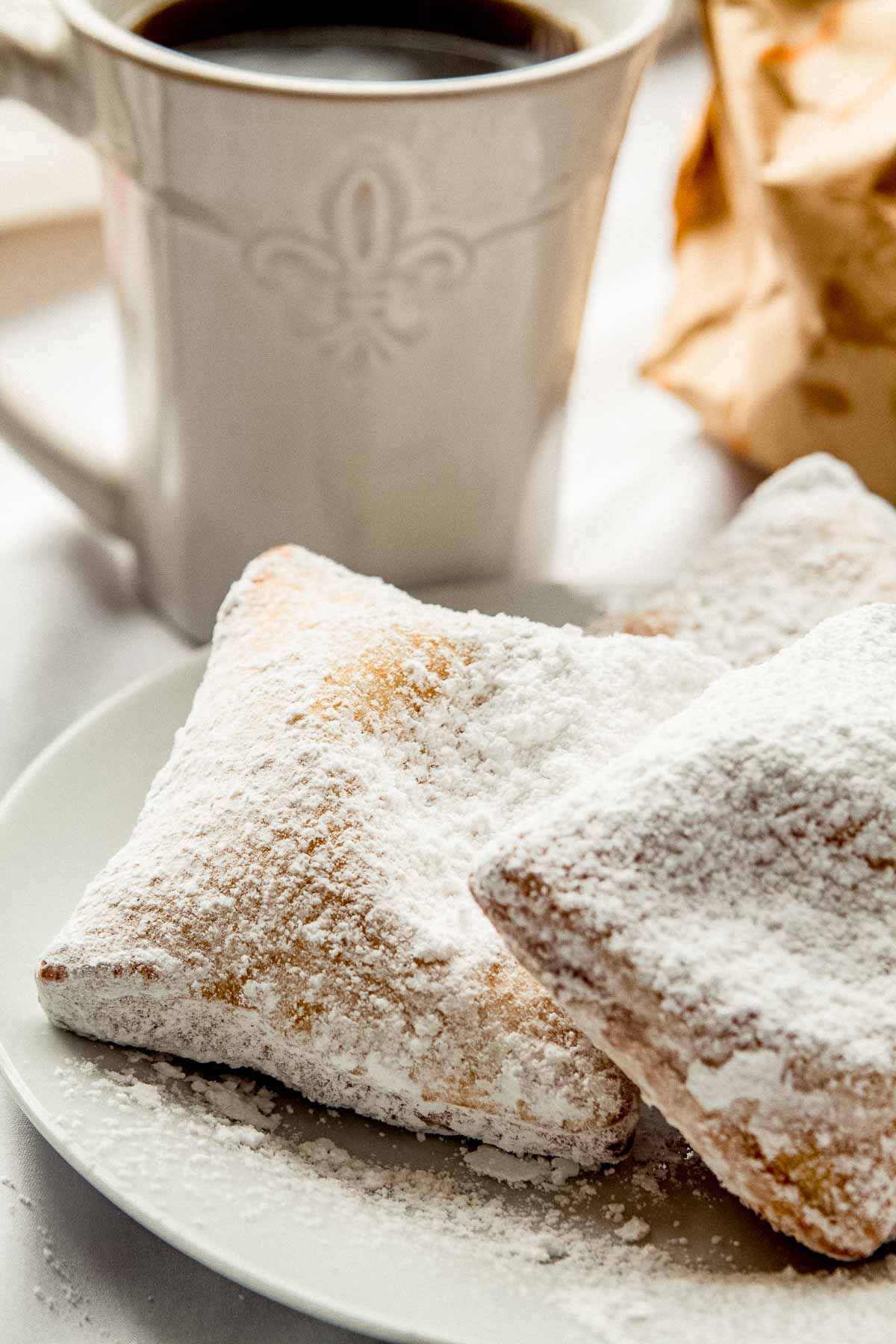 Some of my fondest childhood memories are set firm in the French Quarters of New Orleans. When I was about 10 years old, I had the rare experience to watch Fats Domino play the piano on a second floor veranda while he sang "Blueberry Hill". I was in awe.
Taking a stroll through Jackson Square to watch street performers was always a treat. To earn money, the local boys would create tap shoes by attaching coke bottle tops to the bottom of their sneakers with a piece of string. I was mesmerized by their ability to stay completely in tune with each other as they danced to the music that was playing near by.
Artists painting and sculpting, beautiful jazz music in the air and of course a visit to the famous Cafe du Monde.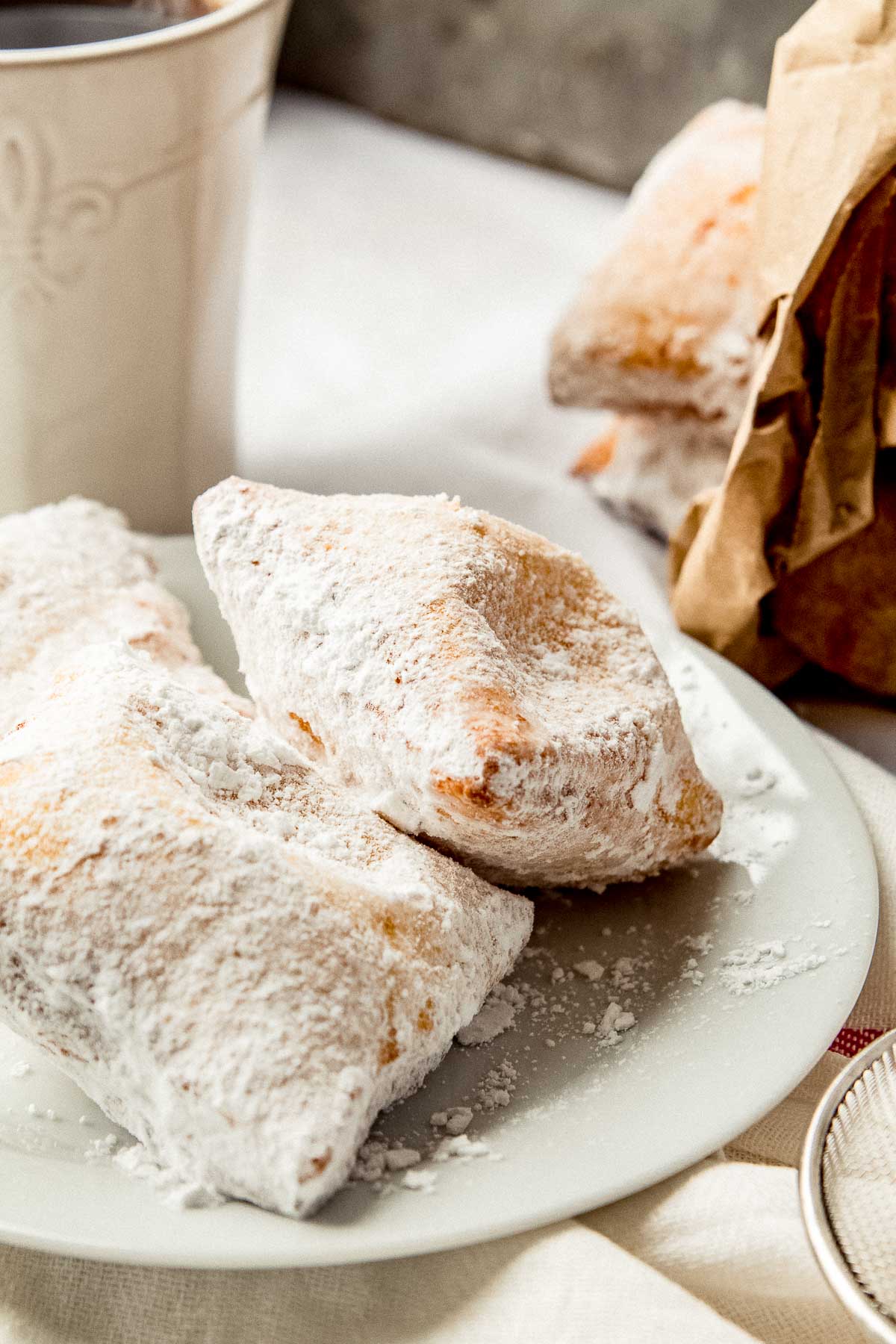 Anytime we made a trip to the Big Easy, I knew at some point in the day, my little fingers would be covered in sweet white powdered sugar from the beignets.
If you ever go to New Orleans, Cafe du Monde is a must see. When I say, must see, I mean you must go and enjoy their one of a kind beignets and coffee.
In simple terms, beignets are rectangular shaped donuts that are covered with powdered sugar. Enjoy them with a cup of cafe au lait or hot chocolate and you'll understand what all the fuss is about.
Cafe du Monde is always packed with tourists and locals, but don't worry, the line is quick. If you can't get a table, get a brown bag of beignets "to go". Walk over to the levee on the Mississippi River, lay back and watch the barges go by.
You'll be amazed at how beautiful it is. Visiting southern Louisiana is like going to another country. The French Quarter boasts original wrought iron horse stands and brick paved roads.
There's always music in the air and of course a party going on at all hours of the day and night.
If you can't get down to New Orleans to try a plate of beignets, why not make your own?
You'll be surprised how easy they are to make. Laissez le bon temps rouler!
Louisiana inspired recipes
You'll love these easy and delicious southern style recipes. All inspired from growing up in Louisiana.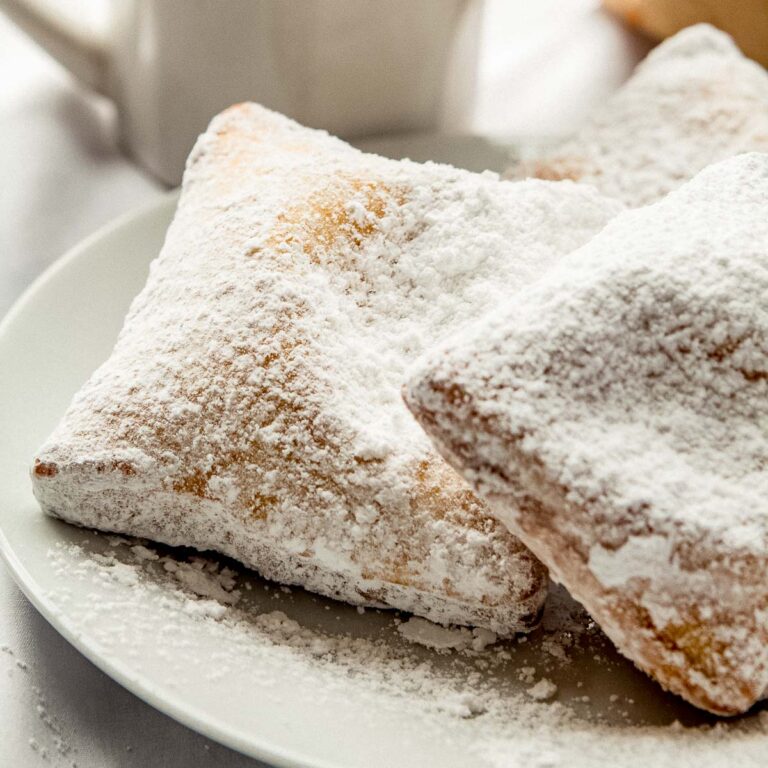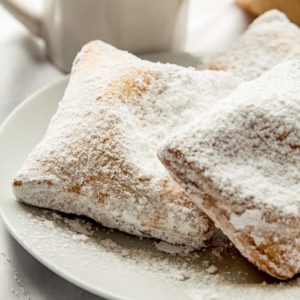 New Orleans Style Beignets Recipe
The best beignets recipe tastes just like the ones from Cafe du Monde in New Orleans. Warm and fluffy donuts are covered with powdered sugar and served with coffee for a delicious treat.
Ingredients
1 ½

cups

warm water

1

teapsoon

salt

2

large

eggs

1

cup

evaporated milk

7

cups

flour

2 ¼

teaspoons

fast acting instant yeast

1 packet

¼

cup

shortening

4

cups

canola oil

for frying, may need more

2

cups

powdered sugar
Instructions
Place the water, salt, eggs and evaporated milk in a stand mixer and mix together using a dough hook.

In a separate bowl stir together the flour and yeast.

Add 3 cups of the flour mixture to the wet ingredients and beat until blended. Add the shortening and beat until blended well. Add the remaining flour, a cup at a time, until the dough is coming together and starting to pull away from the sides of the bowl. Cover the bowl with plastic wrap and let it sit on the counter for 2 hours.

Heat the oil to 350° using a candy thermometer to measure temperature.

Using a rolling pin, roll the dough on a floured surface, into a large rectangular shape. Using a pizza cutter or knife, cut the dough into 2" x 3" rectangles.

Drop the rectangles into the oil, 2-3 at a time, and let them fry on each side until they turn light brown, this only takes about a minute. Keep an eye on them or they will over cook.

Take them out of the fryer and place them into a brown paper bag. Shake the bag to coat the beignets. Add more powdered sugar to the bag as needed. (If you don't have a paper bag, dust with powdered sugar.) Serve them warm.
Notes
Store cooked beignets at room temperature in an air tight container for up to 2 days.