"This lemon cheesecake is so rich and creamy! The lemon flavor is perfection!"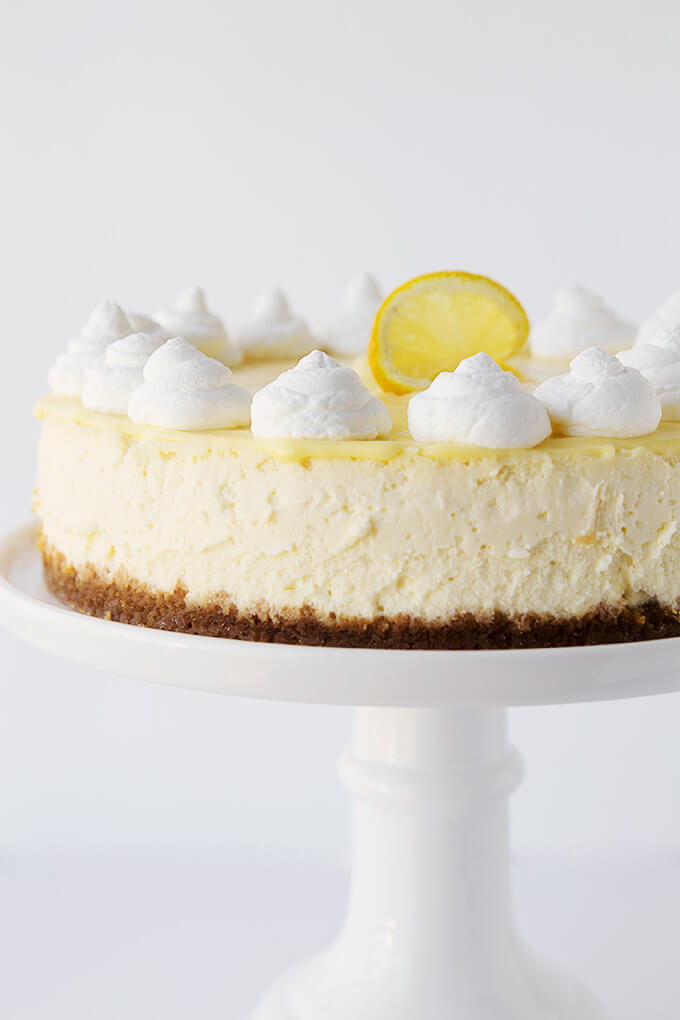 I can't tell you how excited I am about this recipe for lemon cheesecake! If you are looking for a delicious, lemony dessert…please…look no further! 🍋
It's rich, creamy and full of bold citrus flavor. This lemon cheesecake has it all!
It reminds me of the cold, refreshing lemon icebox pie they serve at B-B-Q restaurants here in the south.
Yummy!
Lemon Cheesecake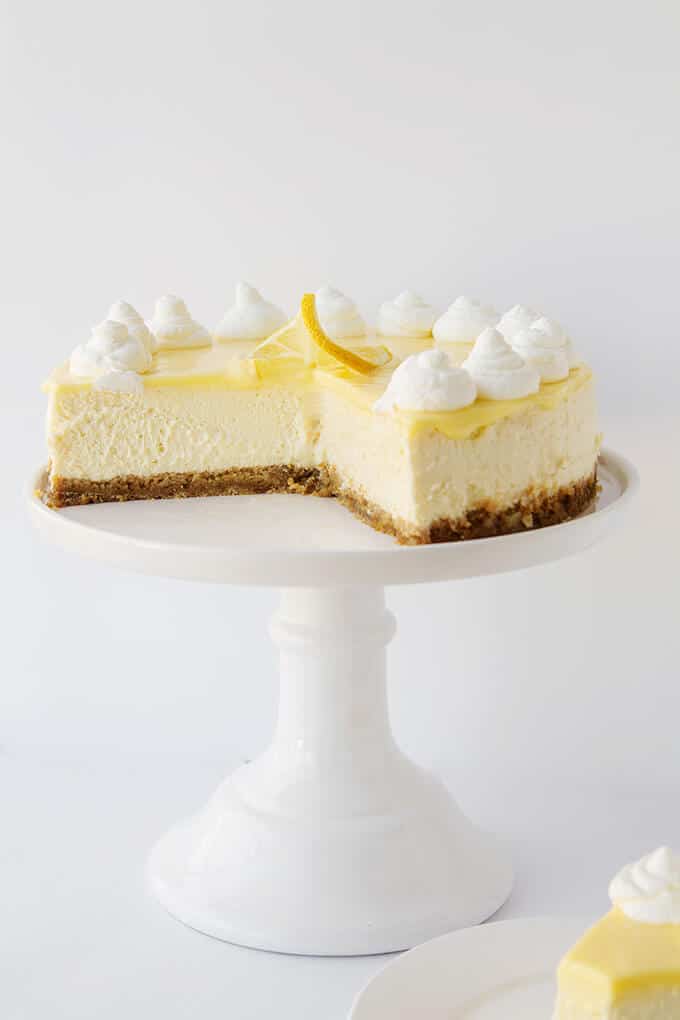 This already delicious, lemon cheesecake is topped off with a homemade lemon curd that makes the flavor really pop. If you don't want to make homemade lemon curd, you can always buy it pre-made from your grocery store. Lemon curd is very easy to make and it only takes about 10-15 minutes. The only hard thing about it is having to whisk constantly until it thickens, but the end result is worth it.
The graham cracker crust is perfectly sweetened with light brown sugar and dollops of homemade whipped cream on the top help to marry all of the bold flavors together.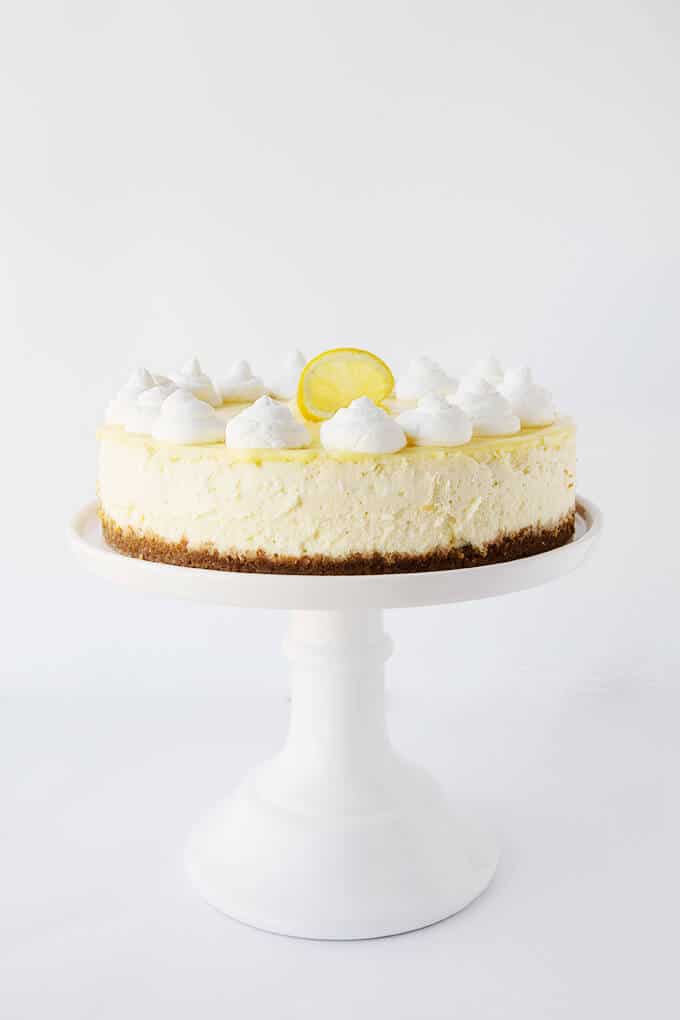 I love to use the water-bath method when baking cheesecakes because I find it helps the cheesecake to bake more evenly. It helps to keep the sides of the cake a nice light color instead of browning and the top is less likely to crack as well. If you've never used a water-bath, check out my video after the recipe to find out how easy it is!
And as always…Enjoy!
If you are looking for an eggless cheesecake recipe, try this AMAZING recipe for Vanilla Bean Cheesecake. It will knock your socks off!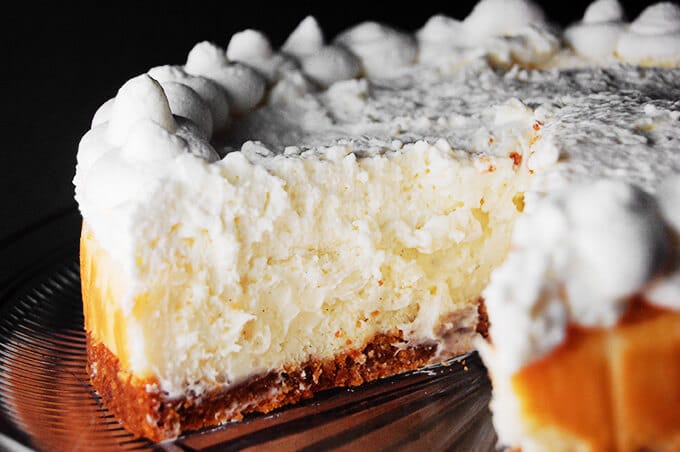 Print
Lemon Cheesecake
Author:

Prep Time:

25 mins

Cook Time:

60 mins

Total Time:

1 hour 25 minutes

Yield:

12
---
Ingredients
Crust
1.5 cups crushed graham crackers
1/4 cup light brown sugar
1 stick unsalted butter, melted
1 tsp vanilla extract
Lemon Cheesecake Filling
32 oz. cream cheese, room temperature
4 T unsalted butter, room temperature
1 cup granulated sugar
1 tsp vanilla extract
6 T fresh lemon juice
3 eggs, room temperature
1 cup sour cream, room temperature
1/4 cup flour
Lemon Curd
3 eggs
3 egg yolks
2/3 cup sugar
6 T fresh lemon juice
1 stick unsalted butter, cubed
Whipped Cream
1 cup heavy whipping cream
4 T powdered sugar
---
Instructions
Preheat oven to 350° and line a 9″ spring-form pan with parchment paper.
Graham Cracker Crust
Place ingredients in a small bowl and stir with a fork until fully combined.
Press the mixture into the bottom of the spring-form pan making sure that the crust is firmly packed.
Bake for 10-12 minutes, remove from oven and set aside to cool.
Turn oven down to 320°.
Lemon Cheesecake Filling
Using a stand or electric mixer on low speed, beat the cream cheese, butter and sugar until smooth and creamy. Scrape down the sides of the bowl as necessary to insure everything is being mixed evenly.
Add the vanilla extract and lemon juice. Beat on low until well blended.
Add the eggs one at a time, scraping down the sides of the bowl after each addition.
Add the sour cream and flour and continue to mix until fully incorporated.
Remember not to over mix to avoid incorporating air into the batter.
Pour the filling into the spring-form pan and smooth the top with an off-set spatula.
Gently tap the spring-form pan a few times on a hard surface to release any air bubbles.
Place in the water bath and bake for 1 hour.
Turn the oven off, crack the door and allow the cheesecake to cool inside of the oven for 1 hour.
Remove the cheesecake, run a sharp knife around the inside edge of the pan and let it continue to cool to room temperature.
Place the cheesecake in the refrigerator overnight to set.
Lemon Curd
Add 1 inch of water into a medium sauce pan and heat until it is at a gentle simmer.
In a medium glass bowl, whisk the eggs, egg yolks, sugar and lemon juice together until well combined.
Place the bowl on top of the sauce pan and continue to whisk constantly for about 10 minutes or until the mixture thickens. You can check with a thermometer if you'd like. You want the mixture to be at 160°.
Remove the bowl from the heat and stir in the cubed butter until it has melted and the mixture is smooth and creamy.
Let the lemon curd cool to room temperature, pour into an airtight container and then place in the refrigerator to set.
Whipped Cream
Beat the cream in a medium size bowl until it starts to thicken.
Add the powdered sugar and continue to whip until it forms stiff peaks.
Assembly
Remove the cheesecake from the spring-form pan.
Spread the lemon curd evenly on top of the cheesecake and smooth with an off-set spatula.
Using a piping bag, pipe dollops of whipped cream on top to decorate.
Enjoy!