Hello everyone! Are you ready for summer??? I know I am, and I'm not sure if there is a better way to welcome in the summer than with a big, delicious slice of … duh duh duh duh ……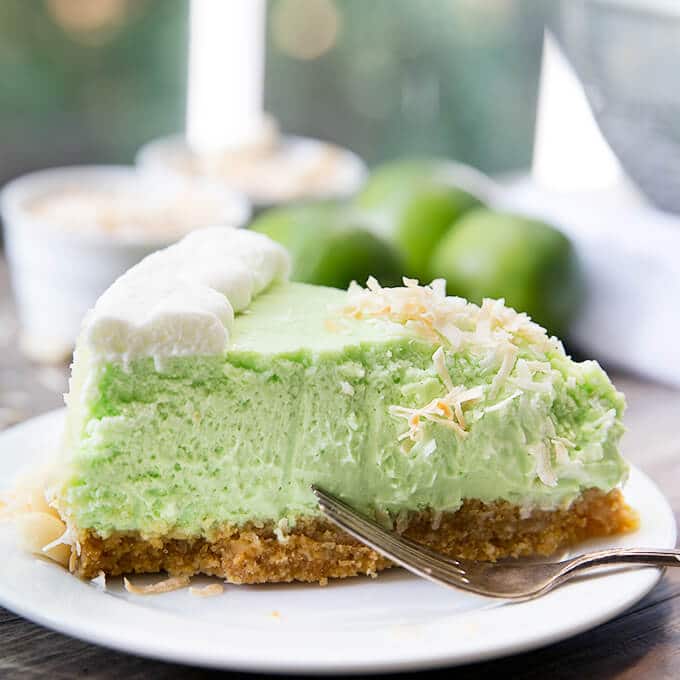 Key Lime Cheesecake!
Well, maybe if that cheesecake had an amazingly awesome, toasted macadamia nut and coconut crust … Hell yeah! It's so luscious and creamy and it's bursting with ultra citrusy key lime flavor. I dare you to try and eat just one slice of this cheesecake. I seriously don't think it's possible!
OK … so I've been a little obsessed with dieting lately with swimsuit season approaching … and you know what that means??? I'm HANGRY! This is me trying to talk myself out of cheesecake …
"I'm never gonna eat another piece of cheesecake ever because it's so damn fattening.  I mean seriously, do I really want more cellulite? Oh and yeah, it's gonna clog my arteries and I'll die before I turn 50 years old! That cheesecake looks so damn good … Oh screw it … you only live once!"
OMG … sometimes I literally can't stand my indecisive thinking. No cheesecake … yes cheesecake … maybe cheesecake ….
Just give me the damn cheesecake before I go postal!!!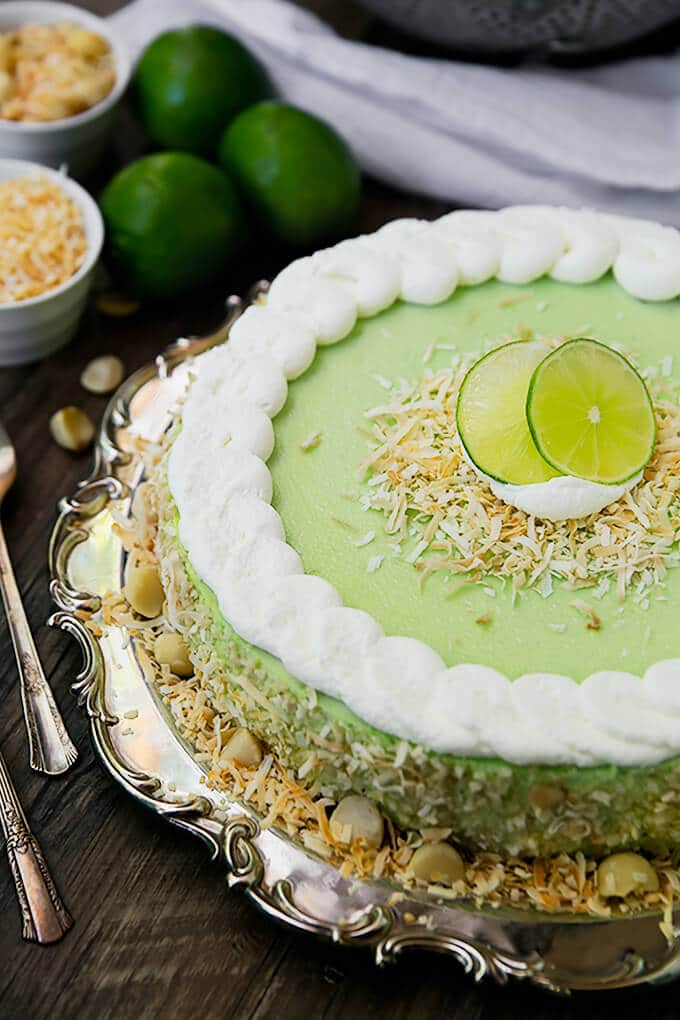 Just kidding, I'm not going postal … but seriously give me the cheesecake and everyone will be just fine.
Yeah … I'm one of those kind. By the way, this key lime cheesecake was so good that I ate two slices and then couldn't move for the rest of the night.
Totally worth it.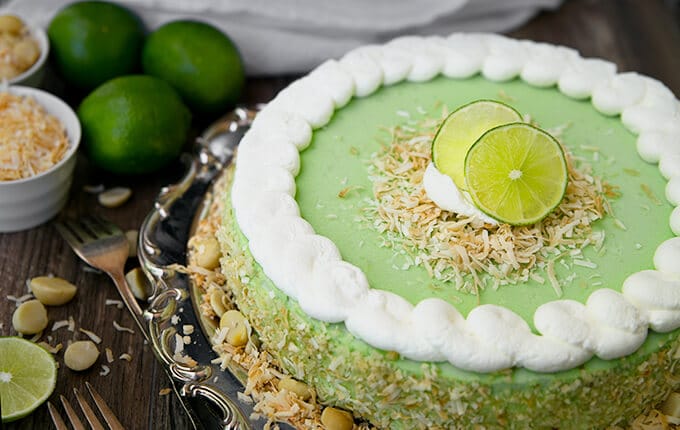 Print
Key Lime Cheesecake
Author:

Prep Time:

20 mins

Cook Time:

80 mins

Total Time:

1 hour 40 minutes

Yield:

12
---
Ingredients
Toasted Macadamia Nut and Coconut Crust
1 cup graham crackers
1/2 cup macadamia nuts, toasted
1 cup unsweetened shredded coconut, toasted
1/4 cup light brown sugar
1 stick unsalted butter, melted
1 tsp hazelnut extract (you can also use vanilla extract if you don't have hazelnut)
Key Lime Cheesecake Filling
32 oz. full fat cream cheese, room temperature
4 T unsalted butter, room temperature
1 cup granulated white sugar
1/2 cup freshly squeezed key lime juice plus zest of 6 limes (use regular limes if you can't find key limes)
3 eggs, room temperature
1 cup full fat sour cream, room temperature
1/4 cup corn starch
a couple of drops of green food coloring (optional)
---
Instructions
Preheat oven to 250 degrees and line a 9″ spring-form pan with parchment paper.
Toasted Macadamia Nut and Coconut Crust
Toast the macadamia nuts and coconut on a baking sheet in the oven for about 15-20 minutes, stirring every 5 minutes to ensure they are browning evenly. You do not need to line it.
Remove from the oven and let cool completely before putting them in the food processor.
**Turn oven temperature up to 350 degrees**
Place the toasted and cooled macadamia nuts and coconut in a food processor and pulse until they have a coarse consistency.
Set aside 1/2 cup of the mixture for decorations.
Place the graham crackers in the food processor and pulse until the mixture has a fine consistency.
Add the melted butter and extract and pulse until fully combined.
Press the mixture into the bottom of the spring-form pan making sure that the crust is firmly packed.
Bake for 10 minutes, remove from the oven and set aside to cool.
**Turn oven temperature down to 320 degrees.**
Key Lime Cheesecake Filling
Using a stand or electric mixer on low speed, beat the cream cheese, butter and granulated sugar until smooth. You will need to scrape down the sides of the bowl occasionally to ensure that everything is being mixed evenly.
Add the lime juice and zest and beat on low until it is blended with the cream cheese mixture.
Add the eggs one at a time. Remember to scrape down the sides of the bowl after each addition.
Add the sour cream and flour and mix until just blended.
If you would like a more green color to the cheesecake, add a couple of drops of green food coloring and beat until it has been fully incorporated into the batter. (optional)
Pour the batter over the crust and smooth the top with an off-set spatula.
Gently tap the spring-form pan on the counter-top to remove any air bubbles that are trapped in the batter.
For best results use a water-bath to bake the cheesecake. (See video below)
If you are not using a water-bath follow the same baking time and temperature directions.
Bake for one hour.
Turn off the oven, crack the door and allow the cheesecake to cool inside of the oven for one hour.
Remove the cheesecake from the oven and run a sharp knife around the inside edge of the pan to release the cheesecake from the sides of the spring-form pan.
Allow the cheesecake to continue to cool on a counter-top until it is room temperature.
Place the cheesecake in the refrigerator to set up, preferably overnight, but for at-least 6 hours.
Whipped Cream
Place the bowl that you are whipping the cream in, in the freezer to chill at-least 10 minutes prior to making it.
Using an electric or stand mixer, whip the cream until soft peaks start to form.
Add the powdered sugar and continue to beat until stiff peaks form.
When you are ready to serve, place the whipped cream in a piping bag and decorate the top of the cheesecake. You can use the toasted macadamia nuts and coconut that you set aside to decorate around the outside of the cheesecake.
Looking for more awesome Cheesecake Recipes?