"Shrimp Ravioli is the perfect date night dinner. Quick and super easy to prepare but it will look like you slaved in the kitchen for hours!"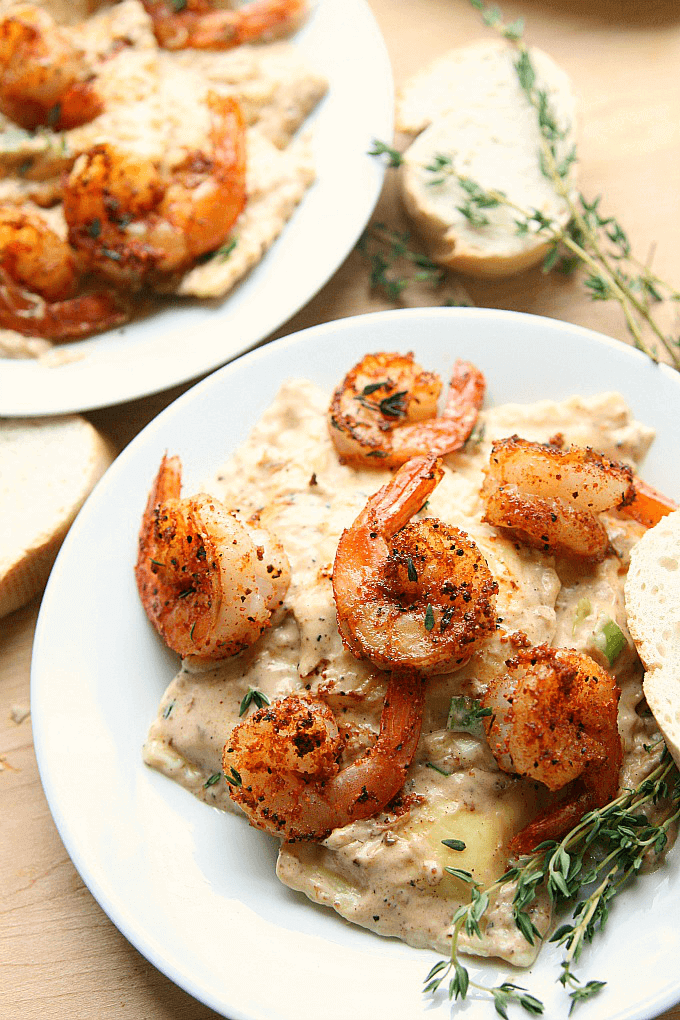 With seven kids, it's rare for my husband and I to have any time to ourselves!
Recently they were all at friends houses on the same night.  Did you hear me? The SAME night!
Around here, we call that a miracle!
Of course I decided to put together a romantic dinner, just for the two of us. I couldn't let this opportunity pass me by, right?
This recipe for Shrimp and Cheese Ravioli totally hit the spot and it only took about 20 minutes to put together which left us plenty of time to enjoy the rest of our evening….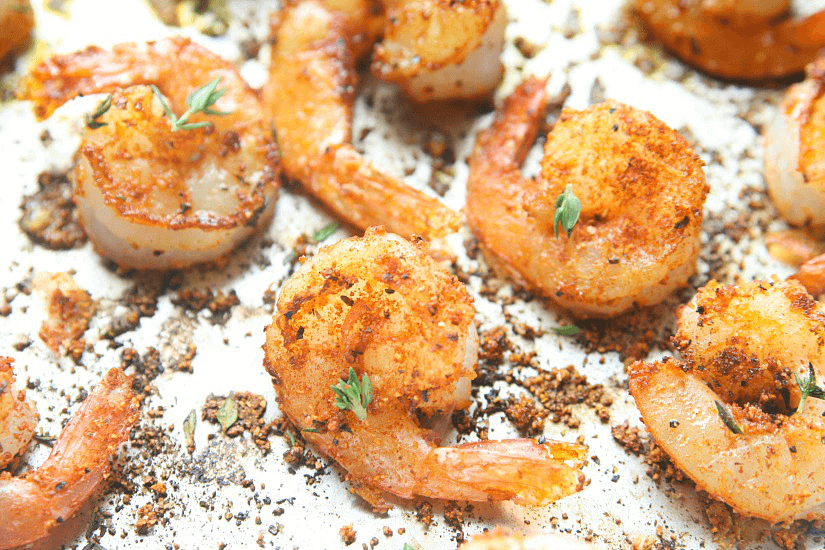 It only has a few ingredients, frozen cheese ravioli, Alfredo sauce and shrimp.  Plus seasonings.
From the time I took the ravioli out of the freezer to the time it was on our plates was less than 30 minutes.
Get started by putting a pot of water on the stove to boil for the ravioli.  Once you get the ravioli going, pan fry the shrimp. After the shrimp are done, remove them from the pan and add the Alfredo sauce to "deglaze" the pan and create a spicy cream sauce to coat the ravioli with.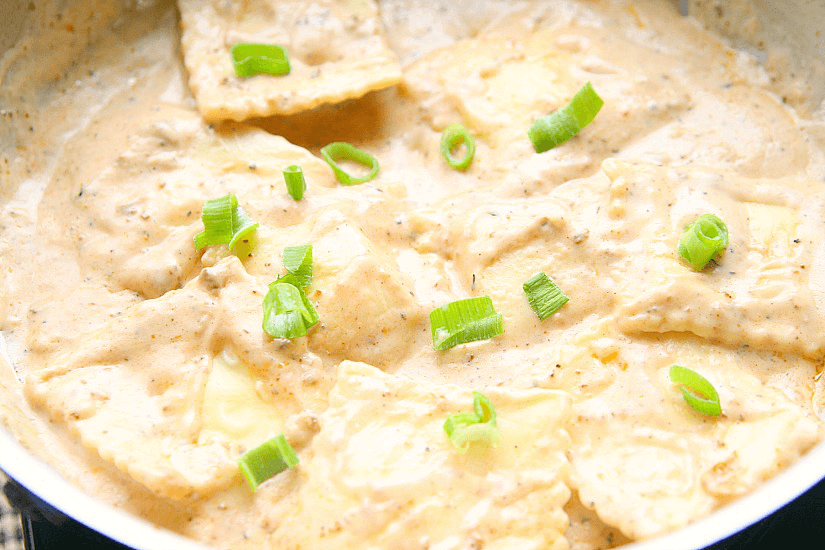 Frozen ravioli is one of the most versatile frozen foods that I've found.  They take about 5 minutes to boil and can be used in a million different dishes.
Once they have finished boiling, throw them in the pan with the Alfredo sauce and toss to coat.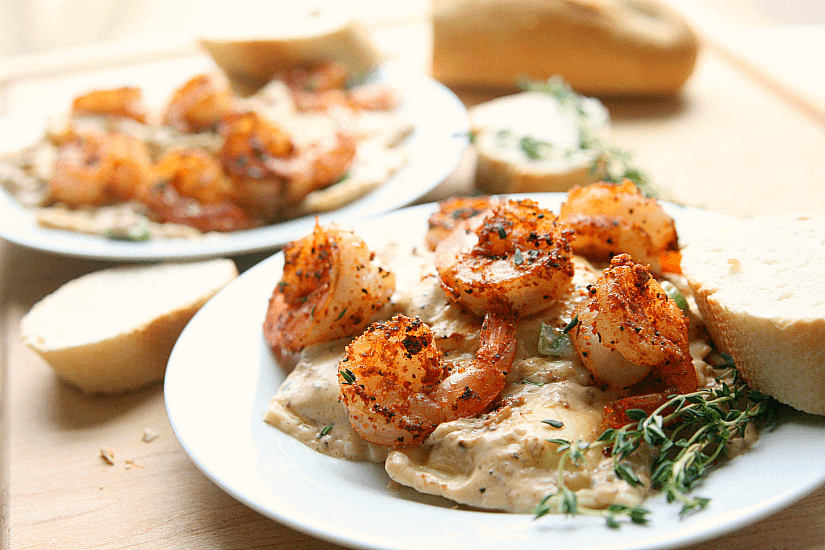 Top with the blackened shrimp, chopped green onion and some fresh thyme. Serve with crusty french bread on the side to sop up all that delicious sauce.
I think this cost less that $15 which is a fraction of what it would have cost at our local restaurant.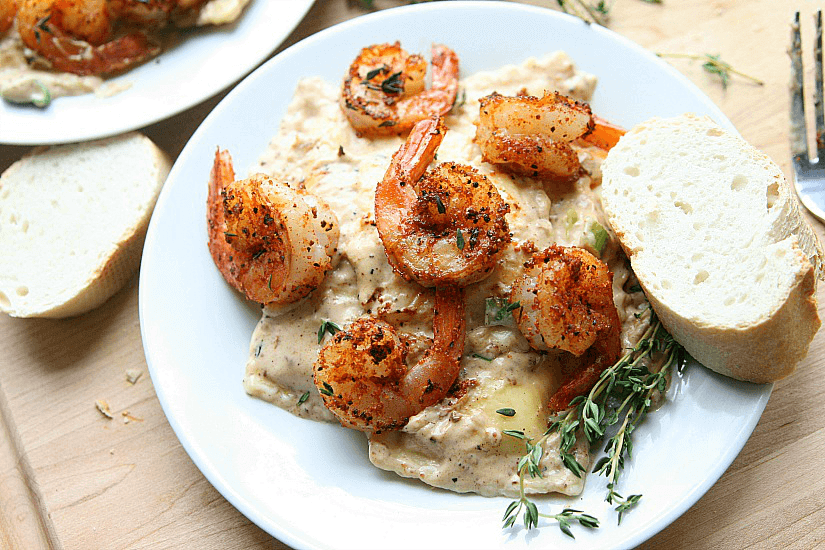 We all need a little time to relax and I promise, making this dish won't stress you out.
Cleanup is a cinch too!

Shrimp and Cheese Ravioli
Ingredients
1 package of frozen cheese ravioli
1 lb fresh raw shrimp, peeled and de-veined
1 T blackened seasoning
1 T fresh thyme leaves
3 T olive oil
1 jar alfredo sauce
salt and pepper to taste
chopped green onions for garnish (optional)
Instructions
Boil frozen cheese ravioli according to package directions and drain
Season shrimp on both sides with blackened seasoning and fresh thyme
In a heavy saucepan, heat the olive oil on medium-high heat and sear the shrimp on each side for 3 minutes, making sure to fully cook
Remove the shrimp from the pan and add the alfredo sauce to deglaze the pan
Stir the sauce while heating and once the seasonings have been incorporated into the sauce, add the ravioli and gently stir to coat them
Place the ravioli on a plate and top with seared shrimp
Garnish with green onions and serve with slices of french bread