Date Paste is an all-natural sweetener that is simple to make with only 2 ingredients! This is the perfect sugar substitute if you are looking to remove refined sugars from your diet. Dates are full of fiber, vitamins and minerals that add nutritional value to your recipes!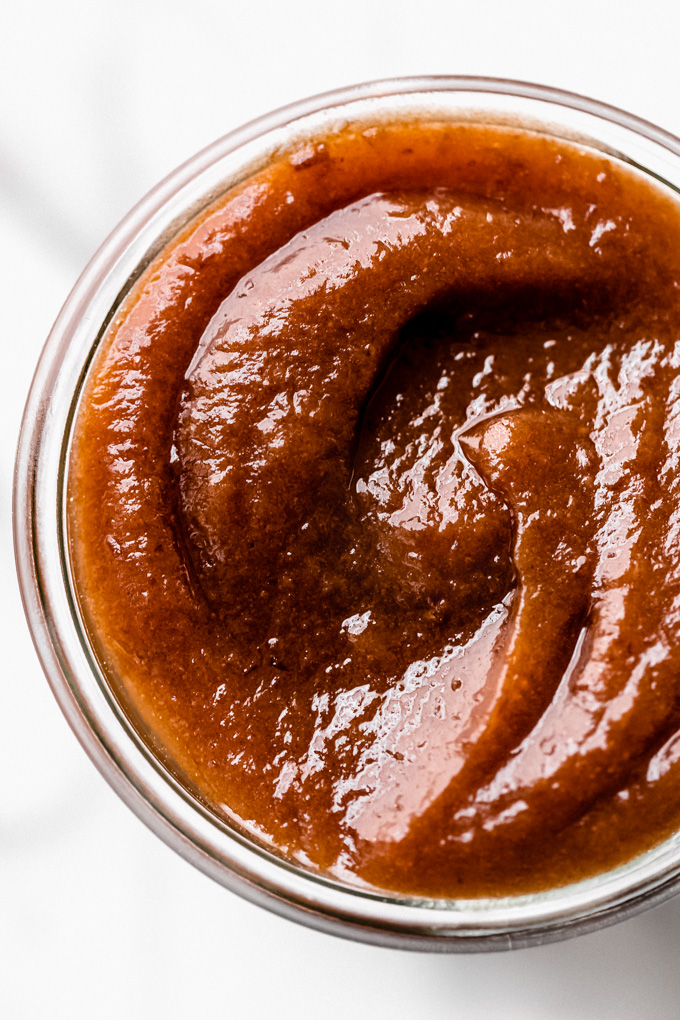 Are you on board with dates yet?? It took me quite a while to try them ... because to be honest ... they just don't look very appetizing!
My first date ... with a date:
The first time I mustered up the "courage" to try dates was at a restaurant, years ago. It was a savory appetizer of dates stuffed with goats cheese and wrapped with bacon. It quickly became my new favorite appetizer because hey ... the combination of sweet, savory, smokey and tangy all in one bite?? Yes please!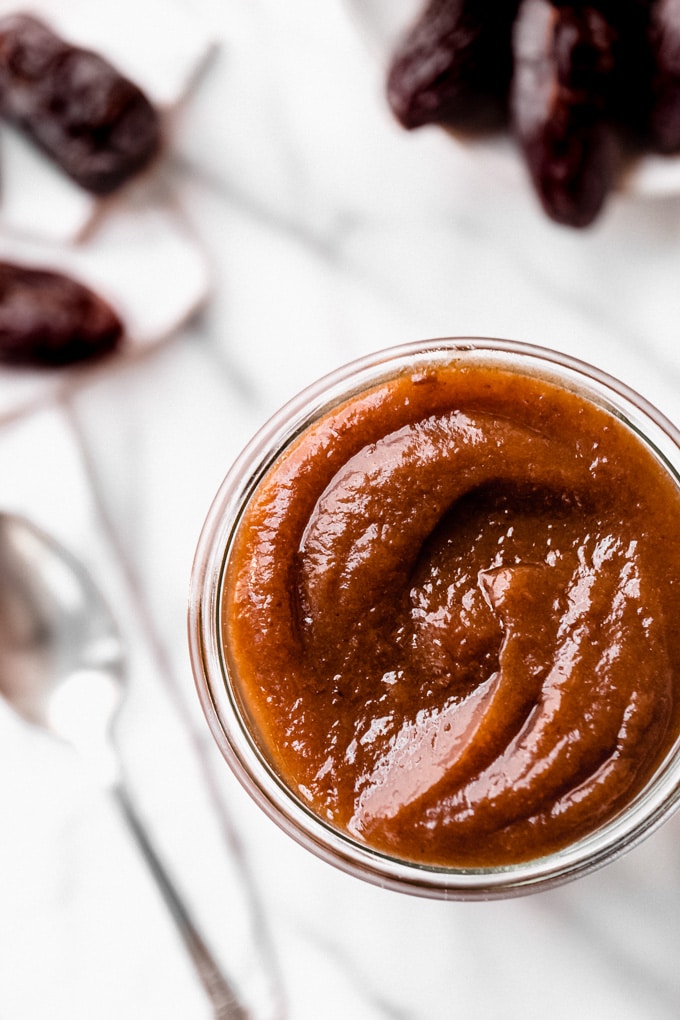 Dates contain vitamins and minerals like potassium, magnesium, copper, manganese, iron and vitamin B6 ... just to name a few. They are also high in antioxidants!
Use date paste to naturally sweeten recipes like Slow Cooker Pumpkin Pie Oatmeal. Lightly sweeten beverages like almond milk and coffee or add a dollop of date paste to plain yogurt and granola for a healthy breakfast or snack.
Date paste is surprisingly delicious added to savory dishes like Instant Pot Black Bean Soup.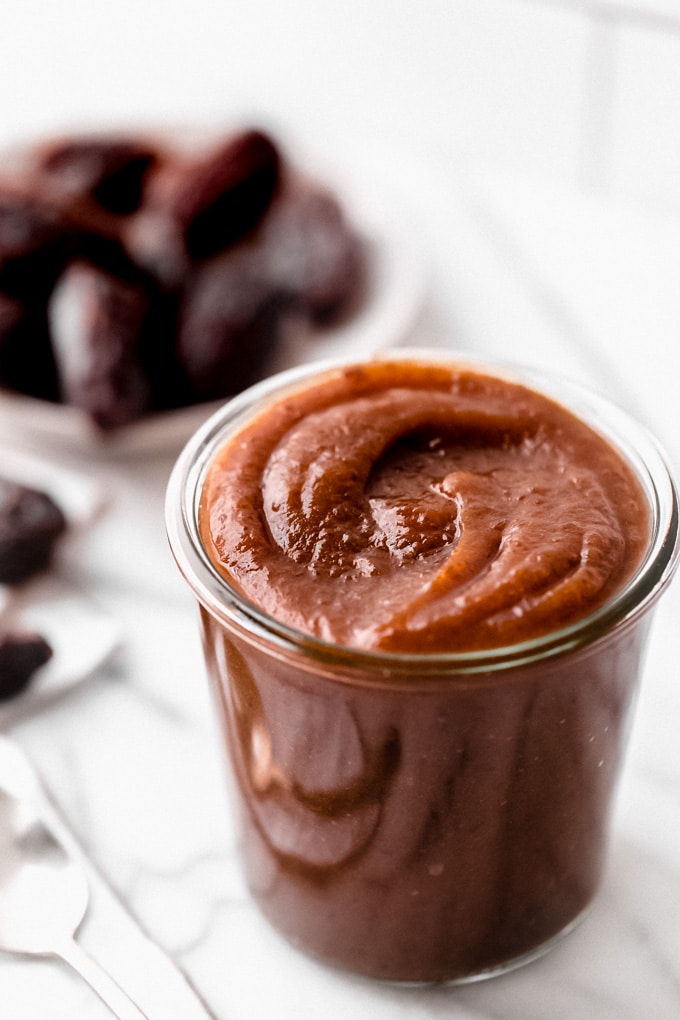 How to make Date Paste:
Bring about 4 cups of water to a simmer.
Place 12 oz. of pitted Medjool dates into a 4 cup glass measuring cup. Cover the dates with the water and let sit for 10 minutes to soften.
Reserve 1.5 cups of the soaking water and then drain the dates. You will use about 1 cup of this soaking water ... maybe more depending on how thick or thin you'd like your date paste to be.
Add the dates and 1 cup of the soaking water into a high speed blender and blend until smooth. Scrape down the sides of the blender to make sure it is blended well.
Pour the date paste into a clean storage container and cover. (Mason jars make great storage containers!)
Store in the refrigerator for up to 3 months.
How long can you keep date paste? Date paste will keep in the fridge for about 3 months in an air-tight container. You can also keep the paste in the freezer stored in freezer bags.
Can I use date paste instead of sugar? Yes you can! I would start out substituting date paste for sugar in a 1:1 part ratio. This might be a little trickier when using it for baked goods because it does add moisture along with sweetness. If you are looking for desserts that use dates or date paste, visit the food blog Feasting on Fruit. It is a great site to find recipes that use dates!
How do you remove the pits from dates? Dates are sold whole with the pits still intact or pitted. I prefer to buy dates that are already pitted to avoid the extra step of removing the pits. If you buy dates that are not pitted, remove the pits by slicing open a date on one side with a knife. Peel back the flesh and take out the pit. Your fingers will be very sticky!
How do you soften hard dates? Place the dates in a bowl and cover with boiling water. Allow the dates to soak for 10-30 minutes or until soft.
Can date paste be eaten on a Whole30 diet? Dates are allowed on the Whole 30 diet. This date paste can be used to add natural sweetness to a variety of dishes including savory recipes, salad dressings, drinks and cereals on a Whole30 diet. (It does specify that processed date syrup is NOT allowed.) Dates can be eaten on a Vegan and Paleo diet as well!
Is date paste healthy? Dates seem to be one of the best natural sweeteners to use in recipes that call for sugar. They are loaded with fiber and nutrients that are not found in refined sugars. They fall somewhere between 46-55 glycemic index rating depending on the type of date. Check out NutritionFacts.org for more health information on dates.
What's the difference between date paste and date syrup? Date syrup is thinner than date paste and is more concentrated in sugar. It does not contain the pulp of the dates.
Give it a try and let me know what you think!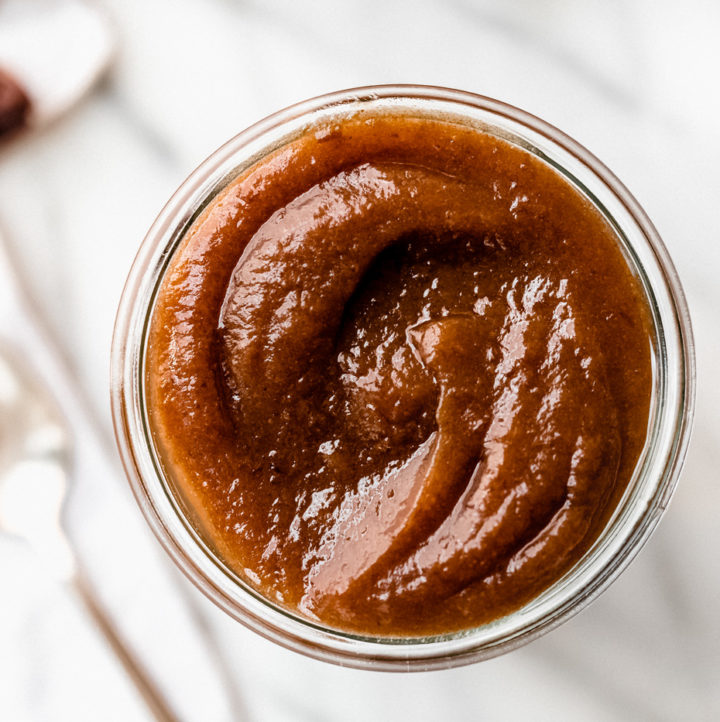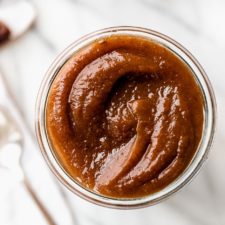 Date Paste
A delicious natural sweetener that you can use in baked goods, desserts and more!
Print
Pin
Rate
Ingredients
12

oz.

pitted Medjool dates

about 18-20 dates

water

see instructions
Instructions
Bring 4 cups of water to a simmer and remove the pot from the heat.

Place dates into a 4 cup glass measuring cup and cover with hot water. Let dates sit for 10 minutes to soften. Reserve 1.5 cups of the soaking liquid and drain the remaining water from the dates.

Place the dates and 1 cup of the reserved water into a high speed blender and blend until smooth. Add more water if you'd like a thinner consistency. Transfer to a glass container and cover.

Store covered in the refrigerator up to 3 months.
Nutrition
Serving:
1
tablespoon
|
Calories:
29
kcal
|
Carbohydrates:
8
g
|
Protein:
1
g
|
Fat:
1
g
|
Sodium:
1
mg
|
Potassium:
74
mg
|
Fiber:
1
g
|
Sugar:
7
g
|
Vitamin A:
15
IU
|
Calcium:
7
mg
|
Iron:
0.1
mg