Lobster Mac and Cheese
The first time I had Lobster Mac and Cheese was at a fabulous Atlanta restaurant called "Chops". Atlanta has it's fair share of upscale restaurants, but Chops is definitely at the top of the list. Their version of Lobster Mac and Cheese is amazing!
I don't have the luxury of eating at Chops on a regular basis so I made a rendition of the dish and I know you're going to love it!
Boil the lobster tails in salted water for about 8-10 minutes, remove and let cool.  Remove the meat from the tails and cut into bite size pieces. Boil a pound of elbow macaroni for about 5-6 minutes, or until it is "al dente".
The base of this mac and cheese is a roux made from equal parts of butter and flour.  Melt the butter in a heavy saucepan and whisk in the flour. Cook for about a minute, whisking constantly, and then gradually add the heavy cream.  Keep whisking until the roux is smooth and creamy.  Add the salt, pepper, cayenne pepper and Parmesan cheese and stir until the cheese has melted and everything has come together.
Combine the cooked macaroni with the cheese mixture and spread a third of it onto the bottom of a greased 8″ x 8″ baking dish.  Sprinkle a third of the lobster meat onto the macaroni and cheese layer.
Cover the lobster layer with a third of the shredded cheese.
Keep layering until you have the final layer of shredded cheese on top and then sprinkle bread crumbs to cover the entire dish.  Bake at 350° for about 45 minutes, or until it is bubbly and the bread crumbs are golden brown.
The Parrano cheese gives this macaroni a tangy bite that I just love. You can substitute Gruyere cheese if you can't find Parrano cheese. Serve it as a hearty main dish or try it alongside a big juicy steak for a new twist on "Surf and Turf"!
---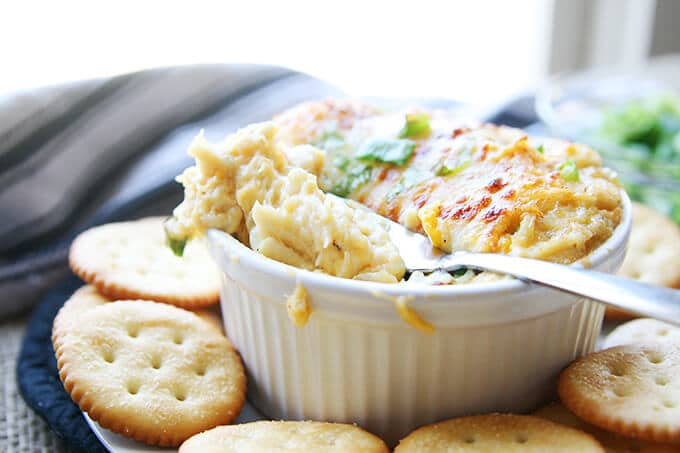 Lobster Mac and Cheese
Ingredients
4 T butter
4 T flour
2 cups heavy cream
6 oz. Parmesan cheese, grated
½ tsp salt
½ tsp pepper
¼ tsp cayenne pepper
2-3 lobster tails
1 lb. elbow macaroni
4 oz. Parrano or Gruyere cheese, shredded
8 oz. sharp cheddar cheese, shredded
½ cup Italian bread crumbs
Instructions
Preheat oven to 350° and grease an 8" x 8" baking dish
Boil the elbow macaroni for 5 minutes or until al dente, drain and set aside
Boil the lobster tail for 8-10 minutes, let cool and cut into bite size pieces
In a heavy saucepan, melt the butter and then add the flour, whisking until combined
Gradually add the heavy cream, whisking constantly until the mixture becomes smooth and creamy
Stir in the salt, pepper, cayenne pepper and Parmesan cheese and stir until melted
Pour the cooked macaroni into the cheese mixture and stir to combine
Place a third of the macaroni mixture onto the bottom of the baking dish and then sprinkle with a third of the lobster meat and then with a third of the shredded cheese
Continue to layer the dish until you have the last layer of shredded cheese on top
Sprinkle the dish with the italian breadcrumbs and bake for 40-45 minutes or until bubbly and golden brown on top
Remove from the oven and serve hot