This Easy Sugar Cookies recipe is the perfect sugar cookie cutout recipe for holiday baking. The dough is easy to work with, won't spread when baking, and I've included lots of tips and tricks to help you make the perfect Christmas cookies!
Easy Sugar Cookie Cutouts for decorating with royal icing
What could be more Christmas-y than sugar cookie cutouts? Who doesn't love to gather family around during the holidays and spend quality time together decorating sugar cookies?
I create custom sugar cookies for all kinds of special occasions at my home bakery. Weddings, birthdays, holidays … you name it! This is the recipe I use and everyone raves about it! Now I'm sharing my easy sugar cookies recipe with you!
Tips for making Perfect Sugar Cookies:
Use rolling pin guides to get an even thickness across the cookie. I use a 1/4″ guide to roll out my dough. I've had really great success with the Joseph Joseph 20085 Adjustable Rolling Pin with Removable Rings. You can also use a couple of unused paint sticks on either side of your dough to use as thickness guides for your rolling pin.
I like to roll the dough between two pieces of wax paper right after I mix the dough, place on a cookie sheet and refrigerate them for an hour before cutting out my shapes. The dough should be hard to the touch.
Always use parchment paper to line baking pans. This will prevent sticking and over-browning on the bottom of the cookies.
Use light colored baking sheets when baking your sugar cookies. Darker colored baking sheets will cause the bottom of the cookies to over-bake slightly and turn a darker brown.
Don't over crowd the baking sheet. If you are baking a standard size 3″ sugar cookie, only bake up to a dozen cookies at a time. This will ensure that there is plenty of room around the cookies so that they bake evenly on the tray. Over time, my personal preference has become 8 cookies to a tray.
If your cookies come out a bit puffy, you can use a fondant smoother to flatten the top of the cookies right when they come out of the oven. This will make it easier to decorate the cookies with royal icing. Press down very lightly because you do not want the cookie to lose it's shape. You don't want to flatten the whole cookie either, just smooth the top of the cookie. If you don't have a fondant smoother just use something that has a flat smooth surface.
Always use ingredients that are at room temperature. This makes the ingredients easier to incorporate with each other and makes a smoother cookie dough.
Don't over mix the dough. Mix until dough starts to pull away from the sides of the bowl.
Bake until the cookies are just starting to turn a light golden brown. This is usually about 10-12 minutes for a cookie that is 1/4″ thick. Keep a close eye on them until you get to know your oven so they don't over-bake.
If you find that your cookies do not cook evenly, rotate the baking sheet 180° halfway through the baking time. This will help the cookies to bake evenly. Some ovens have hot-spots that cause cookies on one side of the oven to cook quicker than the other.
Leave the cookies on the baking sheet after you remove them from the oven. The cookies still need to cook a little after they've been removed from the oven. You can transfer them to a cooling rack after about 7-10 minutes or just leave them on the baking sheet.
Omit baking powder in sugar cookie cutout recipes because it causes the cookies to puff while baking.
Get the family together this week and crank out a few dozen of these amazing little sugar cookies. I've also included a link to my royal icing recipe so that you can get busy decorating!I hope that you and your family have a wonderful Christmas!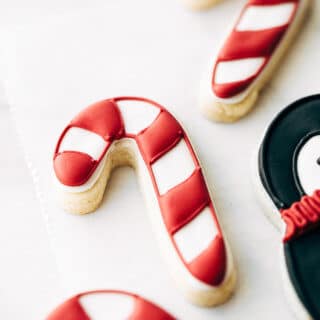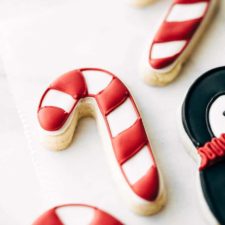 Easy Sugar Cookies
Making delicious sugar cookie cutouts is easy with this amazing recipe!
Print
Pin
Rate
Ingredients
2

sticks unsalted butter

room temperature

2

cups

granulated sugar

2

eggs

room temperature

1

tablespoon

vanilla extract

4

cups

all purpose flour

sifted

1

teaspoon

salt
Instructions
Using a stand mixer with the paddle attachment, beat the sugar and butter on low speed for about 2 minutes. The mixture should be light and fluffy but be careful not to over-beat.

Add the eggs, one at a time and beat on low speed until incorporated. Scrape down the sides of the bowl as necessary.

Add the vanilla extract and mix until everything is combined.

In a medium sized mixing bowl, sift the flour and salt together.

Add the dry ingredients to the mixer and beat on low speed for about 30-45 seconds. Scrape down the sides of the bowl and then continue to beat until the dough pulls away from the sides of the bowl. Another 30-45 seconds.

Place half of the dough between two pieces of wax paper and roll out into desired thickness. I prefer ¼ inch thickness. Repeat with the other half.

Stack the sheets of rolled out dough on a baking sheet (do not remove wax paper) and chill in the refrigerator for about an hour or until the dough is hard to the touch.

Preheat your oven to 350°.

Cut your shapes out of the rolled out dough, place on a parchment lined baking sheet and bake for 10-14 minutes. You want them to be very light golden brown around the edges. Do not over-bake!

Remove the cookies from the oven and leave them on the baking sheet to cool down completely before decorating.
Nutrition
Serving:
1
g
|
Calories:
136
kcal
|
Carbohydrates:
21
g
|
Protein:
2
g
|
Fat:
5
g
|
Sugar:
12
g