Bananas…what is it that I love so much about you? You are so delicious in anything from pudding to ice-cream. You seem to make everything taste so good.


You have no idea how excited I am to finally get this banana cream pie cheesecake recipe published! It's taken more time, messy pans and cream cheese than I had hoped for, but what the heck…good things come to those who wait!
This recipe is so rich and creamy. It's everything you would expect to find in a cheesecake but even better…it's topped with a sinfully thick banana cream layer, freshly sliced bananas and whipped cream. Not for the faint of heart.
It's Banana Cream Pie Cheesecake time!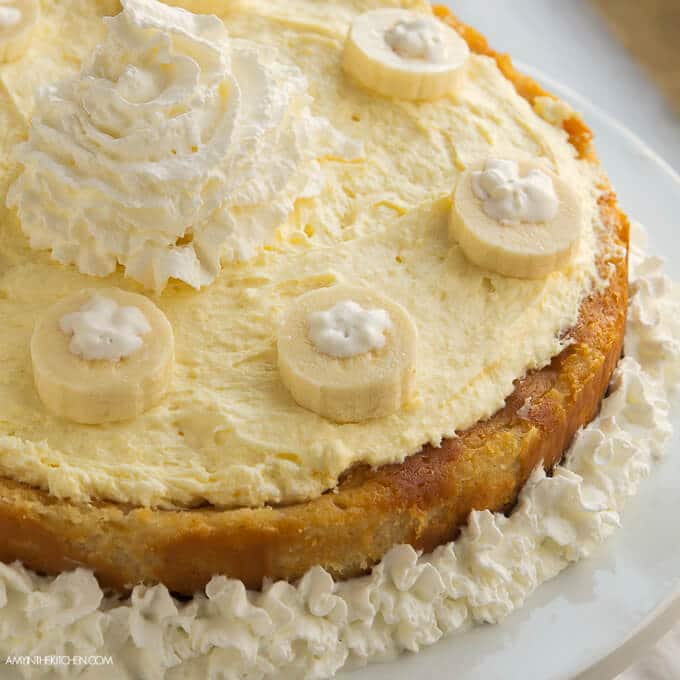 Does this cheesecake look amazing or what?
It Is!!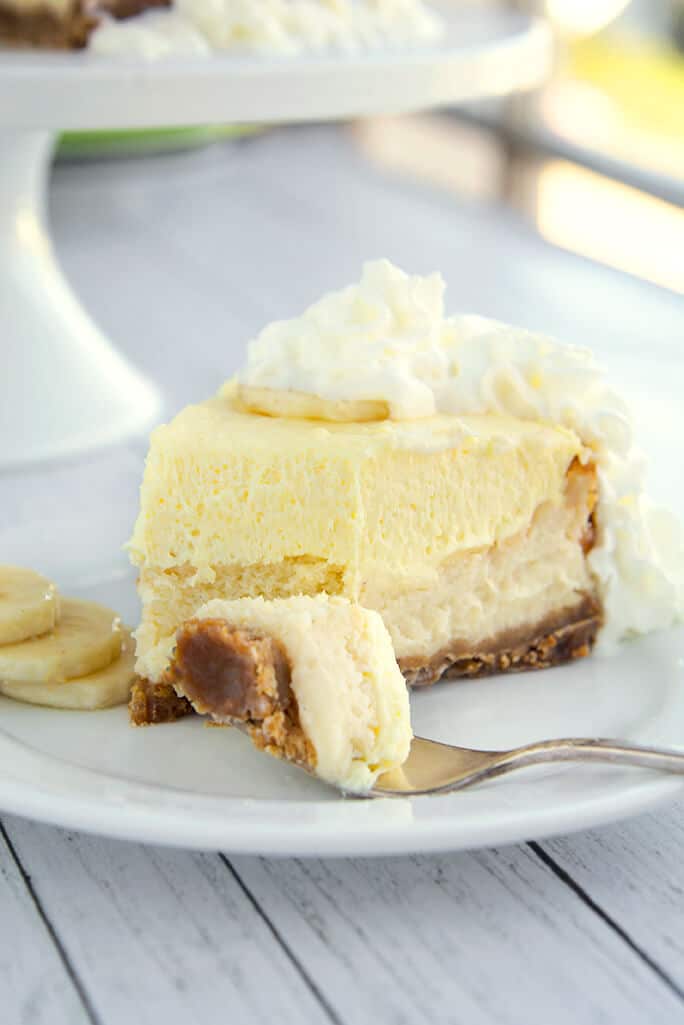 I was hoping to have this recipe to you a little sooner for holiday parties but I guess it's always better late than never. I promise, you're guest will love it!
If you love my vanilla bean cheesecake, you've got to try this new recipe for Banana Cream Pie Cheesecake!
Enjoy!
Banana Cream Pie Cheesecake
Ingredients
Graham Cracker Crust
1½ cups finely crushed graham crackers
¼ cup light brown sugar
1 stick unsalted butter, melted
½ tsp vanilla extract
Cheesecake Filling
16 oz. cream cheese, softened
2 sticks unsalted butter, softened
1 cup granulated sugar
1 cup sour cream
2 T corn starch
1 vanilla bean pod, beans extracted or 1 T vanilla paste
Banana Cream
4 oz. cream cheese, softened
1 3.4 oz. pack instant Banana Cream pudding mix
¼ cup milk
8 oz. heavy whipping cream
Topping
16 banana slices
whipped cream
Instructions
Graham Cracker Crust
Preheat oven to 375° and line a spring-form pan with parchment paper.
In a medium bowl, combine crushed graham crackers and brown sugar and mix with a fork
Add the melted butter and vanilla extract and mix until fully incorporated
Press into the bottom of the lined spring-form pan and bake for 8-10 minutes
Remove from oven and let cool
Cheesecake Filling
Preheat oven to 320°
In a stand mixer, beat the cream cheese, butter and sugar until light and fluffy
Add the sour cream, corn starch and vanilla beans and mix until the mixture is smooth and creamy
Pour over the graham cracker crust and bake for one hour. The filling will be jiggly in the center when you remove it from oven
Remove from the oven and place on a heat safe surface for one hour. Do not remove the spring-form pan. You will remove it right before serving!
Place into the refrigerator overnight to set, or at least 6 hours
Banana Cream
In a medium size bowl, beat the cream cheese, jello and milk until it is smooth and creamy.
In a separate bowl, whip the heavy cream until stiff.
Pour half of the whipped cream into the cream cheese mixture and stir vigorously until fully combined and smooth.
Add the remaining whipped cream and stir until smooth.
Spread the banana cream mixture on top of the cheesecake.
Refrigerate for at-least 1 hour.
When you are ready to serve, garnish with banana slices and whipped cream