This recipe for Sweet and Spicy Chicken is made with tender chicken bites, coated in panko bread crumbs, and baked for a healthy twist!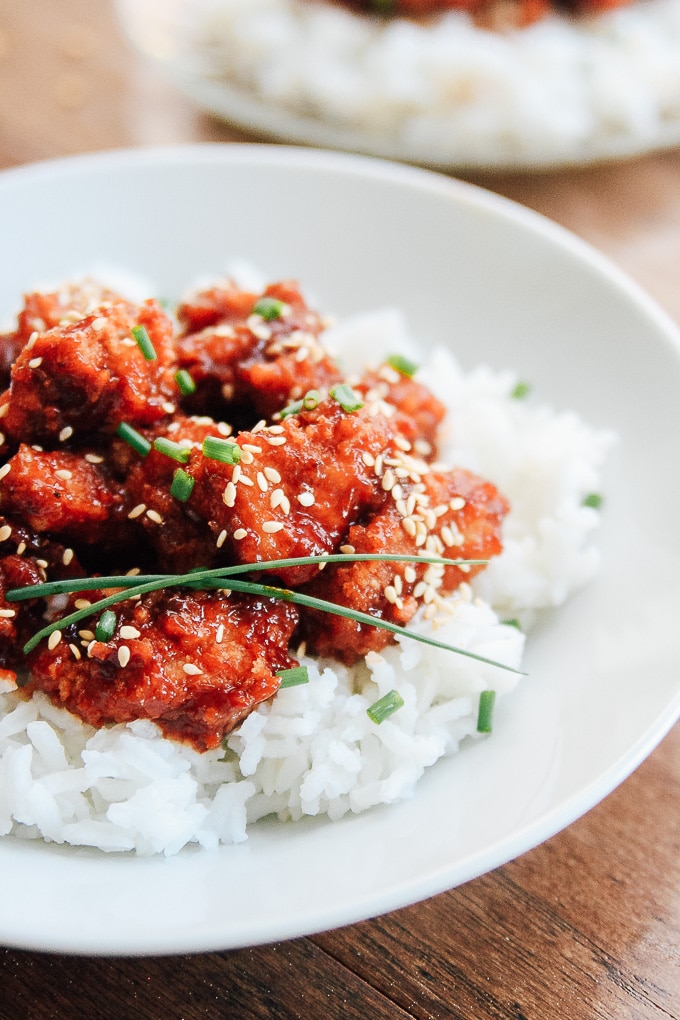 I love General Tso Chicken from my favorite Chinese restaurant but, I hate the thick, greasy breading that it's fried in.
That's why I'm sharing a healthier version of this delicious dish!
The chicken is baked instead of fried in a crunchy coating of panko bread crumbs to soak up all the sweet and spicy sauce.
Topped with sesame seeds and chives, it's an easy weeknight dinner ready in under an hour.
How to make Sweet and Spicy Chicken
Set up a breading station with three bowls for the flour, eggs and panko bread crumbs.
Cut the chicken breast into one inch pieces.
Working with just a handful at a time, lightly coat the chicken pieces in the flour.
Dredge the flour coated chicken in the eggs and then coat with the panko bread crumbs. Press the crumbs into the chicken to get a nice even coating.
Place the chicken pieces onto a baking sheet that has a cooling rack on top. This will elevate the chicken off of the baking sheet and allow it to bake evenly all around.
Bake at 350°F until cooked through, about 15-20 minutes.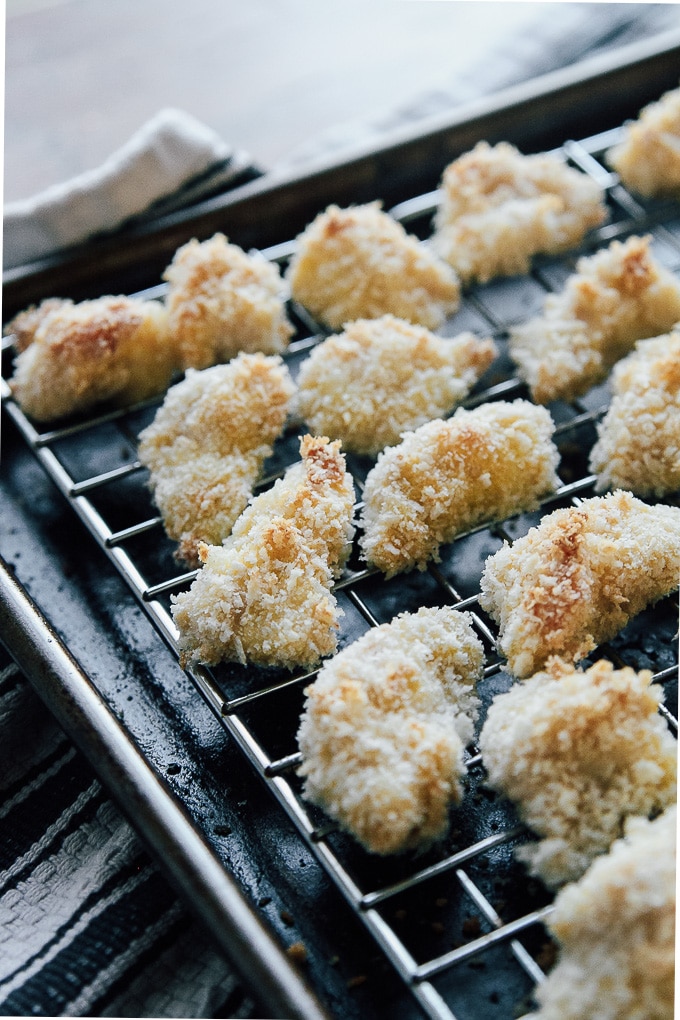 Now that the chicken is in the oven, it's time to make the sauce!
Whisk all of the sauce ingredients together in a heavy saucepan until smooth and cook over medium-high heat to thicken.
Once the chicken is baked, stir the pieces into the sauce to coat evenly. Serve immediately over steamed rice and top with sesame seeds and chopped chives.
This healthier version of sweet and spicy chicken will definitely be an addition to your regular meal plans.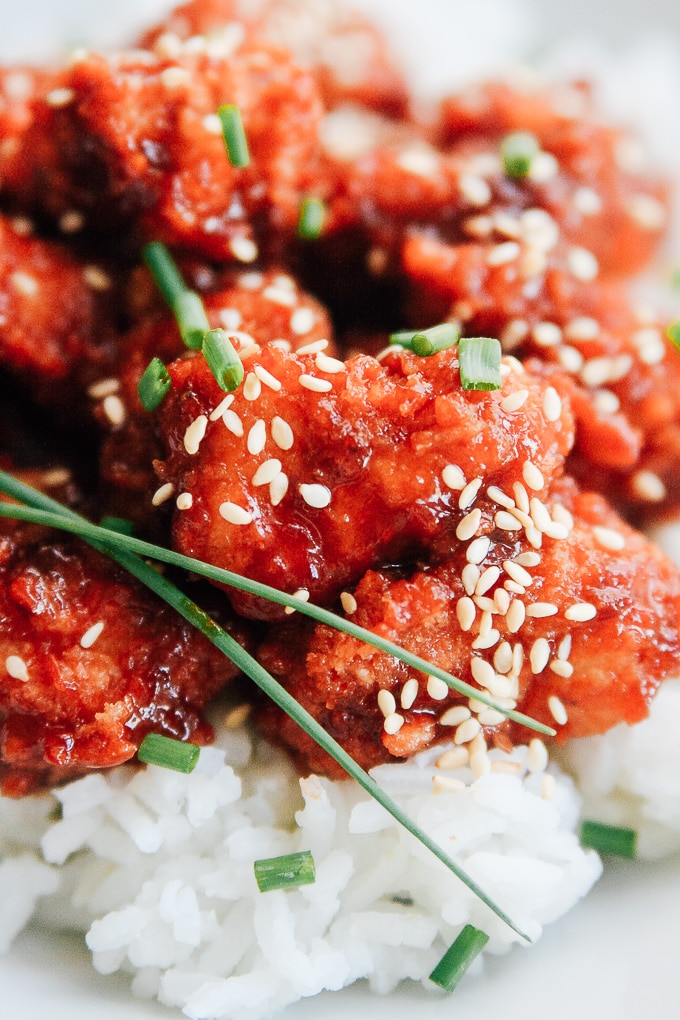 Other recipes you might like!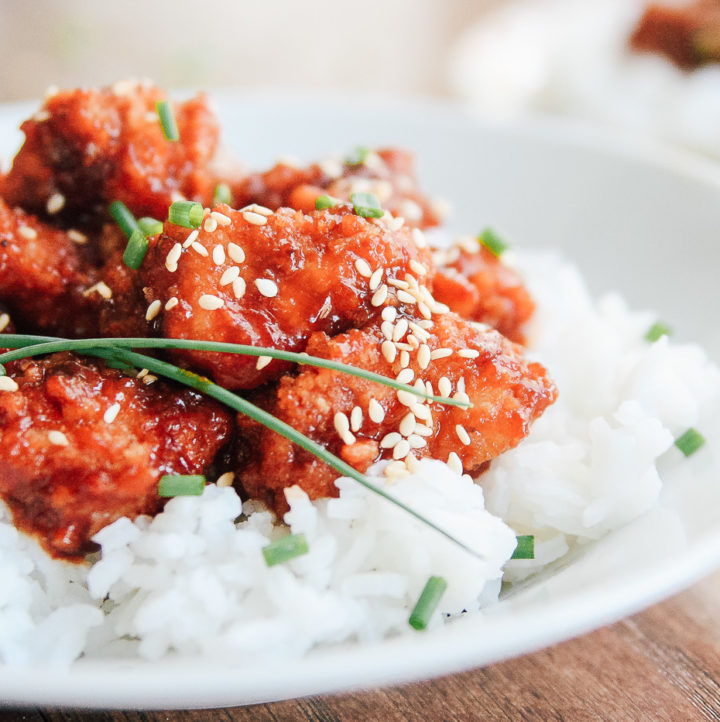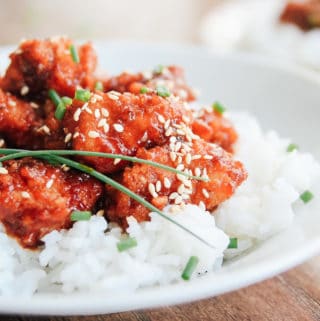 Sweet and Spicy Chicken
Sweet and spicy chicken is quick and easy chicken dinner for any night of the week!
Ingredients
2

large chicken breasts

cut into 1 inch pieces

½

cup

all purpose flour

2

large eggs

beaten

2

cups

Panko bread crumbs

¼

cup

plum sauce

¼

cup

rice wine vinegar

¼

cup

soy sauce

I use reduced sodium soy sauce

2

teaspoon

sriracha sauce

1

T

cornstarch

4

cups

steamed rice

Garnish with sesame seeds and chopped chives

optional
Instructions
Bake chicken
Preheat oven to 350°F.

Place the flour, eggs and panko bread crumbs into three separate bowls.

Lightly coat the chicken in the flour, dredge through the eggs and coat with panko bread crumbs. Press the crumbs onto the chicken to make sure it is evenly coated.

Place a lightly sprayed cooling rack onto a baking sheet and arrange the chicken in an even layer. (If you don't have a cooling rack, lightly spray a baking pan and turn the chicken half way through the cooking time to ensure even browning).

Bake for 15-20 minutes until cooked through and the coating is golden brown.
Make the sauce
Combine the plum sauce, rice wine vinegar, soy sauce, ancho chile paste, sriracha sauce and cornstarch in a heavy saucepan and whisk over medium-high heat until it thickens.

Stir the baked chicken into the sauce and serve over steamed rice. Garnish with sesame seeds and chopped chives.
Notes
Store leftovers in the fridge, covered, for up to 4 days.
Originally posted in 2014 and updated in July 2018.