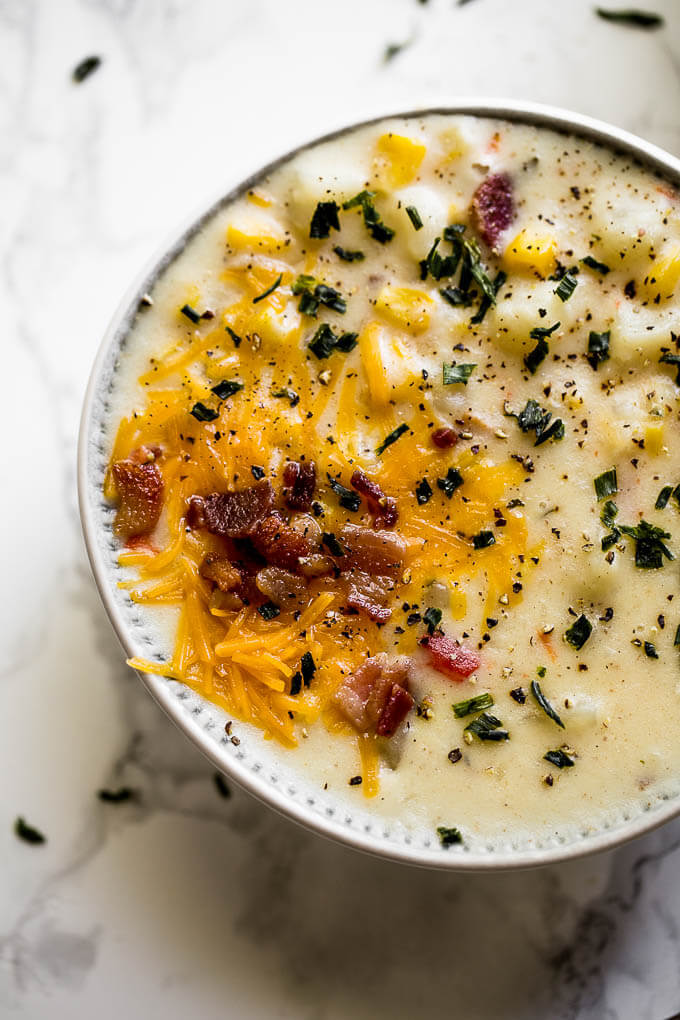 I am so in love with my Instant Pot … I guess you can say I've turned into a Pot Head!
Over the last few weeks I've made beef stew … french dip sandwiches … cheesecake … homemade yogurt and a bunch of other amazing recipes in my Instant Pot.
Dinner is super easy to make when you've got one of these awesome inventions around!
Take this Cheesy Corn and Hashbrown Chowder for an example.
The hardest thing about this recipe is cutting up the bacon and a couple of veggies. The corn is thrown in frozen … as well as the ALREADY CHOPPED frozen hashbrown potatoes!
Did you hear me? The potatoes are already chopped. No peeling and chopping required!
Oh man … that's so nice.
The thing that I love about the Instant Pot is that is has soooo many functions. You don't have to use multiple pots and pans.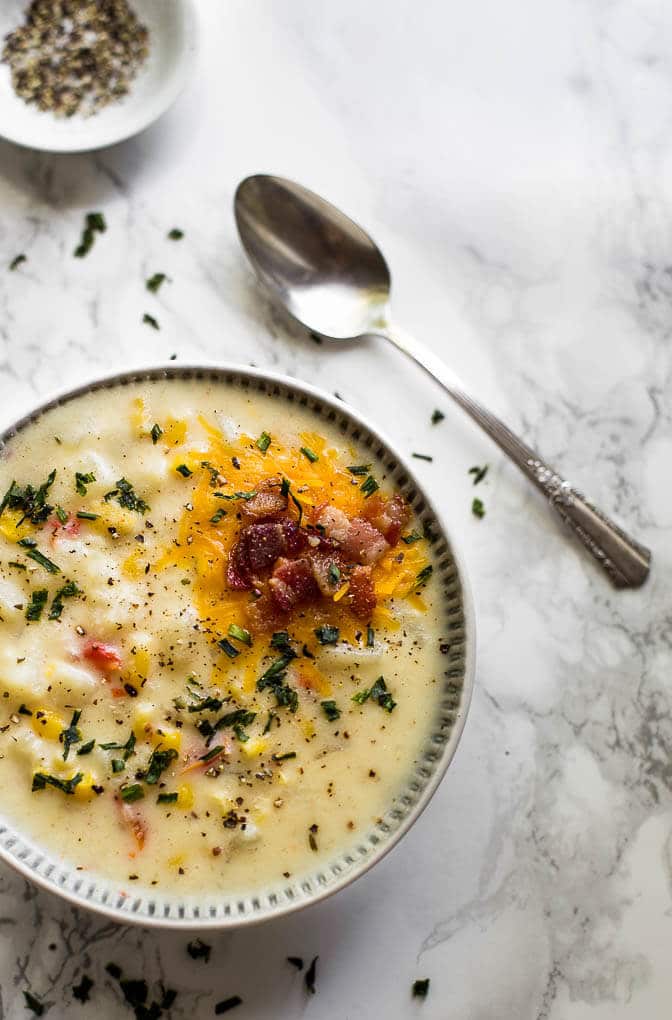 It has a SAUTE function to cook the bacon right in the pot!
That's right … cook the bacon and then saute the onions in the bacon grease to really take advantage of as much bacon flavor possible!
Once the bacon is crispy and the onions are sauteed … throw the rest of the ingredients (except the cream and flour) in and you're good to go.
Now … don't go too far because this thing only takes 10 minutes of cooking time … 10 minutes!
Once the pressure is released … stir in the cream and cornstarch mixture to thicken this chowder up.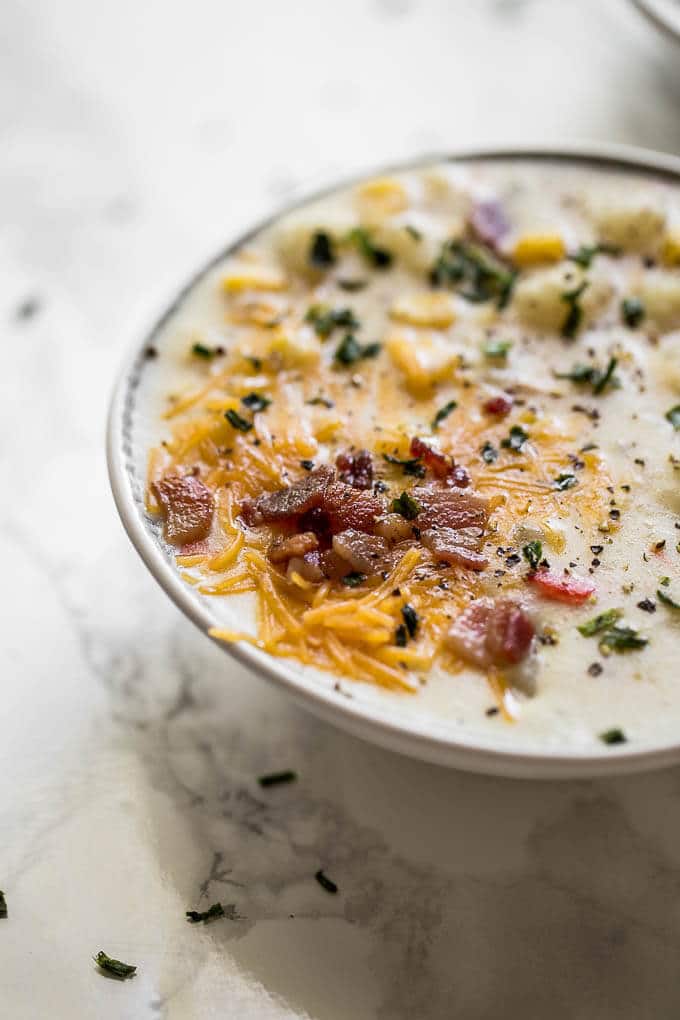 Serve topped with shredded cheese, crispy bacon and chives to make this Cheesy Corn and Hashbrown Chowder even more amazing than it already is!
Print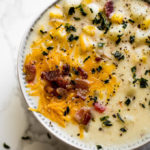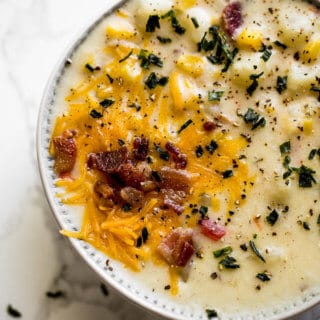 Instant Pot Cheesy Corn and Hashbrown Chowder
---
Ingredients
4-6 strips of bacon, chopped
1 small onion, chopped
20 oz. frozen corn kernels
32 oz. southern style frozen hashbrowns (the ones that are diced)
1 teaspoon minced garlic
1/2 red bell pepper, chopped
1 teaspoon fresh thyme leaves
4 cups chicken stock
1 cup heavy cream
4 tablespoons cornstarch
salt, pepper and red cracked pepper to taste
1 cup shredded cheddar cheese
2 tablespoons chives, chopped
---
Instructions
Press the SAUTE button on the Instant Pot and cook the chopped bacon until crispy.
Remove the bacon and set aside for garnish.
Saute the onion in the bacon grease for 3-4 minutes.
Press CANCEL button to stop the saute function.
Add the remaining ingredients, except the heavy cream and cornstarch. Close the lid and make sure the vent is in the SEALED position.
Press the MANUAL button and adjust to 10 minutes.
After it is done cooking, let natural release for 10 minutes and then release steam vent.
Once all the steam has been released, remove the lid and stir.
In a small bowl, whisk the heavy cream and cornstarch together. Pour into the chowder and stir to combine.
Serve hot topped with the cheddar cheese, bacon and chives.