This recipe for Instant Pot Quinoa is a fail-proof method for making perfect, fluffy quinoa every time!
You'll love how easy it is and you'll never have to worry about your quinoa turning into a big bowl of mush!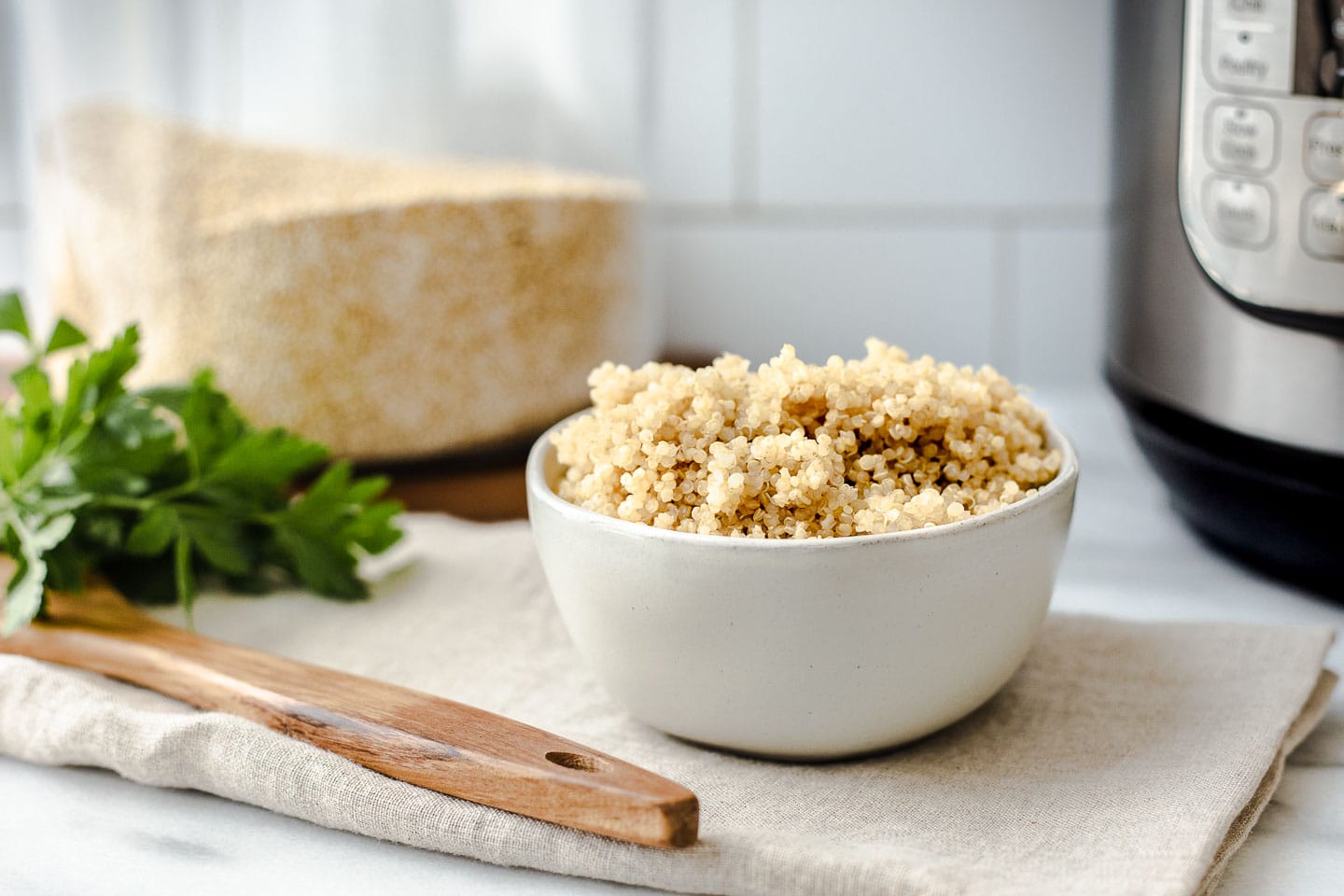 Tired of quinoa that turns out mushy? I'm confident that if you don't like mushy quinoa, you're going to love this recipe as much as I do!
Quinoa is delicious eaten hot or cold which makes it perfect to add to salads or served as a side with a main dish.
This recipe can be used for any type of uncooked quinoa. The most common quinoa available is white, but there is also red, black, purple and tri-colored.
Always rinse quinoa before cooking to remove the natural coating called "saponin". If left on, this coating can cause the quinoa to have a bitter or soapy taste.
Add seasonings to the pot such as salt, garlic powder, pepper, etc. before cooking to add extra flavor.
Quinoa is perfect for meal prep! Make a batch to create healthy meals throughout the week.
How to make the Perfect Instant Pot Quinoa
It's all about the ratio of quinoa to water! 
The perfect ratio when cooking quinoa in an Instant Pot:
1 part dry quinoa
1.25 parts water
That translates to 1 cup of uncooked quinoa plus 1 1/4 cups of water to produce 3 cups of cooked quinoa.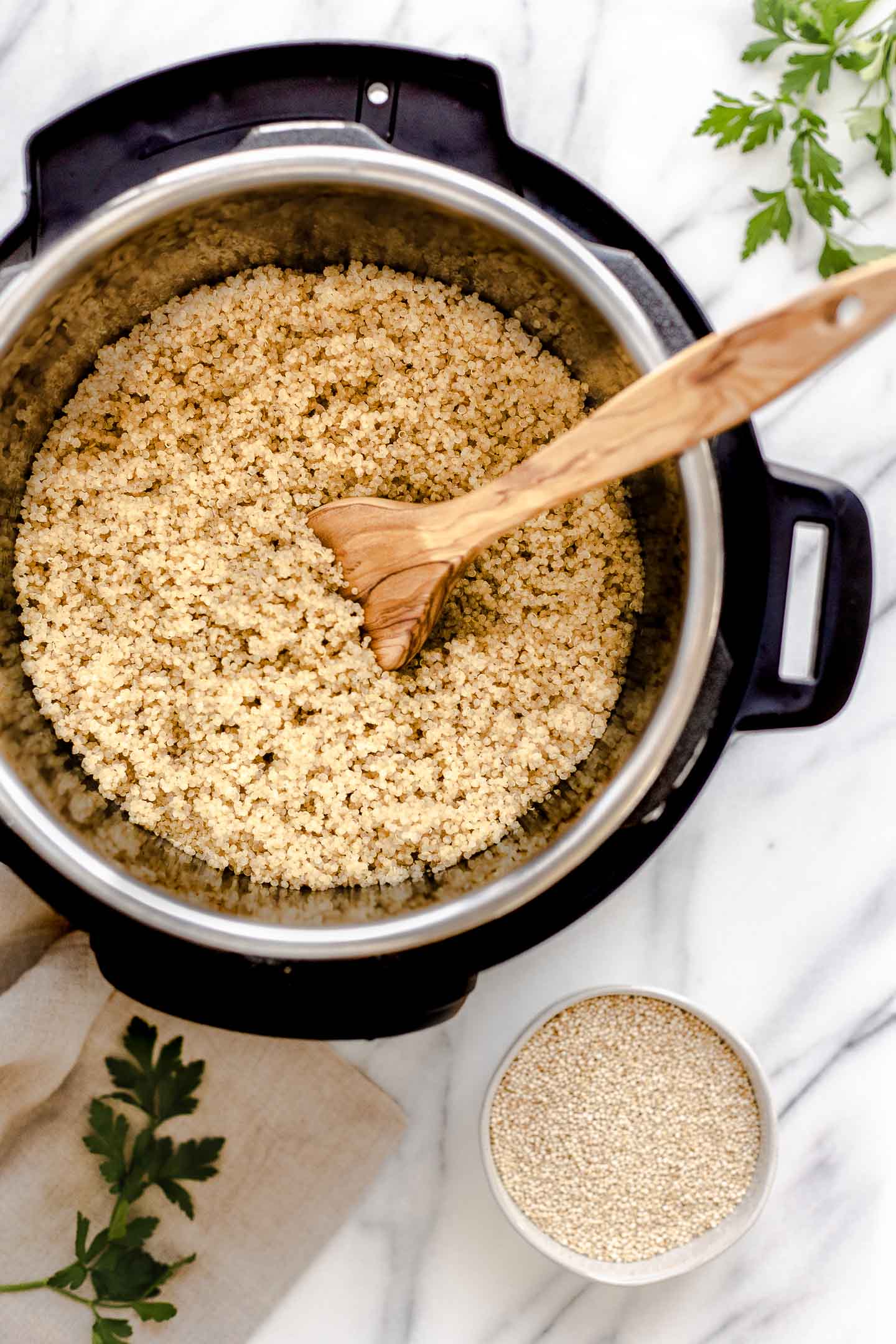 Rinse the uncooked quinoa under cold water to remove any bitter coating and dirt. Use a fine mesh strainer instead of a colander to avoid the little pieces from falling through the holes!
Coat the liner of the Instant Pot with a little oil or cooking spray to keep the cooked quinoa from sticking.
Add Ingredients. Pour 1 cup of rinsed quinoa and 1 1/4 cups water into the pot, secure lid and make sure the pressure valve is in the SEALED position. Press the MANUAL button and set for 1 minute at high pressure. When the timer goes off, let naturally release for 5 minutes and then turn the pressure valve to the VENTING position.
Once the pressure has fully released, use a fork to fluff the quinoa before serving.
Store left-overs in an air-tight container in the fridge for up to a week.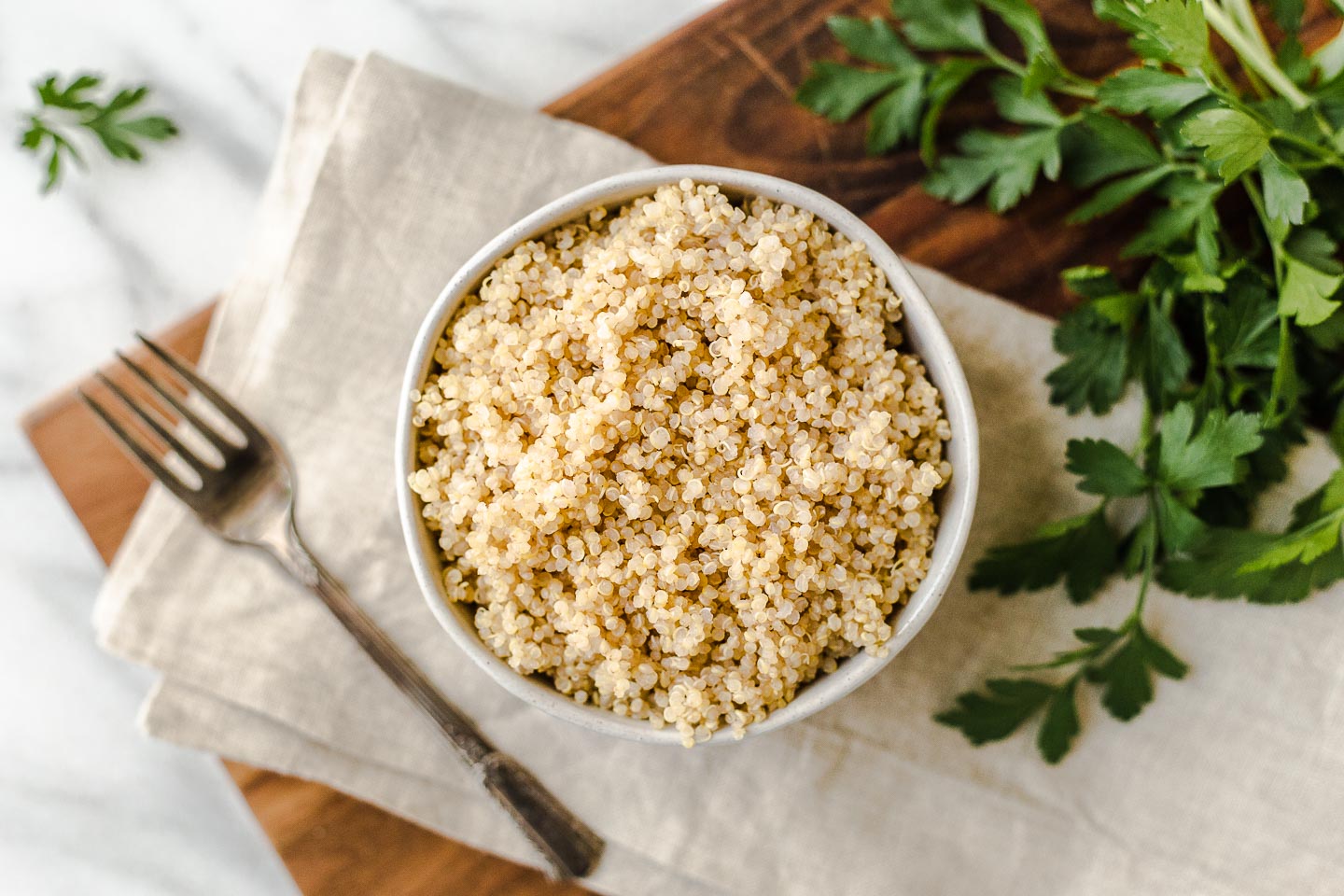 The pressure cooker makes cooking quinoa easier than ever. I love using my Instant Pot to cook quinoa because I can just press a button and walk away!
Other recipes you may like: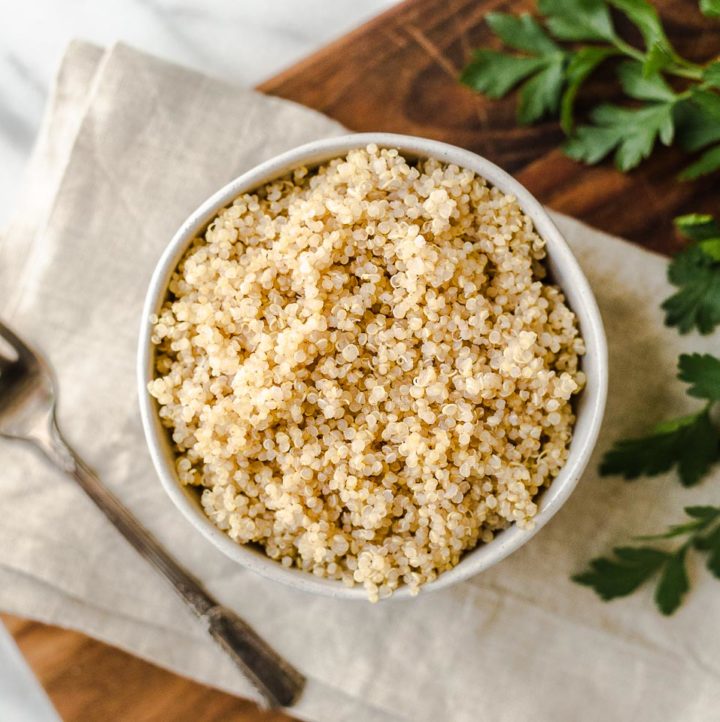 Perfect Instant Pot Quinoa
A fail-proof method for making light and fluffy quinoa every time in your Instant Pot!
Ingredients
1

teaspoon

coconut oil or cooking spray

1

cup

quinoa

(uncooked)

1 1/4

cups

water
Instructions
Rinse the quinoa in a fine mesh strainer under cold water for 1 minute to remove any bitter residue.

Use the oil or cooking spray to coat the bottom and sides of the Instant Pot. Pour the quinoa and water in the pot, stir and put lid on. Turn pressure valve to the SEALED position.

Press the MANUAL button, make sure it is set to HIGH pressure and set timer for 1 minute. When time is up, let the Instant Pot naturally release for 5 minutes. Turn the pressure valve to the VENTING position and allow the remaining steam to escape.

Remove the lid, fluff the quinoa with a fork and serve.
Notes
The small amount of oil on the side of the pot liner will prevent the quinoa from sticking.