Are you ready to have your mind blown? This Easy No-Churn Ice Cream recipe lets you have delicious homemade ice cream without an ice cream maker! Create whatever ice cream flavor you want … whenever you want! Only 3 ingredients are needed to create the perfect base for your favorite ice cream!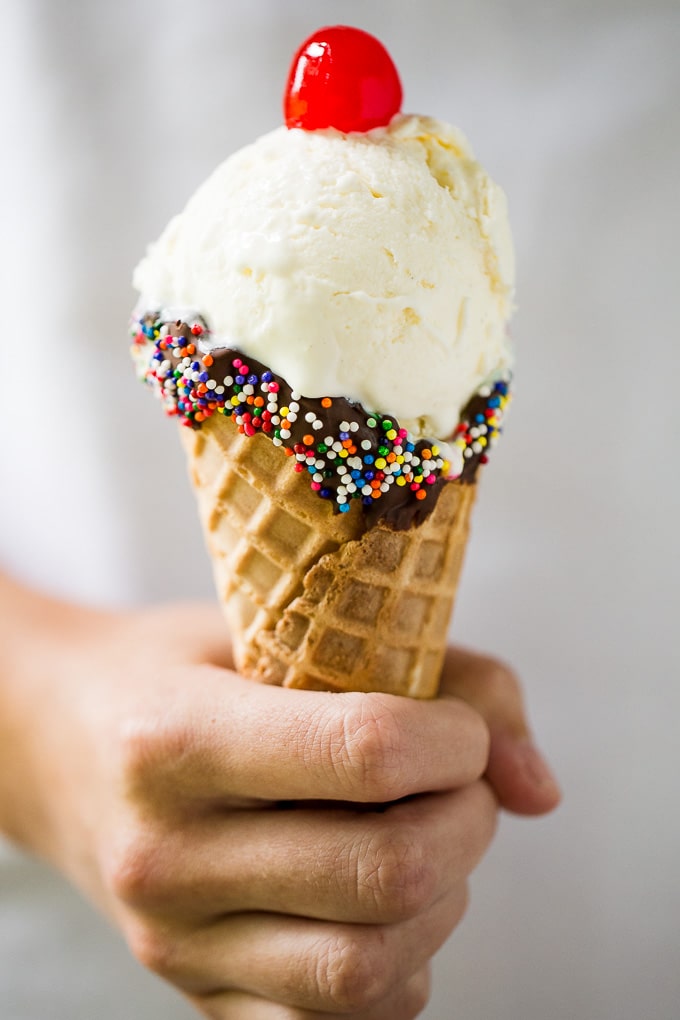 Heavy cream, sweetened condensed milk and sour cream are the three ingredients needed to create the best no-churn ice cream ever! I'm sure you've seen 2-ingredient homemade ice cream recipes that only use heavy cream and sweetened condensed milk so you might be thinking … sour cream? Why the third ingredient?
Sweetened condensed milk is just a little too sweet for my taste. The addition of sour cream cuts the sweetness factor and makes the base even more rich and creamy! With that being said, the sour cream is an optional ingredient. Leave it out if you want a really sweet ice cream!
How to make No-Churn Ice Cream
Put the cold heavy cream, sweetened condensed milk and sour cream into a large mixing bowl and beat on high speed for 2-3 minutes. The mixture will be thick and creamy.
Choose any of the 5 classic flavor combinations and fold into the mixture.
Pour into a freezer-safe container, cover and freeze until solid, at least 6 hours.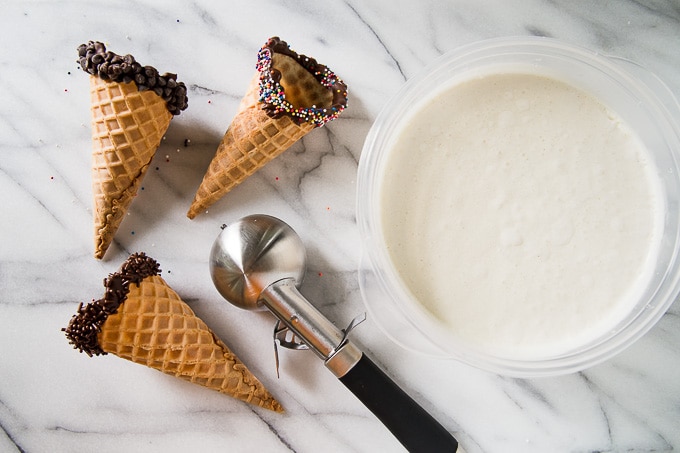 How to create 5 Classic Ice Cream Flavors!
To the No-Churn Ice Cream Base recipe add:
Vanilla Ice Cream: 1 teaspoon vanilla extract or the beans from one vanilla pod
Chocolate Ice Cream: 1 cup dutch cocoa powder, 1 teaspoon vanilla extract, pinch of salt
Strawberry Ice Cream: 1-2 cups chopped strawberries (fresh or frozen), 1 teaspoon vanilla extract
Cookies and Cream Ice Cream: 20 Oreo cookies, crumbled
Mint Chocolate Chip Ice Cream: 2 cups semi-sweet mini chocolate chips, 1 teaspoon peppermint extract, 2-3 drops green food coloring (optional)
Tips for making No-Churn Ice Cream
Make ahead of time! No-Churn Ice Cream can easily be made in advance and frozen just like store-bought ice cream.
To keep "heavy" ingredients like chocolate chips evenly distributed throughout the ice cream, give it a good stir after it's been chilling for 2-3 hours and then pop back into the freezer to finish.
Let the ice cream sit at room temperature for a few minutes to make it easier to scoop before serving.
For extra yumminess, dip edge of the waffle cones in melted chocolate and add sprinkles before the chocolate has set.
Serve with toppings such as homemade whipped cream, nuts, sprinkles, fruit and syrup.
Check out this delicious No-Churn Blueberry Pie Ice Cream!