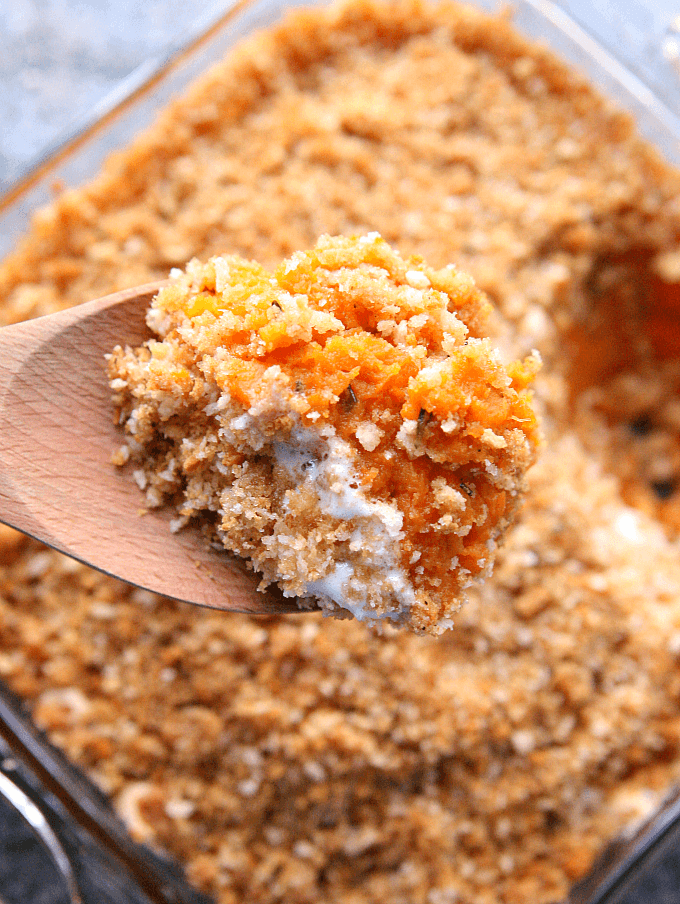 When it comes to sweet potato casserole my taste is a little different than most people.  I tend to like mine on the savory side.  There is just something about the combination of sweet potatoes and rosemary that really does it for me. Combine that with some brown sugar and something amazing happens.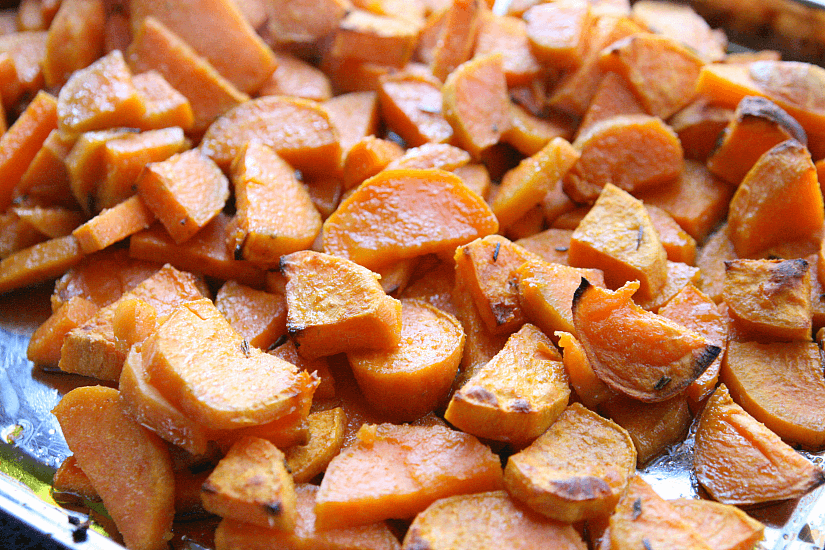 This casserole is made with sweet potatoes that have been roasted in olive oil, fresh rosemary and salt. It makes a HUGE difference!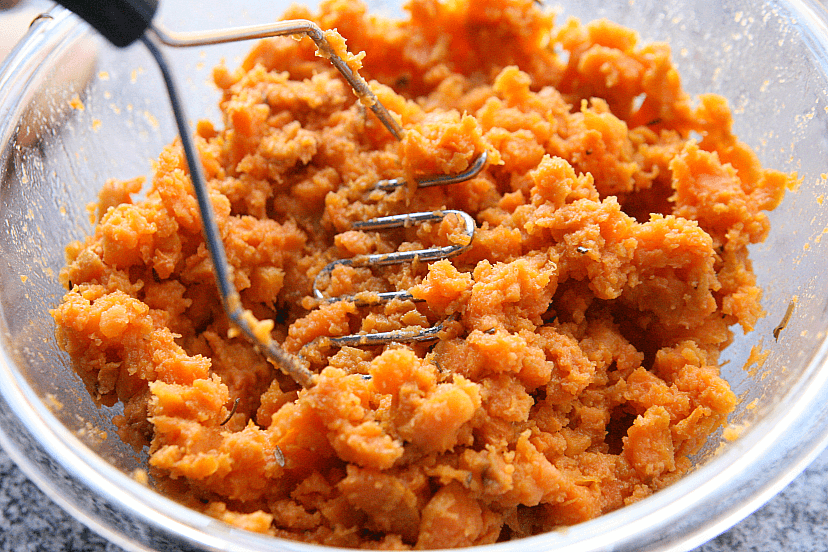 Mash them with some brown sugar, egg, cinnamon and half and half.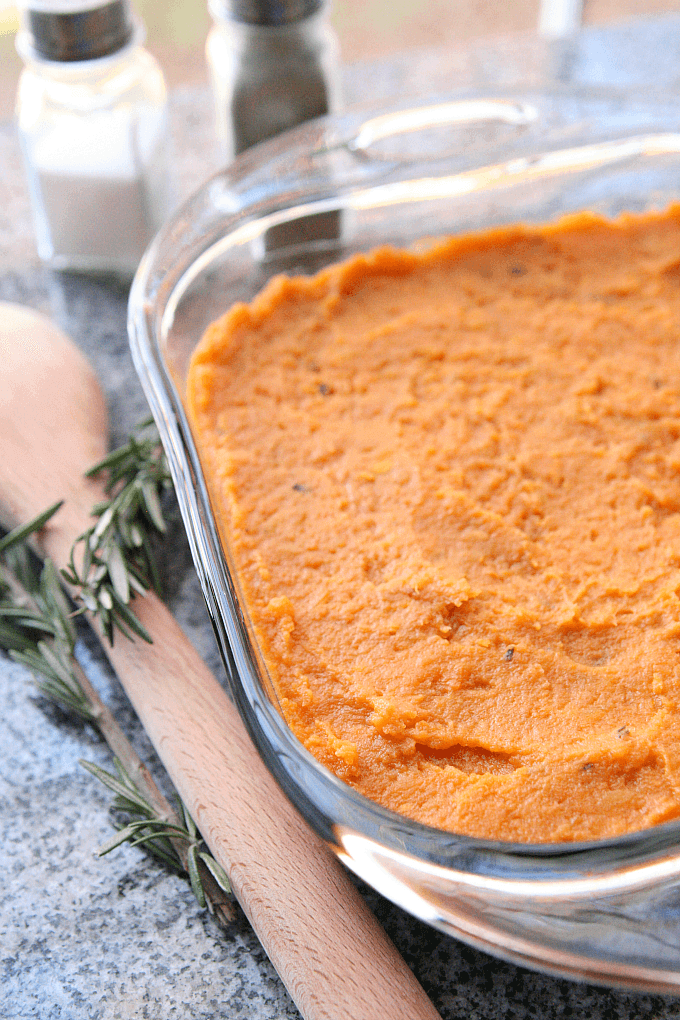 Pour into an 8″ x 8″ baking dish and bake at 350° for 30 minutes.
One of the best parts of this casserole is the savory and sweet crumb topping.  It's made of butter, fresh rosemary, panko bread crumbs, light brown sugar and graham crackers. After the casserole comes out of the oven, pour about 2 cups of mini marshmallows over the top and then sprinkle with the crumb topping.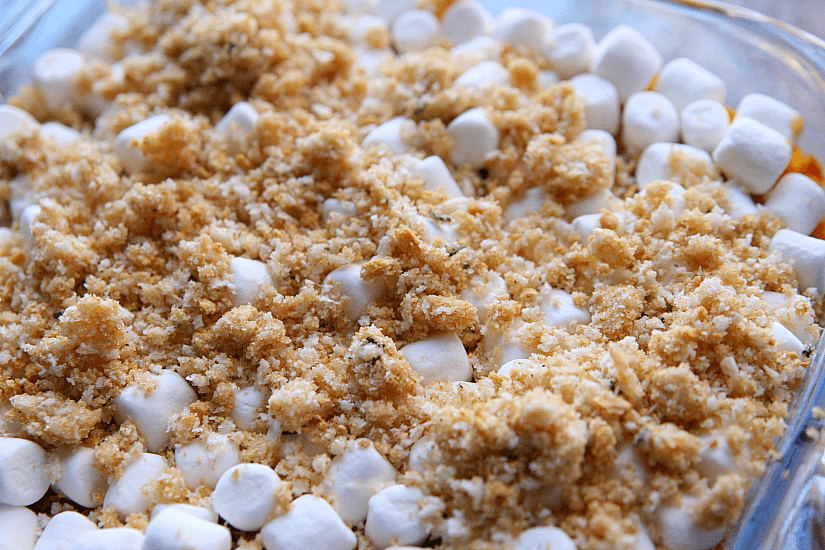 Place back into the oven for about 20 minutes or until the topping has become a nice golden brown and all of the marshmallows have melted.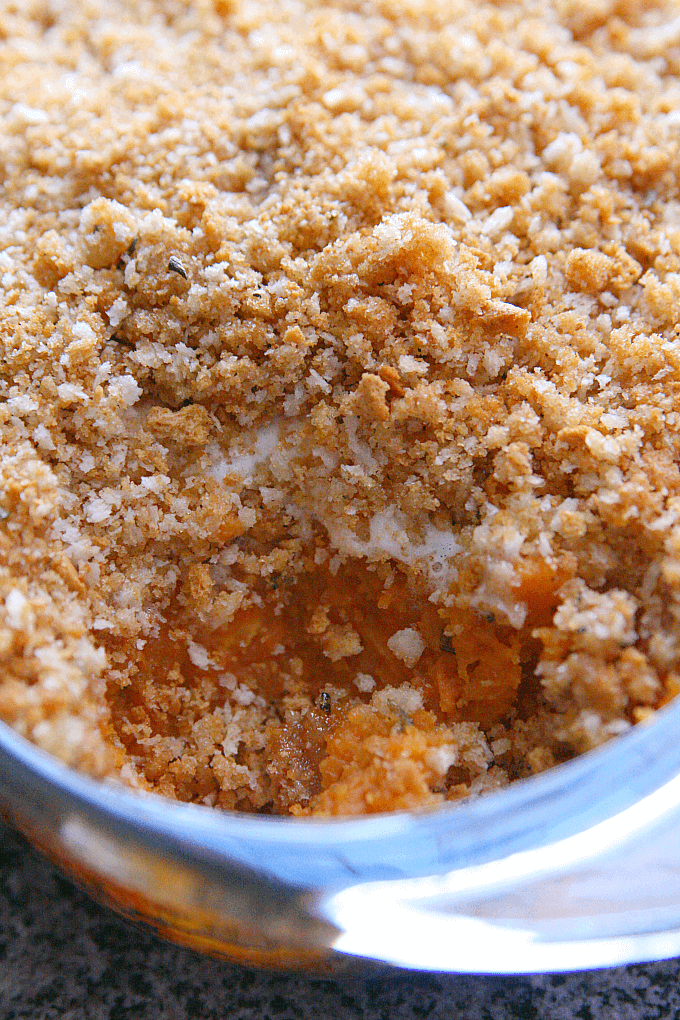 The end result is a sweet and savory, smooth and crunchy, sweet potato casserole so delicious, everyone will be begging for seconds!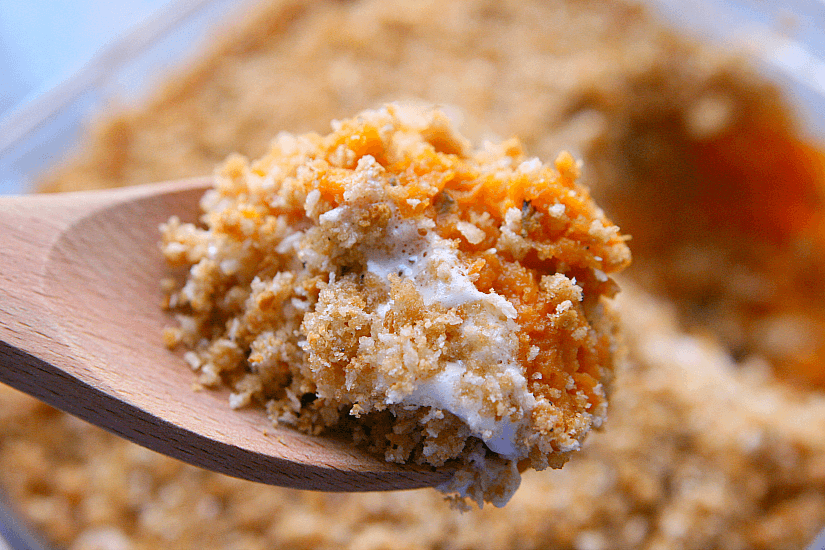 Because of the rosemary in this casserole, I think it goes especially well with a holiday ham. I hope you enjoy this savory roasted sweet potato casserole this holiday season.  Have a safe, warm and Happy Thanksgiving!
Savory Sweet Potato Casserole
Ingredients
5 medium sweet potatoes
¼ cup olive oil
4 tsp fresh rosemary, minced (separated)
½ tsp salt
⅓ cup light brown sugar
1 egg, lightly beaten
⅛ tsp cinnamon
2 T half and half (milk or heavy cream can be substituted for half and half)
¼ cup butter, cold, cut into small cubes
1 cup Panko bread crumbs
½ cup honey graham crackers, crushed
¼ cup light brown sugar
2 cups mini marshmallows
Instructions
Preheat oven to 425°
Peel sweet potatoes and cut into 1 inch pieces
Place on a baking sheet and toss with olive oil, 3 tsp of rosemary and salt
Bake for 40 minutes, stirring every 10 to 15 minutes
Remove the sweet potatoes and transfer to a large bowl
Turn oven down to 350
Mash the sweet potatoes with a hand masher or fork until it is almost smooth, leaving it a little chunky
Add the light brown sugar, egg, cinnamon and half and half
Gently stir to combine the ingredients
Pour into an 8" x 8" baking dish and bake for 30 minutes
While the casserole is baking, combine the remaining 1 tsp rosemary, butter, panko bread crumbs, graham crackers and light brown sugar. Using a pastry cutter or fork, cut the butter into the mixture until is well incorporated. I find it's easier to use my hands for this process
Take the casserole out of the oven, top with marshmallows and crumb topping and bake for an additional 20 minutes or until the topping is golden brown