Wicked Chocolate Cake with White Chocolate Raspberry Mousse.
Emphasis on
Wicked

......

Hi everyone, I would like to take a moment to get you prepared for the complete and total chocolate cake ecstasy you are about to experience. Go to your room and put on your comfiest pair of sweatpants because you're gonna need all the belly room you can get. Once you taste a piece of this wicked chocolate cake, you're not going to be able to control yourself. And don't say I didn't warn you!

This is the second birthday cake I've made for the month of September. My smoking hot, sexy husband is the birthday boy who requested "The Best Chocolate Cake Ever Made", at least that's what he likes to call it. He's a very smart man and I'm gonna have to agree with him. This ultra decadent cake is covered in a white chocolate raspberry mousse and crushed fresh raspberries that compliment the flavor of the chocolate perfectly. There's a little tang that comes from the fresh raspberries that mixes with the creamy sweetness of the white chocolate mousse and then .......oh my goodness, the moist chocolate cake with that little hint of coffee flavor, rounds everything off into this truly divine slice of heaven.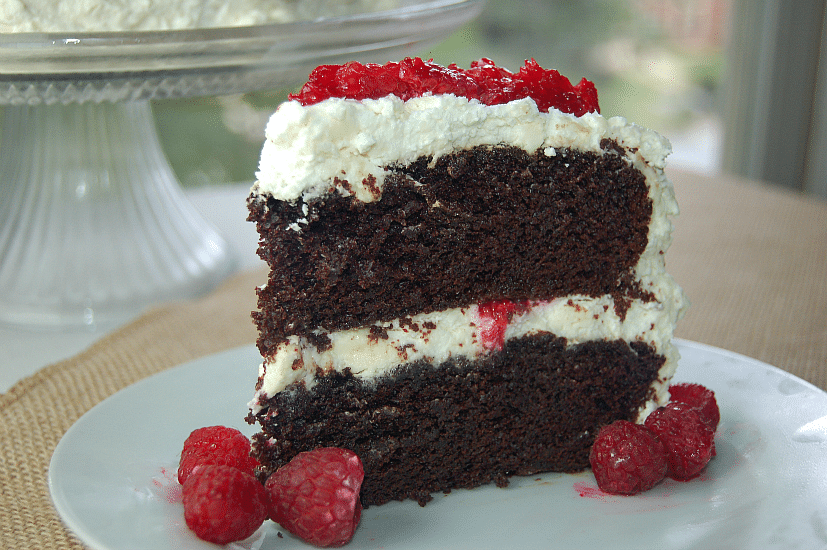 When you take the first bite of this cake, you will know exactly what chocolate cake is supposed to taste like. It is the perfect density, the perfect texture and the perfect amount of chocolate flavor. This cake is best when it is served cold, so remember to chill it for a couple of hours before serving.
Do I have your attention?.....Good........ now go make some cake!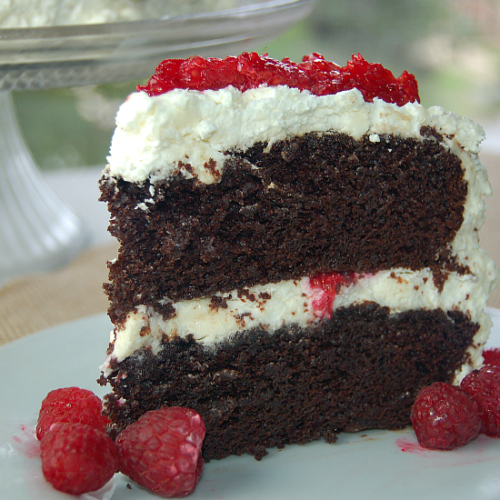 Wicked Chocolate Cake
Ingredients
Chocolate Cake
2

cups

flour

2

cups

sugar

3/4

cup

cocoa powder

2

tsp

baking powder

1 1/2

tsp

baking soda

1

tsp

salt

1

cup

milk

1/2

cup

vegetable oil

2

eggs

(lightly beaten)

2

tsp

vanilla extract

1

cup

strong coffee

(very hot)

5

oz

semi sweet chocolate baking melts

(I used Hershey's baking melts)
White Chocolate Raspberry Mousse
1

pint

heavy cream

6

T

powdered sugar

8

oz

cream cheese

8

oz

white chocolate baking squares

2

tsp

raspberry extract

1

pint

crushed fresh raspberries

(for adding in between cooked layers and to the top of finished cake)
Instructions
Chocolate Cake
Preheat oven to 350°. Lightly spray two 9 inch round baking pans with cooking oil spray and then line with parchment paper

Combine the flour, sugar, cocoa powder, baking powder, baking soda and salt in a medium mixing bowl. Whisk together until mixed well

Add the milk, vegetable oil, eggs, vanilla and mix until fully incorporated

Slowly pour in the hot coffee and mix until blended

Fill the two round baking pans with equal amounts of batter and then add the baking melts in a single layer, making sure to distribute them evenly in the pans

Cook for 35 minutes

Allow to cool for 15 minutes before transferring the cakes to a cooling rack and let cool completely before icing
White Chocolate Raspberry Mousse
Melt the white chocolate and let cool completely

In a cold mixing bowl, whip the heavy cream and powdered sugar until stiff peaks form and place in the refrigerator

In a separate mixing bowl, beat the cream cheese, melted chocolate and raspberry extract until creamy

Fold the whipped cream into the chocolate mixture until fully incorporated and then chill until ready to use

Transfer one of the cake rounds to a platter and spread a layer of the white chocolate raspberry mousse along with crushed fresh raspberries before adding the second layer of cake. Frost the entire cake and add more fresh raspberries on top

Chill this cake for two hours before serving. It is best served chilled!

Enjoy!