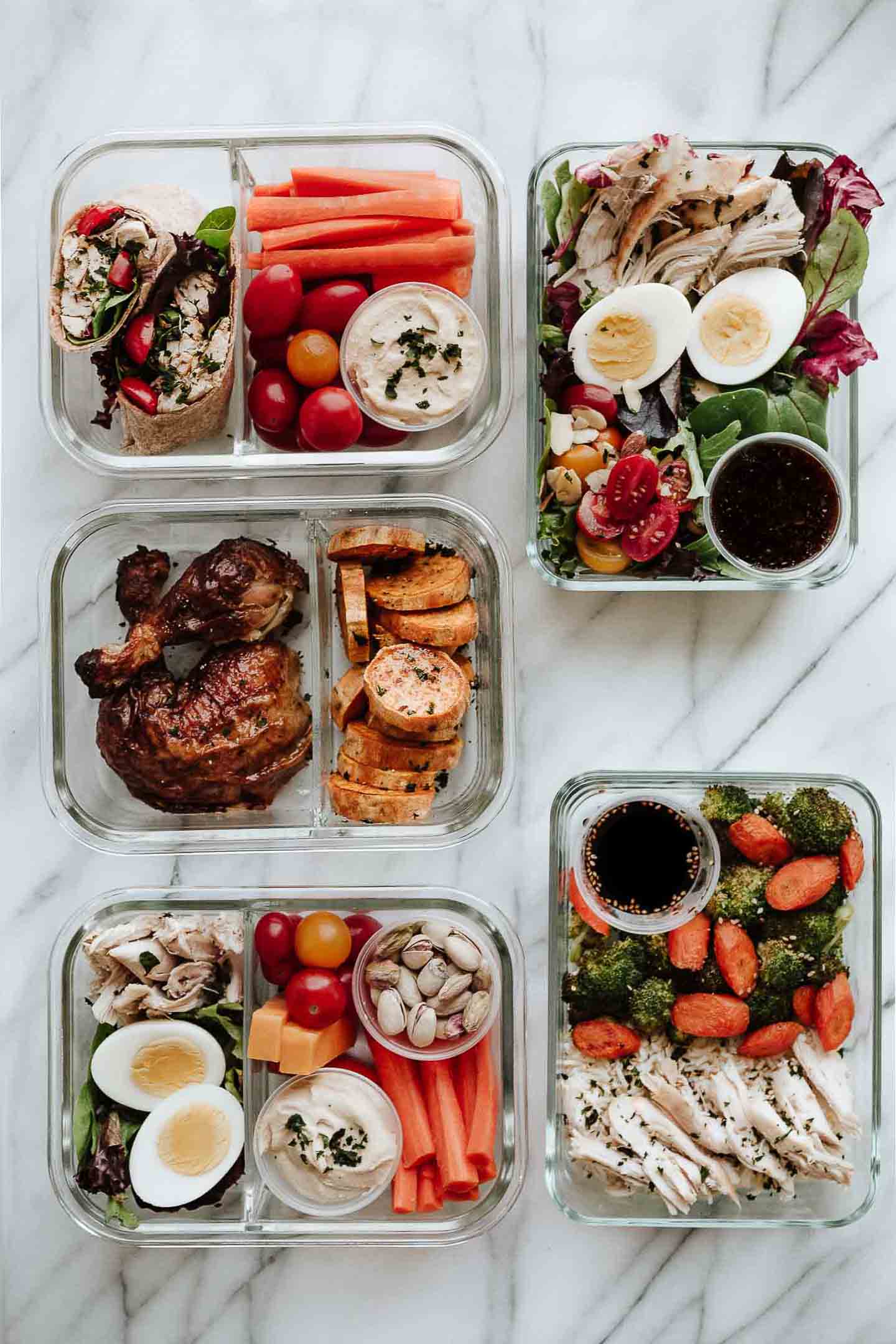 Rotisserie Chicken Meal Prep is the perfect way to clean out the fridge and prepare healthy lunches for the week! All you need is one rotisserie chicken and whatever veggies you have left in the fridge from the week before!
If you're like me, every weekend you'll find yourself staring into your fridge trying to figure out what to do with what's left from the previous week. Most of the time it's a half bag of carrots ... maybe two or three eggs ... a little bit of hummus ... a wrap or two. You know exactly what I'm talking about!
These are exactly what you need to create a week of healthy lunches that can be prepared in under an hour using a rotisserie chicken from your local grocery store! Make sure to check out my recipe for Air Fryer Whole Roasted Chicken if you'd like to make your own rotisserie style chicken at home.
I put together 5 different lunches, each under 500 calories, with what I had in my fridge. If you don't have all of the ingredients you see here, it's OK! This post is meant to help you think of creative ways to use what you have in your fridge! Meal prep is such a great way to make sure you have something healthy to eat for lunch everyday and to cut down of food waste at the same time!
---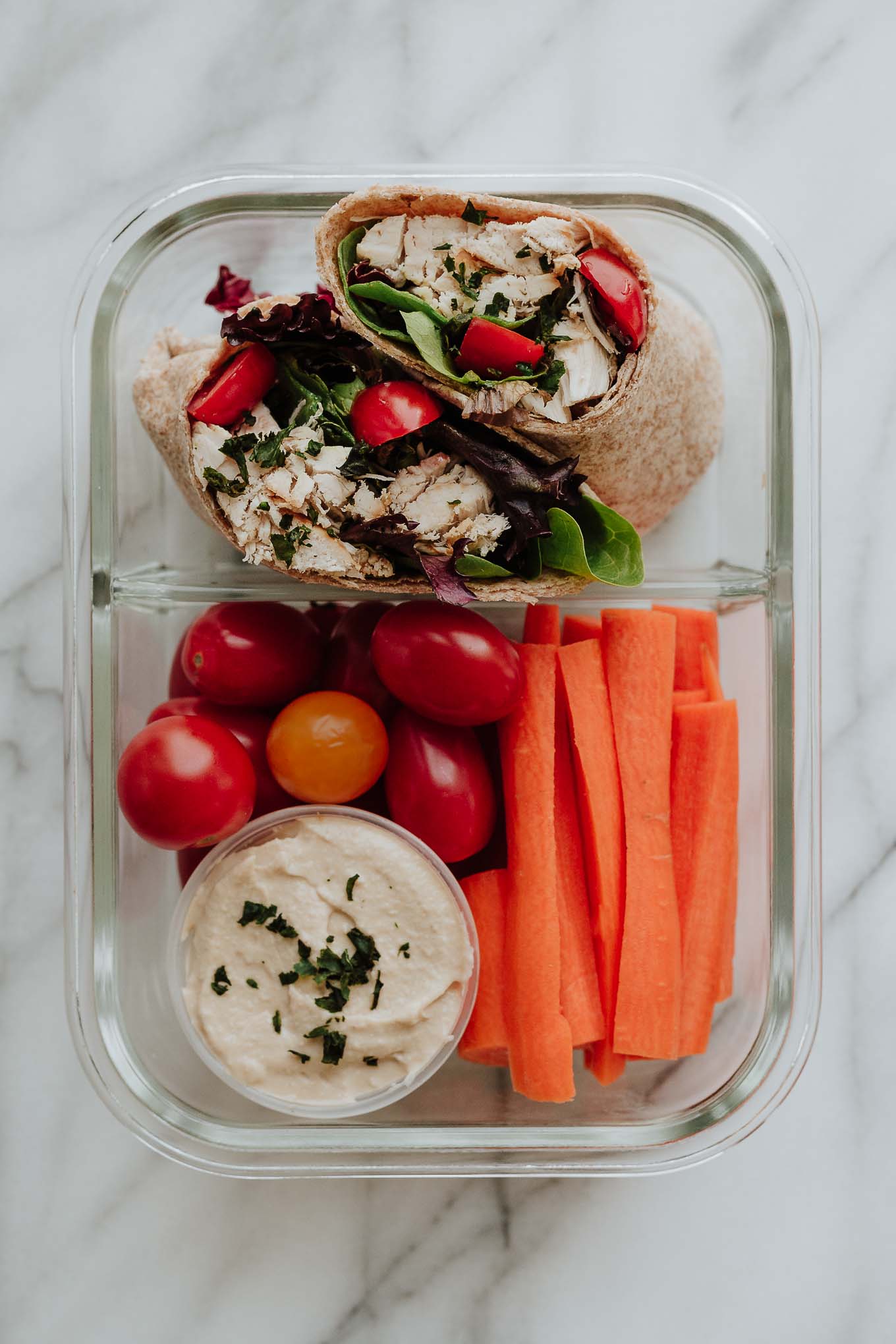 Meal 1: Rotisserie Chicken Wrap with Hummus and Veggies 363 calories : 27g protein : 40g carbs : 10g fat3 oz. chicken breast, 1 whole wheat wrap, 3 tablespoons hummus, 10 cherry tomatoes, 2 large carrots
---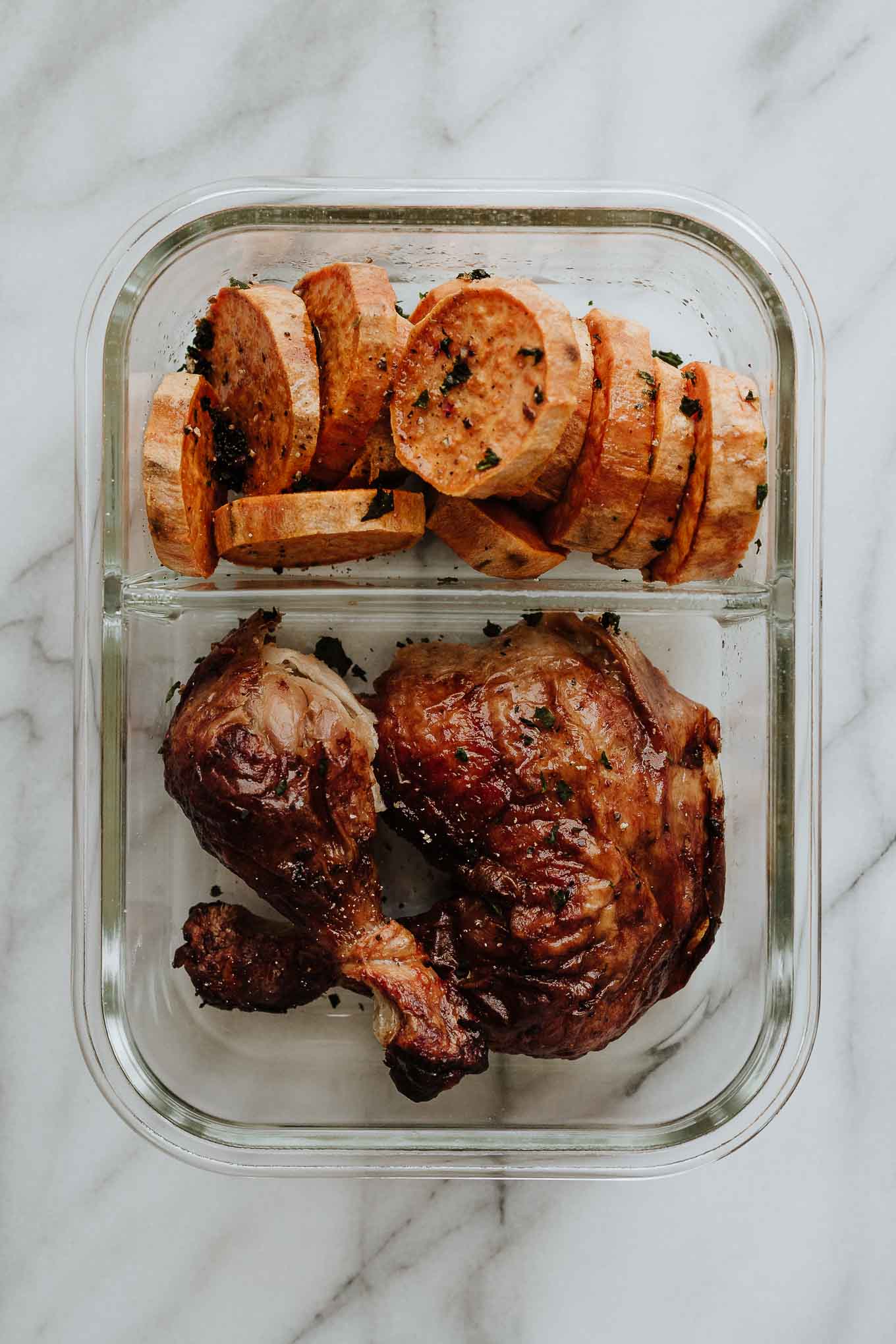 Meal 2: Rotisserie Chicken Thigh and 2 Drumsticks with Roasted Sweet Potato 454 calories : 45g protein : 26g carbs : 19g fat1 chicken thigh, 2 drumsticks, 1 medium roasted sweet potato
---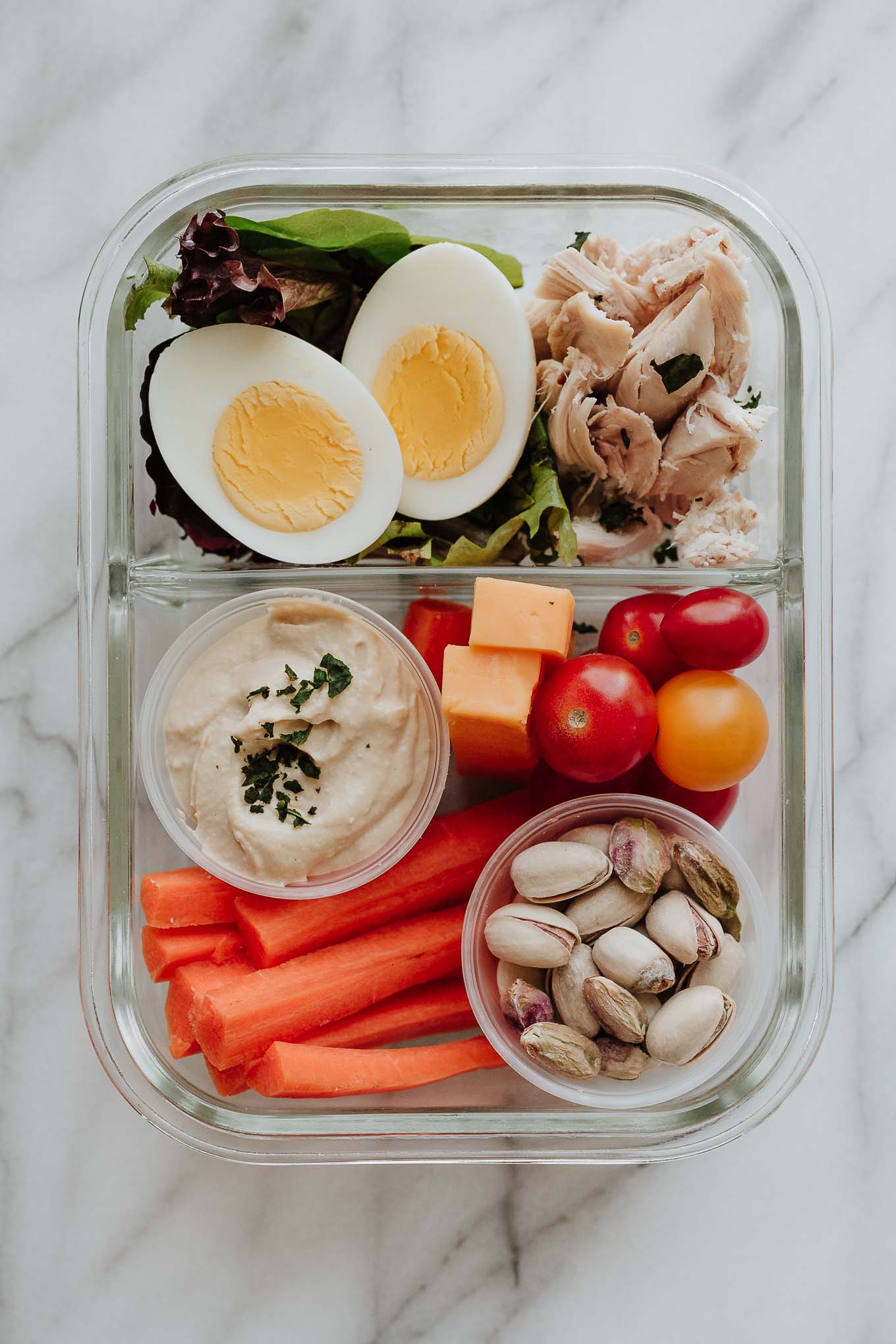 Meal 3: Rotisserie Chicken Protein Pack 453 calories : 43g protein : 14g carbs : 24g fat3 oz. chicken breast, 1 large hard boiled egg, 1 large carrot, 10 cherry tomatoes, 2 tablespoons hummus, 1 oz. cheese
---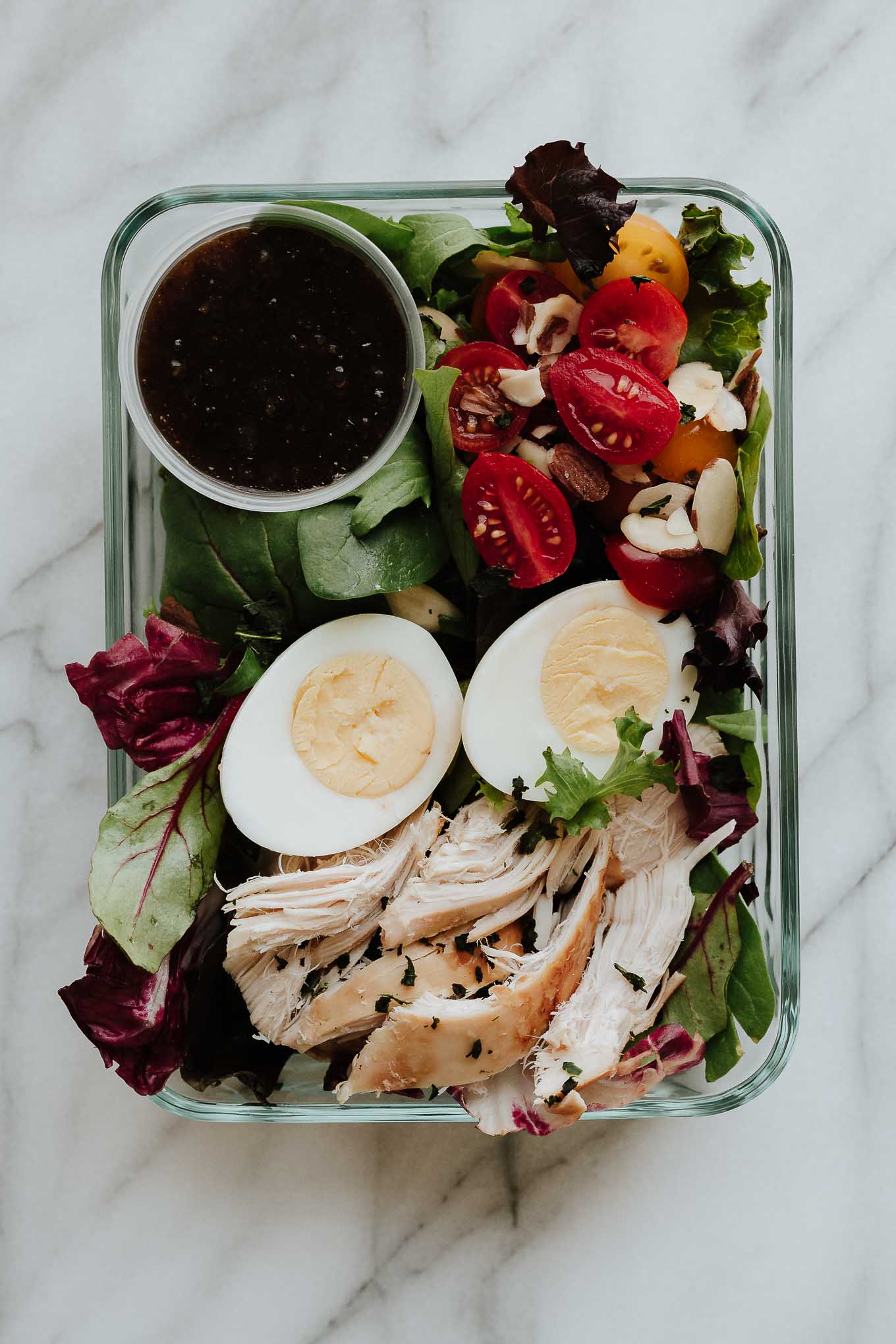 Meal 4: Rotisserie Chicken Salad with Light Balsamic Vinaigrette 365 calories : 32g protein : 14g carbs : 23g fat3 oz. chicken breast, 1 large hard boiled egg, 5 cherry tomatoes, 1 tablespoon sliced almonds, 1 oz. light balsamic dressing
---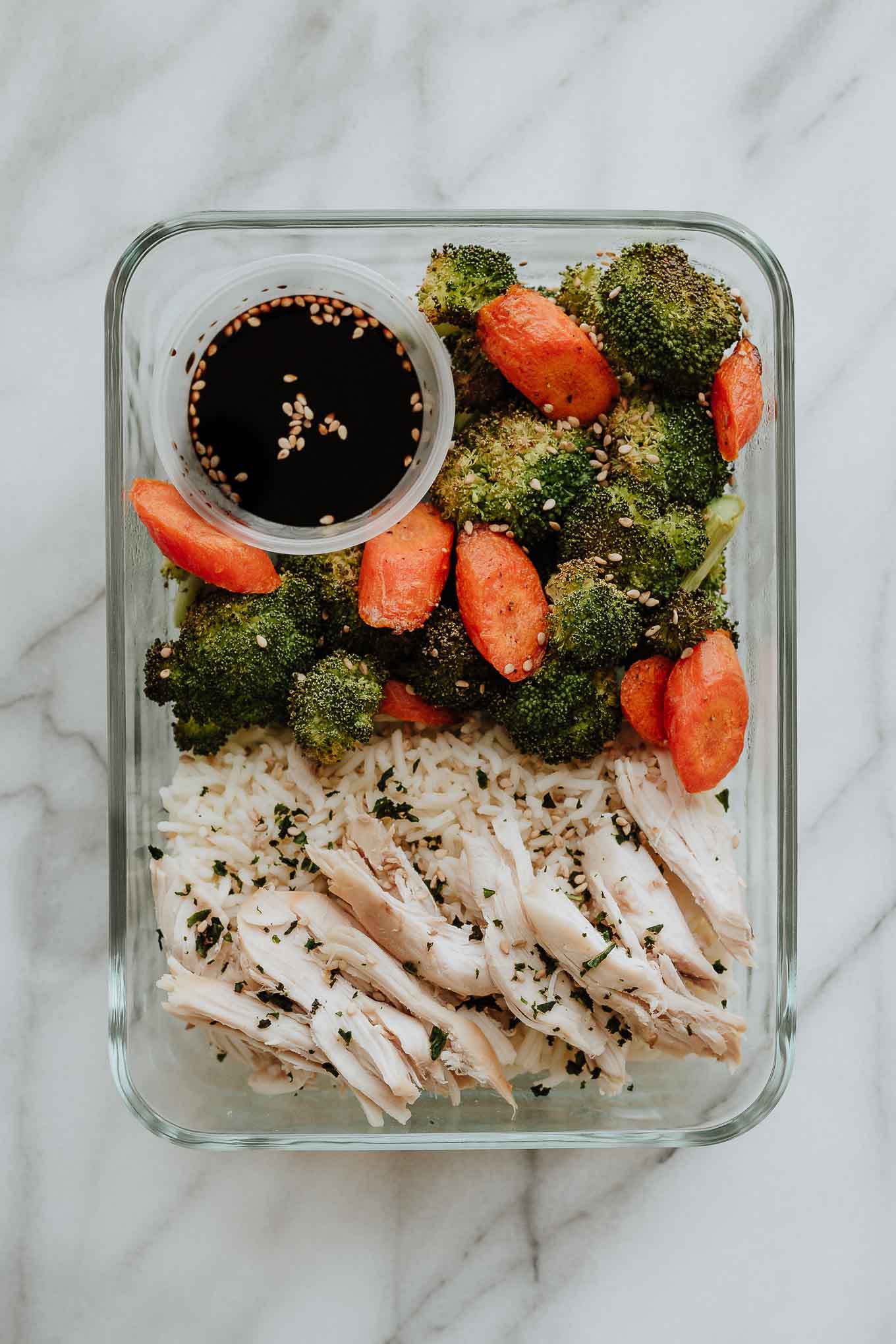 Meal 5: Rotisserie Chicken with Veggies and Soy Sauce 328 calories : 27g protein : 41g carbs : 6g fat3 oz. chicken breast, ½ cup rice, 1 cup roasted broccoli, 1 large roasted carrot, for the sauce - 2 teaspoons low sodium soy sauce, 1 teaspoon rice wine vinegar, ½ teaspoon fresh ginger paste
---
I hope this post has sparked some ideas of how easy it can be to prep healthy lunches for the week while saving time and money!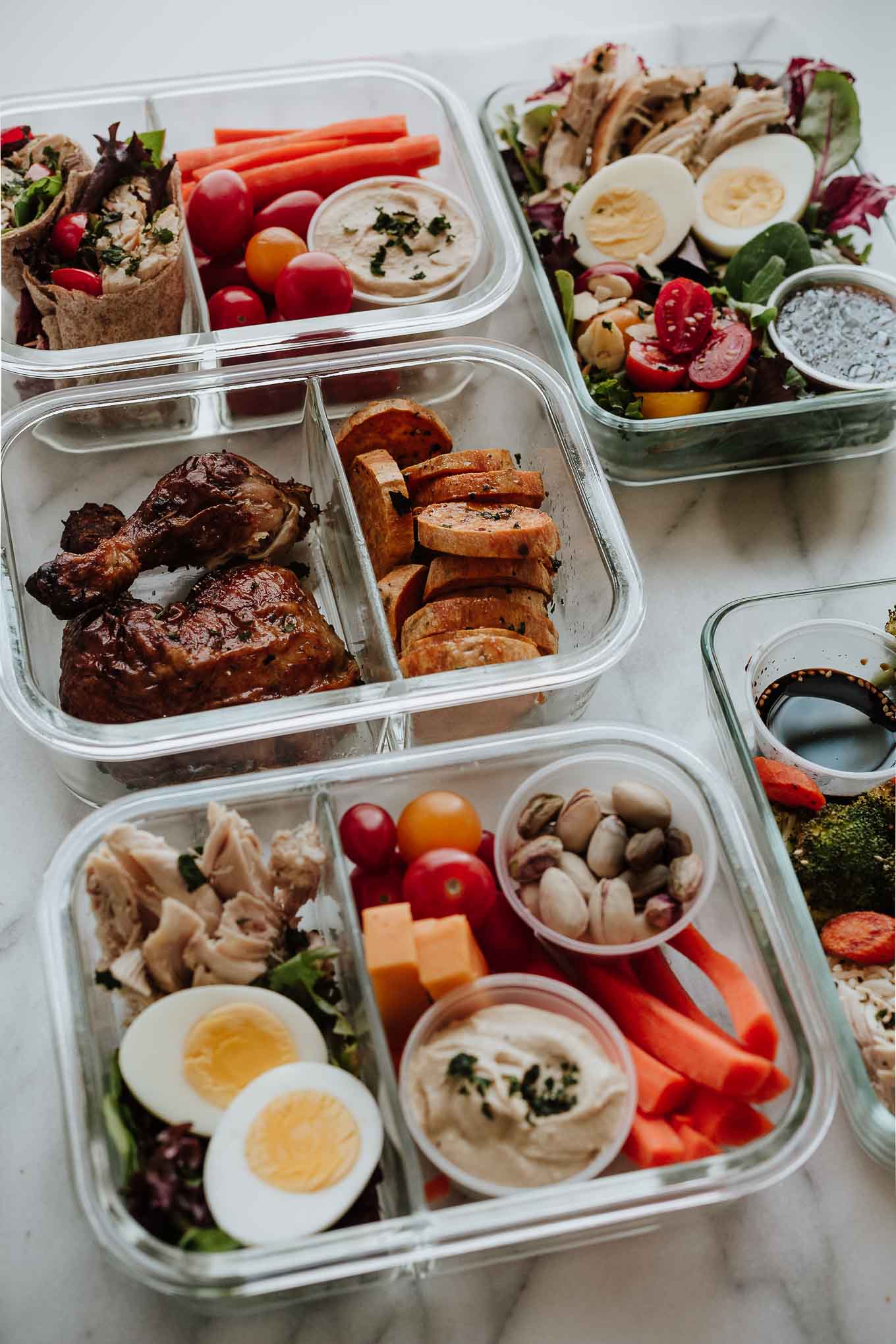 Let me know if you have other ideas on how to meal prep with a rotisserie chicken. Check back for more healthy meal prep ideas!
Here is a link to the glass meal prep containers I use. Glass Meal Prep Containers. (affiliate link)