Sweet Potato Toast is a delicious, gluten-free breakfast option that's easy to make and healthy too.
Toasted sweet potato slices are topped with fresh avocado, ripe tomatoes and hard boiled eggs to keep your hunger satisfied until lunchtime!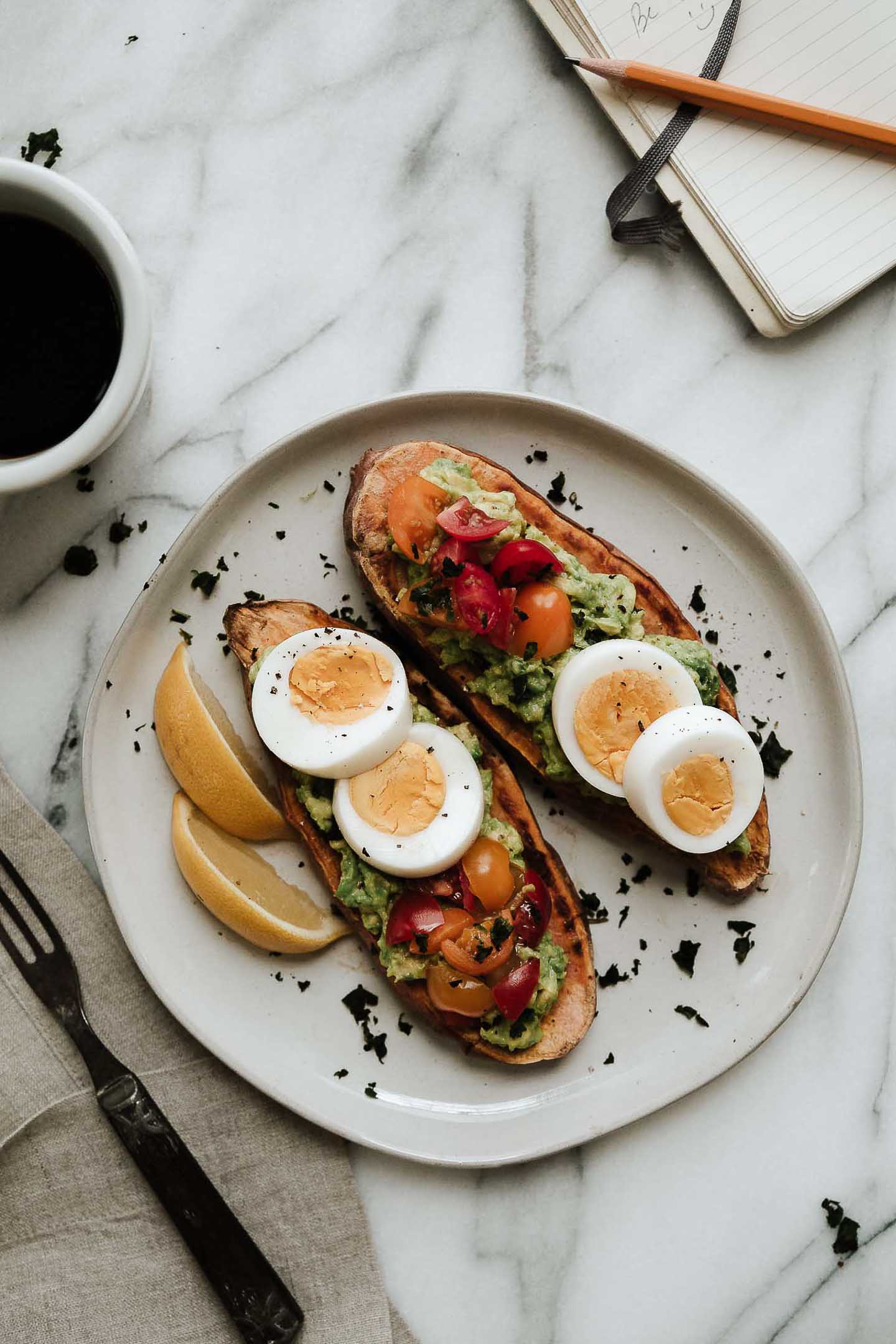 This sweet potato toast is not only delicious, it's covered with all the good-for-you stuff that you're craving right now!
Is Sweet Potato Toast Healthy?
Well ... that depends on your definition of "healthy" so let's see what you think! You've got sweet potatoes which are full of fiber, vitamins and minerals.
Mashed avocado, which contain healthy fats and help your body absorb fat-soluble vitamins A, D, E and K. Hard boiled eggs for protein and even more vitamins and minerals! This sweet potato toast recipe is gluten-free and Whole30 compliant.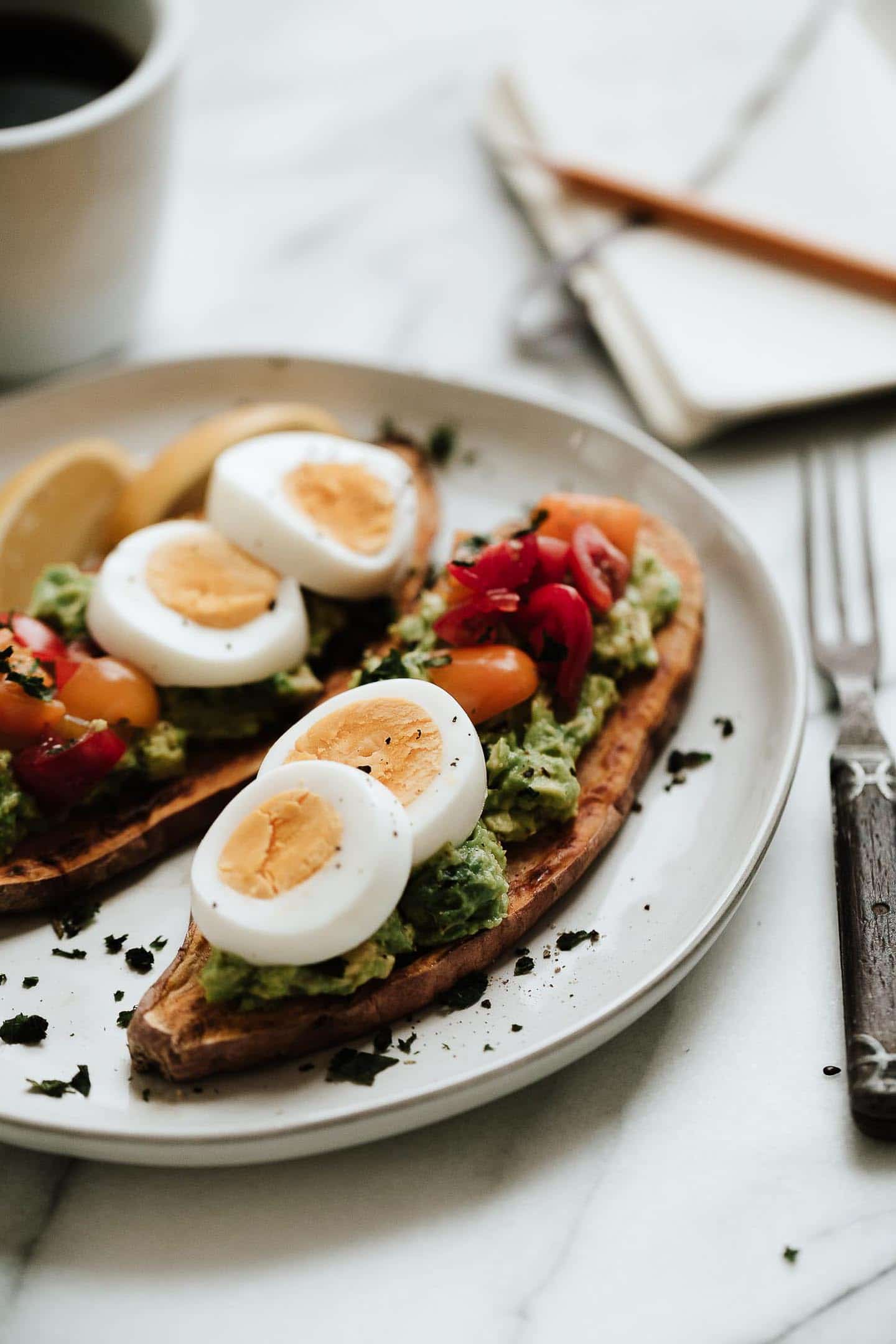 All of these ingredients are definitely on my list of "healthy"! One slice of this delicious toast will keep your tummy full until you're ready for lunch. I'd say that this is a pretty awesome way to start the day!

How do you make Sweet Potato Toast?
The first thing you need to do is cut the sweet potato into ¼ inch slices. Do this with a mandolin or a very sharp knife, but please be careful!
Sweet potatoes can be very hard to cut, so use caution.
Next, rub both sides with a little bit of olive oil or avocado oil. Now it's time to turn the sweet potato into toast!
Air Fryer - The air fryer is my personal favorite when it comes to making this recipe. It's so easy and fast! Set the sweet potato slices into the air fryer basket and cook for 15 minutes at 400 degrees. (Set it and forget it!)
Toaster - If you don't have an air fryer, a toaster will work just fine! Place the sliced sweet potato in the toaster and toast until done. I use the number 3 setting on my toaster for 3-4 cycles. If you use a toaster, check for doneness after the 2nd cycle because every toaster is different!
Oven or Toaster Oven - This takes the longest of all the methods. Preheat the oven to 425 degrees. Place the sweet potato slices on a baking sheet and bake for 10 minutes. Turn the slices over and bake an additional 10-15 minutes or until desired doneness.
Once you have your sweet potato slices toasted, all that's left to do is add the toppings! I chose avocado, tomatoes and eggs, but really the sky's the limit!
Meal Prep on Sunday:
Make several slices of toast in advance and store in the refrigerator in an air-tight container. Heat lightly in a skillet or in the microwave before putting on the toppings.
Make a dozen hard boiled eggs to have on hand throughout the week for sweet potato toast, snacks and salads.
How do you like to top your toast? Please leave your ideas in the comment section below!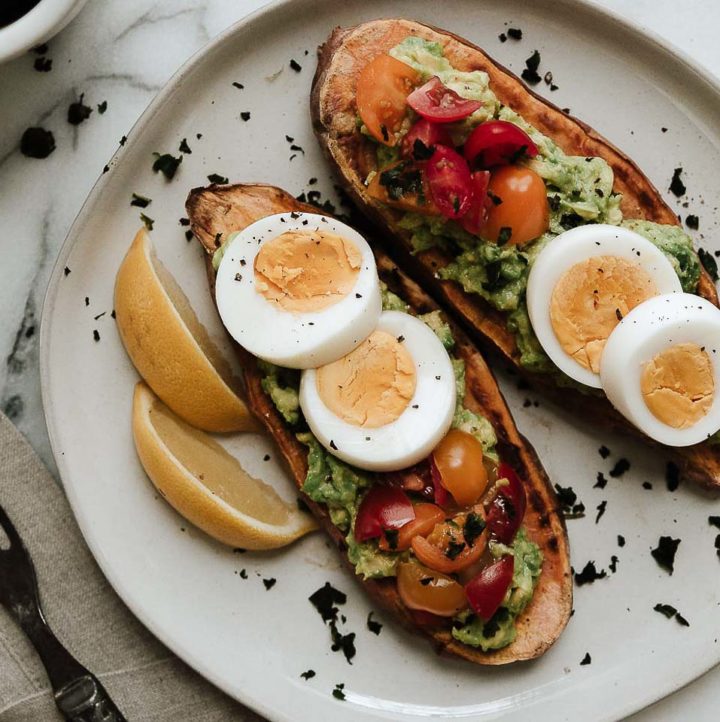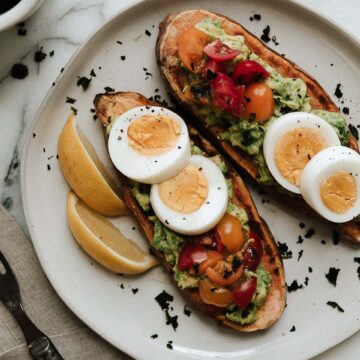 Sweet Potato Toast
Sweet potato toast is a healthy, gluten-free breakfast that is delicious topped with eggs and tomatoes.
Ingredients
1

large sweet potato

1

teaspoon

olive oil

½

avocado

mashed with the juice of 1 lemon

2

eggs

hard boiled

½

small tomato

cut into small pieces

fresh chopped herbs - parsley and/or basil

salt and pepper to taste
Instructions
Wash and dry the sweet potato. Cut into ¼ inch slices. Rub each side lightly with olive oil. Toast the slices in a toaster until done. This may require 3-4 cycles in a toaster.

Top the toasted sweet potato with mashed avocado, tomatoes, sliced hard boiled egg and fresh herbs. Salt and pepper to taste.
Notes
To Store: Keep covered in the fridge for up to 4 days.
Air fryer:

400°F for 15 minutes.

Oven: Place on a baking sheet and bake at

425°F. Toast each side 10-15 minutes.