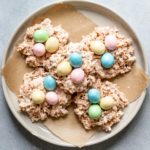 Print Recipe
Birds Nest Cookies Recipe
These Birds Nest Cookies are an easy, no-bake dessert made with only 3 ingredients, in less than 10 minutes!
2

cups

white chocolate chips

12 oz. bag (or other base of your choice)

4

cups

sweetened coconut flakes

or other add-in of your choice

54

small egg-shaped candies
Toast Coconut Flakes - Preheat oven to 350 degrees. Spread coconut flakes on a baking sheet lined with parchment paper. Bake for 7 minutes. Stir and continue to bake for 5 minute intervals, stirring in between until the coconut flakes are evenly toasted. Remove from the oven and let cool completely. (This step is not necessary with the other base options)

Melt Chocolate Chips - Place chocolate chips in a microwave-safe bowl and cook for 1 minute at 60% power. Stir and repeat until chocolate is melted. This should take 3 intervals.

Mix - Pour the toasted coconut into the chocolate mixture and stir to fully coat the coconut flakes.

Scoop Cookies - Use a 1/4 cup measuring cup to scoop mounds onto a baking sheet lined with parchment paper.

Decorate - Immediately press 3 candy eggs into the center. If the eggs are having trouble sticking to the nest, use the melted chocolate on the inside of the bowl as "glue" by putting a little dab on the bottom of the candy egg before pressing into the nest.

Set - Let cool completely until the chocolate has set. If your chocolate is not setting quick enough, place the baking sheet in the fridge to help the chocolate set faster.
Expert Tips:
Use less of the mixture per cookie to make a larger batch of cookies.
Parchment paper can be substituted with a piece of aluminum foil.
Use the double boiler method to melt the chocolate chips if you don't have a microwave. Place the chocolate into a glass bowl and place over a pot of simmering water. The bottom of the bowl should NOT touch the simmering water. Stir the chocolate until completely melted.
These cookies can be made a few days in advance and stored in an air-tight container at room temperature for up to 5 days.
Birds nest cookies can be frozen for up to 3 months. Place them in a freezer-safe container or freezer bag.
Use these cookies as decorations to make birds nest cupcakes or a birds nest cake.
Step one is only used for the toasted coconut option.
Calories are calculated using semi-sweet chocolate chips, toasted coconut and 3 chocolate candy eggs.
Serving:
1
cookie
|
Calories:
237
kcal
|
Carbohydrates:
30
g
|
Protein:
2.4
g
|
Fat:
13
g