Garlic Butter Tuscan Shrimp Dip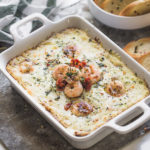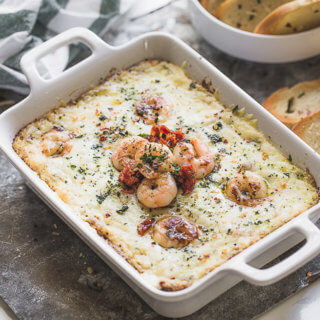 Ingredients
1 loaf of french bread, cut into thin slices
4 tablespoons butter
2 teaspoons minced garlic
16 oz. cream cheese, softened
1/4 cup mayonnaise
1/4 cup Parmesan cheese, grated
1.5 cups Swiss cheese, shredded (divided)
2 tablespoons sun-dried tomatoes, diced
1 tablespoon fresh basil, chopped
1/2 lb. shrimp, peeled and deveined
salt and pepper to taste
olive oil
Instructions
Turn oven on broil. Place french bread rounds on a baking sheet in a single layer.
Microwave the butter and garlic in a small bowl for 30-60 seconds. Let sit for a couple of minutes, stir and brush the top of each french bread round. Broil for 2-3 minutes or until golden brown on top. (Save remainder of garlic butter to use in dip)
Remove from oven, set aside and turn oven to 375 degrees. Spray a 1 quart baking dish with cooking spray.
In a medium size bowl, combine the remaining garlic butter, cream cheese, mayonnaise, Parmesan cheese, 1 cup of Swiss cheese, sun-dried tomatoes and basil.
Salt and pepper the shrimp and cook over medium high heat in a skillet coated in olive oil. 2-3 minutes per side. Remove from pan and cut into large chunks.
Stir shrimp into the dip mixture.
Pour the mixture into a 1 quart baking dish and sprinkle the remaining Swiss cheese on top.
Bake for 20-25 minutes or until golden brown and bubbly on top.
Serve hot with the toasted french bread slices.