"This Creamy Vegetable Soup is perfect for all those veggies you've got sitting in the fridge!"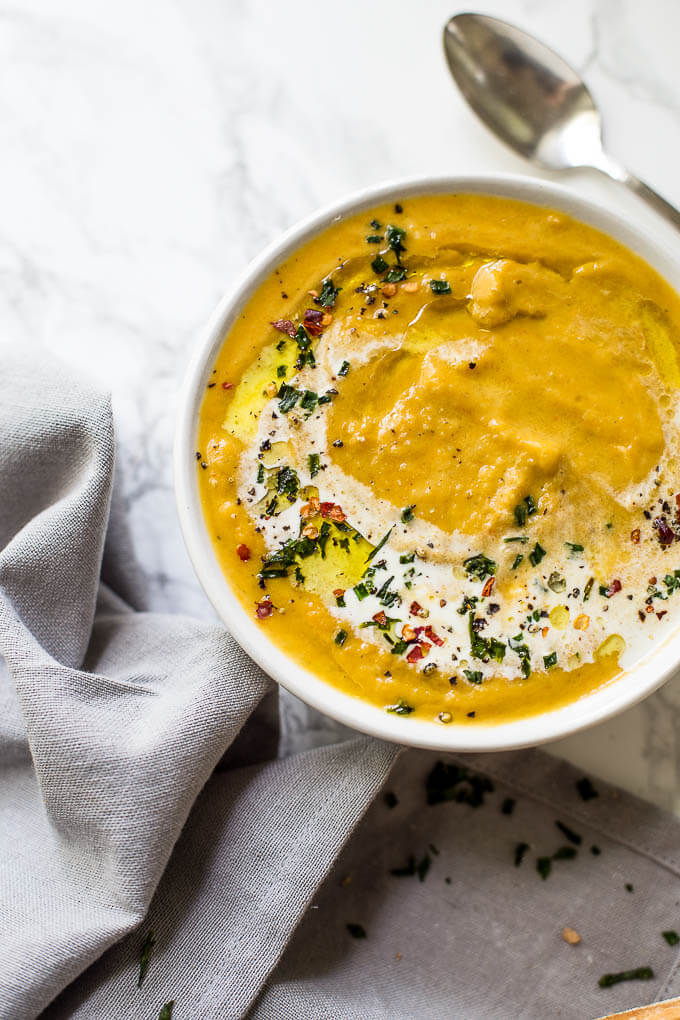 I've got to say ... I'm really proud of myself.
One of my goals this year is to be a little more resourceful in the kitchen. Meaning ... I've been more conscious of the waste that my family produces when it comes to food.
I've been learning a lot about food preservation and canning. And ... I've been working on my arsenal of soup recipes.
Which all leads me to this creamy vegetable soup I'm sharing today.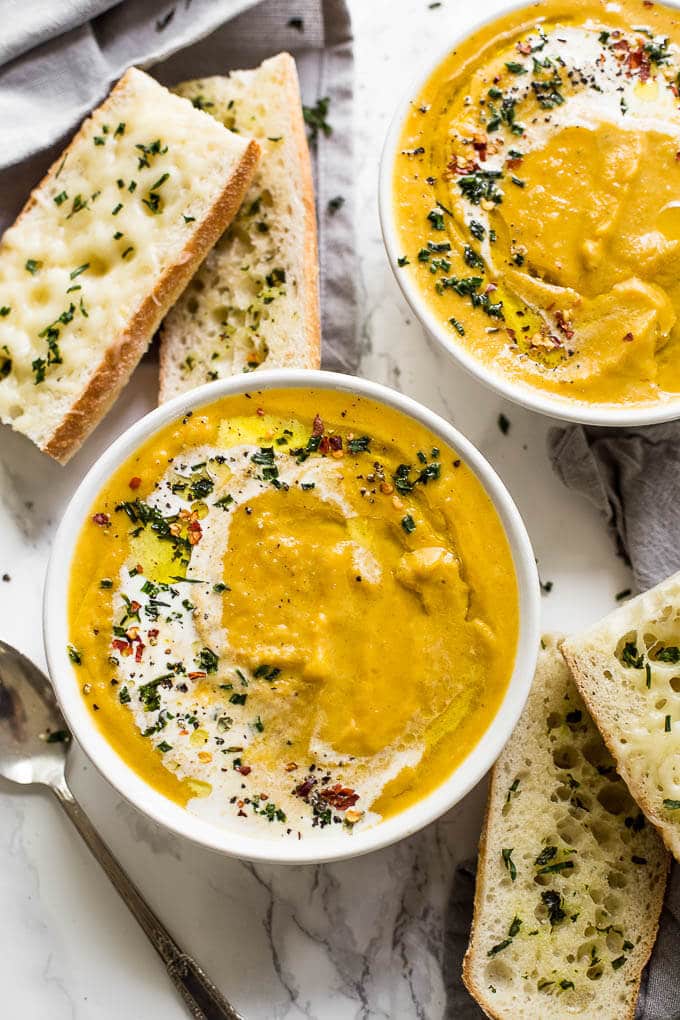 This is sort of like an "everything but the kitchen sink" kind of soup.
After making a couple of batches of beef stew and chicken noodle soup ... I found myself with just a few left over carrots, a couple stalks of celery, a couple sweet potatoes, an onion ... you get the picture.
So ... I decided the best thing to do is make a vegetable soup by cooking all of these delicious vegetables in some homemade chicken stock and pureeing it all together.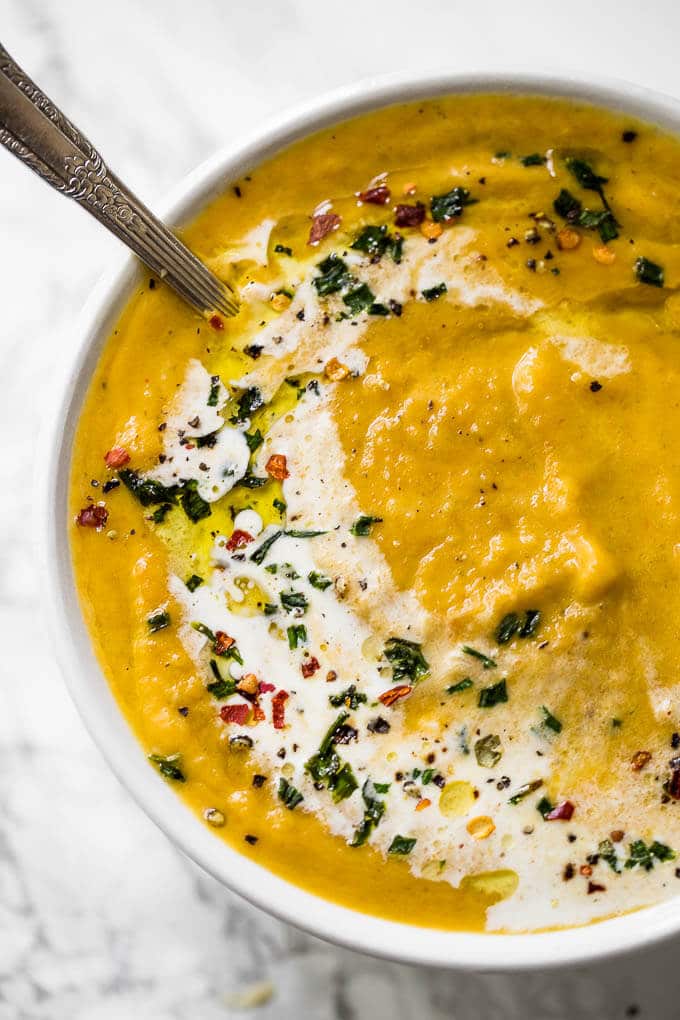 Now that would probably be really tasty as is ... but ... by adding some non-dairy milk ... this soup goes to an all new level.
It helps to bring all of the flavors together and makes it super rich and creamy.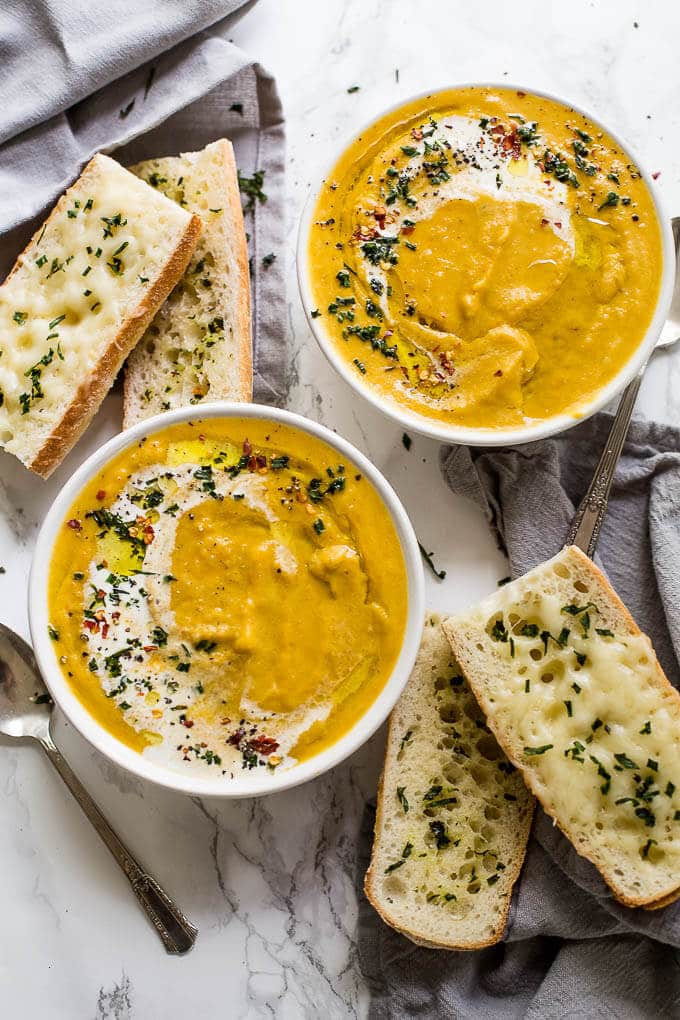 After spooning the soup into bowls, top them off with a drizzle of extra virgin olive oil, cracked red and black pepper and chives.
It is delicious with a side of toasted french bread for dipping.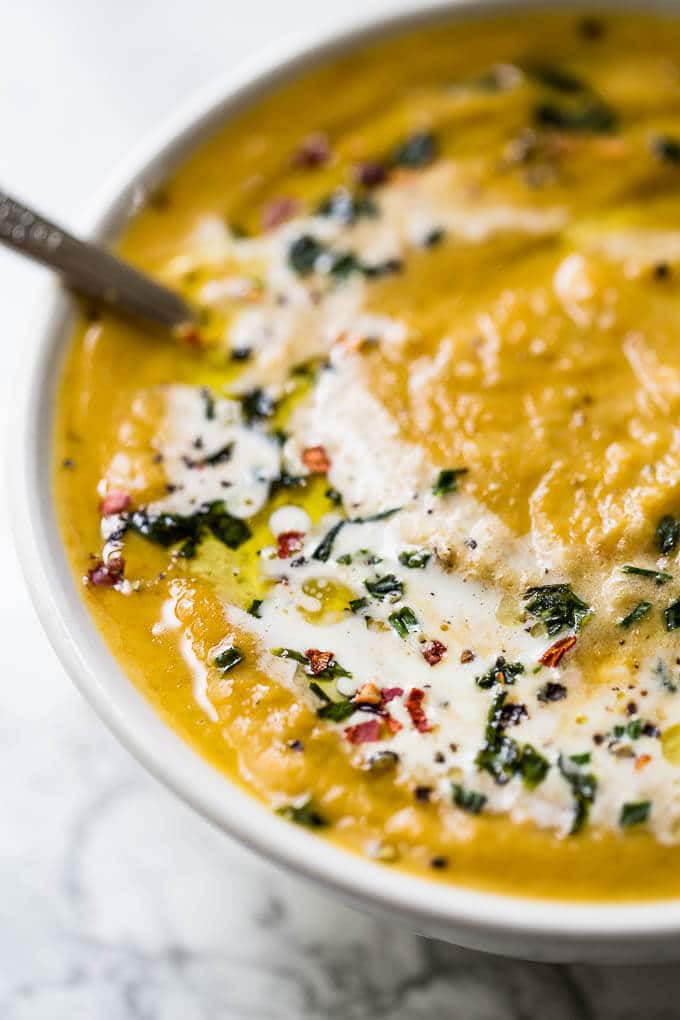 This is a very warm and comforting soup recipe. It's super easy to make and you'll always have a recipe to use up your left over veggies!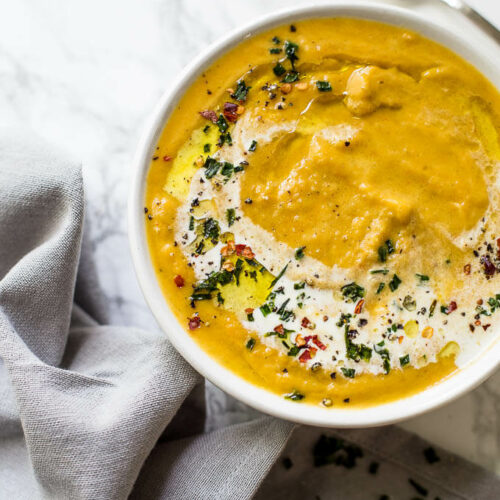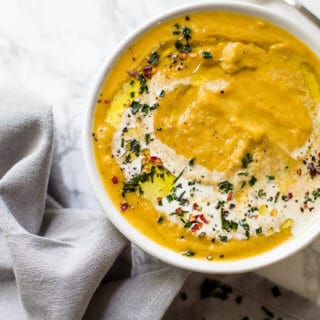 Creamy Vegetable Soup
This is like an "everything but the kitchen sink" kind of soup. Just use any veggies that you have on hand! You can use frozen vegetables too.
Ingredients
8

cups

chicken stock

2

cups

broccoli

2

sweet potatoes

peeled and chopped

2

stalks celery

chopped

1

onion

chopped

4

carrots

chopped

1

clove

garlic

chopped

1

cup

non-dairy milk

cracked red pepper

cracked black pepper

salt and pepper to taste
Instructions
Place the chicken stock and vegetables into a large stock pot.

Heat over medium high heat until it comes to a boil.

Turn heat down and simmer vegetables until they are fork tender. About 20 minutes.

Carefully transfer the mixture into a blender. Blend until smooth. I had to do this in batches and pour the blended mixture into a large bowl until everything was blended. Transfer the pureed vegetables back into the stock pot.

Add the non-dairy milk to the pureed vegetables, stir to combine and let heat through before serving.

Drizzle the top of each bowl with olive oil, cracked red and black pepper and chopped chives.

Serve with a side of toasted french bread or gluten-free bread.