What is more comforting than a grilled cheese sandwich and a bowl of homemade tomato soup?
The best grilled cheese only needs a few ingredients for a quick and easy lunch recipe that is loved by all, both kids and adults!
How does one make the perfect grilled cheese sandwich? It's a quest in the kitchen that we've all been on at some point in our lives.
What's the perfect cheese to use? What kind of bread is best? Should I cover the pan or use a sandwich press? How do I get the cheese to melt perfectly without burning the bread?
Follow our easy tips and tricks, because when you nail the perfect grilled cheese sandwich, the results are magical!
The best cheese
It's actually pretty simple. Fill it with your favorite melting cheese! Hard cheeses such as Parmesan don't melt well and soft cheeses like ricotta typically don't have enough structure to hold up the bread.
Not to say that you can't add a hard or soft cheese along with a variety of melting cheese. There are no strict rules!
Common varieties of cheese that melt well are: American, Gruyere, Colby, Cheddar, Monterrey Jack, Harvarti and Fontina
Shredded or sliced are both awesome choices for a great grilled cheese sandwich. Here are some tips for choosing which one will work best for you.
Shredded cheese: If you like to combine more than one type of cheese, shredded cheese is your best bet. You'll have the ability to fine tune the ratios of each one to your liking. The amount of cheese used will depend on the size of the bread. For a standard loaf of sandwich bread, use ⅓ - ½ cup of shredded cheese per sandwich.
Sliced cheese: If you are only using one type of cheese, 1 oz. of sliced cheese is perfect. Two slices around 2mm thick seem to be ideal. Request a number 2 thickness if you are getting cheese from the deli counter.
Adjust the amount of cheese used per sandwich to your liking. The amounts suggested are good starting points!
The best bread
Sliced sandwich bread is hands down the best bread for grilled cheese. Sandwich bread has a tight crumb (small holes) which keeps the cheese from oozing out as it melts.
We like to use sourdough sandwich bread for a grilled cheese sandwich because we're all about the sourdough! This recipe is a great way to use day old bread or bread that is about to go stale.
If you are using your own bread, cut it into ½" thick slices. If the slices are too thick, the cheese to bread ratio will be off and the cheese won't melt perfectly all the way through. Too thin and the sandwich won't hold up.
Use plain white bread for a classic grilled cheese or jalapeno cheddar sourdough bread for a gourmet grilled cheese. It's totally up to you!
Is butter or mayo better?
Next, let's talk about how to create the perfectly golden, crunchy exterior of a grilled cheese sandwich.
For our tastebuds, the winner is a combination of both. Equal parts of butter and mayonnaise produces a next-level flavor profile and that golden, crispy crust we all crave!
But, putting our opinions aside, either butter or mayonnaise works well on its own. There's no need to combine them if you don't like the flavor of one of these ingredients. What really matters is how you spread it onto the bread.
First, make sure the butter is at room temperature so it spreads smoothly. You don't want to tear the surface of the bread with hard butter!
Second, coat the entire surface of bread on one side, crust to crust. This will ensure the surface browns evenly as it cooks. If you don't, you'll end up with areas that are golden brown and crunchy and others that are greasy and soft.
Tips for success
The secret to the perfect grilled cheese sandwich doesn't end with its individual components. The way you cook the sandwich matters too.
Cook low and slow: A grilled cheese should cook slowly, 2-4 minutes per side over a low heat. Set your burner on low to medium-low heat and keep an eye on it throughout the cooking time. Just like ovens, stovetop temperatures can vary.
Put a lid on it: Cover the skillet with a lid after you've put the cheese onto the bread. The lid will trap the heat inside and give the cheese a head start on melting. This is how to melt the cheese all the way through while getting a golden brown, crunchy exterior.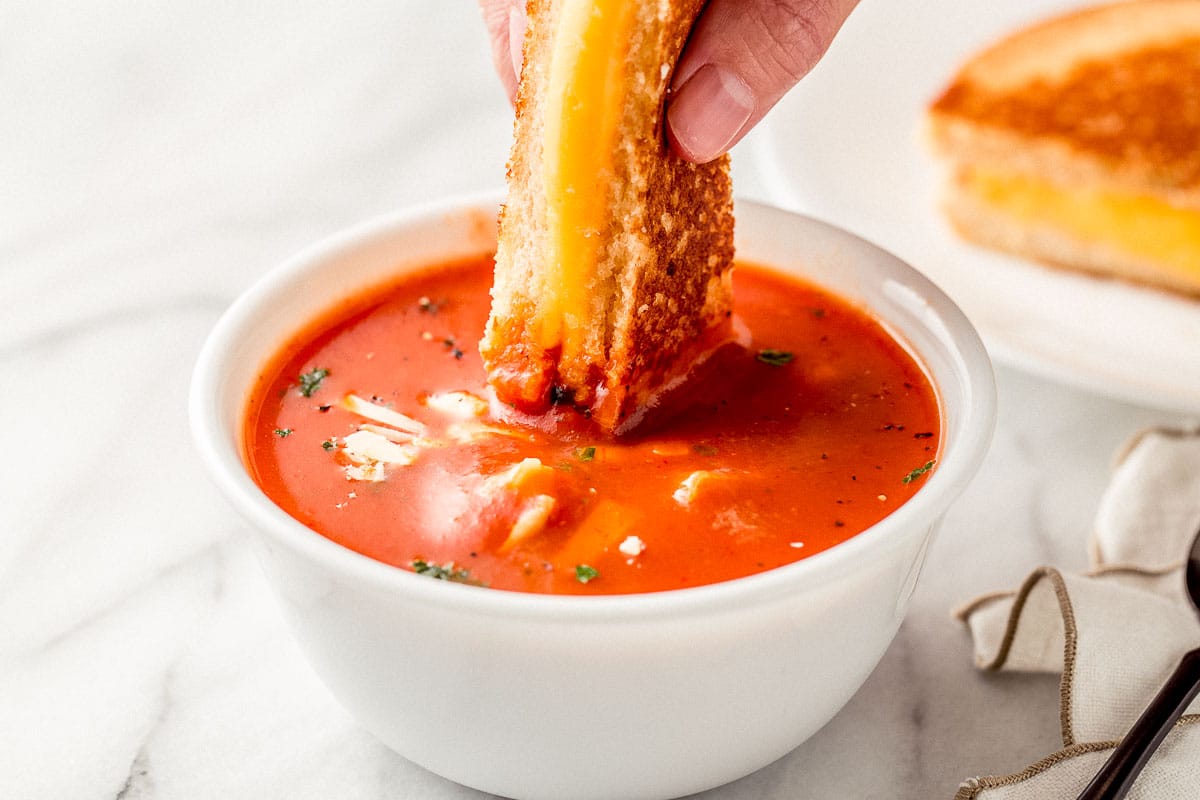 More classic recipes for kids and family
Make sure to try out some of these other classic recipes that the whole family will enjoy!
The Best Grilled Cheese Sandwich
Rate this recipe!
What is more comforting than a hot grilled cheese sandwich and a bowl of homemade tomato soup? The best grilled cheese only needs a few ingredients for a quick and easy lunch recipe that is loved by all!
Print
Pin
Save
Saved!
Ingredients
1

tablespoon

unsalted butter

(room temperature)

1

tablespoon

mayonnaise

⅓

cup

shredded melting cheese

(cheddar, American, Swiss or Monterey Jack cheese)
Instructions
Heat a skillet over low to medium-low heat. (A non-stick or cast iron skillet works well.)

In a small bowl, mix the butter and mayonnaise together until smooth. Spread half of the mixture onto a slice of bread, making sure to coat the entire surface evenly. Place it buttered-side down, into the skillet. Top the bread with cheese.

Cover the skillet with a lid and cook on low for a total of 2-4 minutes. After 1 minute of cooking, use a spatula to lift the bread and check the progress. Adjust the heat of the burner up or down as necessary to avoid burning or undercooking. Once the bottom of the bread is golden brown and the cheese has started to melt, remove the lid and proceed to the next step.

Spread the mixture onto the second slice of bread and place it buttered-side up on top of the other in the skillet. Use a spatula to press the slice down so that the two slices adhere to one another. Carefully flip the sandwich over and press down again.

Cook the sandwich, uncovered for 2-4 more minutes or until the bottom is golden brown and the cheese has fully melted.
Notes
The spread can be made with all butter, all mayonnaise or a combination of both.
Nutrition
Calories:
440
kcal
|
Carbohydrates:
25
g
|
Protein:
13
g
|
Fat:
32
g
|
Saturated Fat:
14
g
|
Trans Fat:
1
g
|
Cholesterol:
65
mg
|
Sodium:
570
mg
|
Potassium:
92
mg
|
Fiber:
1
g
|
Sugar:
3
g
|
Vitamin A:
612
IU
|
Calcium:
323
mg
|
Iron:
2
mg
This recipe is from Amy in the Kitchen. All images and content are copyright protected. Please do not use my images or republish this recipe without prior permission. Thank you.