It's almost swim suit season … this Beet Detox Smoothie will help get you ready!
(this post contains affiliate links)
Something terrible happened to me yesterday.
I went bathing suit shopping!
All of the delicious cheesecake and holiday treats I've been consuming over the past few months were just sitting there … right in front of my eyes … on my thighs!! We've all been there, haven't we ladies? Does anyone else do this? Please tell me I'm not the only one.
Did I know this day would come again … like it has every other year of my life … like it's some kind of big surprise? It never fails … somehow I can find every reason to indulge during the winter months while putting off the inevitable … Swimsuit Season.
BTW … Can someone please tell me why stores don't install more flattering lights in their dressing rooms? I mean seriously, they would sell so much more clothing if they would just get rid of those fluorescent lights!
Anyway … enough woe is me … I guess it's time to detox and try my best to get rid of this uh …extra saddle baggage. Pool season is only two months away people!
One of the ways that I love to detox and sort of reset my metabolism is with smoothies … especially smoothies that have beets. I know a lot of you don't like beets but just give me a chance to explain how delicious this smoothie is! (hint … you can't taste the beets at all)
beet detox smoothie
First of all, you have to juice the beets. If you don't have a juicer you can do this by dicing them up and blending them in a blender with water. I use the Nutri Ninja Pro (BL450)
 because it really does a fantastic job at breaking down the fiber of the beets. After it's blended really good, strain the pulp out with a mesh strainer and then pour the juice back into the blender cup.
If you can't stand the thought of cutting up beets you can try  Salus-Haus – Floradix Red Beet Crystals – 7 oz
. I use this product and I love it. It's great to keep on hand for smoothies, salads and soups. They are dehydrated beet crystals that dissolve in liquid. I like them so much, sometimes I just mix it with a little water and have a "beet shot".
All that's left is the frozen bananas, Pbfit and Sweet Creme Vanilla Creme. Throw them into the blender and then blend until smooth.
I keep my freezer stocked with frozen bananas at all times. Frozen bananas are this wonderful, magical thing. They make any smoothie have the perfect consistency without having to add ice, which I can never seem to get very smooth. To keep frozen bananas their best, wait until they are just starting to ripen. Peel them and place them in an airtight container before putting them in the freezer. They will stay good for a couple of weeks.
Next I add one of the most genius things I've ever found … PB Fit … this stuff is amazing! BetterBody Foods PB Fit Powder, Peanut Butter, 30 Ounce

PB Fit is a peanut butter powder that you can add to any recipe to give the full flavor of peanut butter but with a fraction of the fat and calories. 2 tablespoons has only 50 calories and 2 grams of fat versus regular peanut butter which has 200 calories and 16 grams of fat. That's a huge difference!
This delicious natural sweetener called  Sweet Leaf Vanilla Creme Flavored Liquid Stevia, 2 oz
goes into almost all of my smoothies. It's so flipping good!
Try a Beet Detox Smoothie even if you don't like beets. They are delicious and exceptionally nutritious so make one and let me know what you think!
Try these other amazing smoothies!
Sunrise Detox Smoothie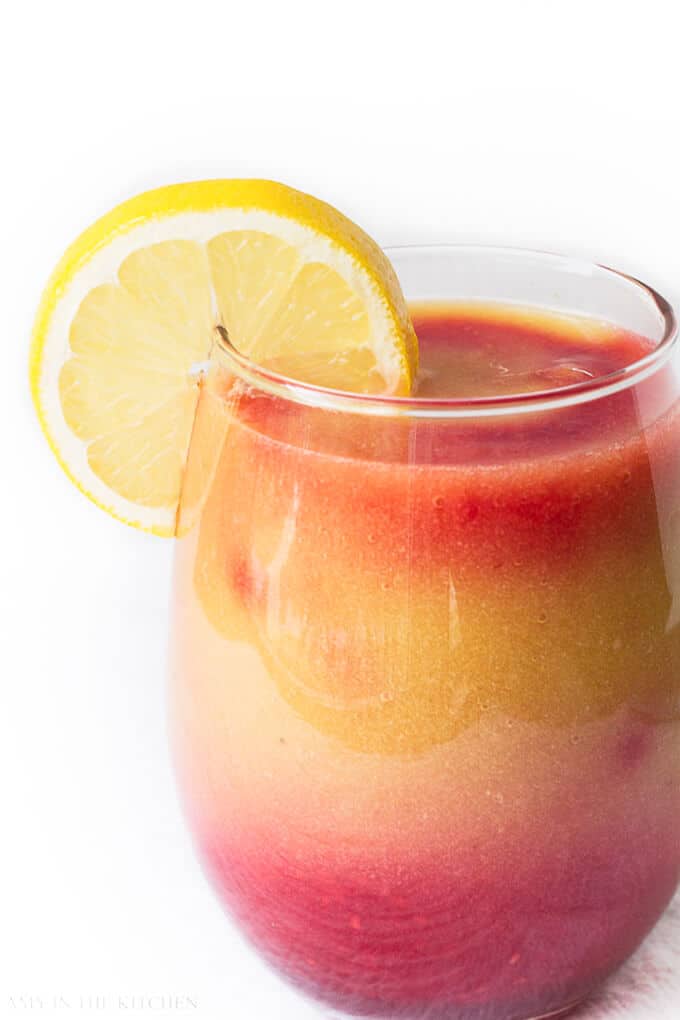 Orange Creamsicle Smoothie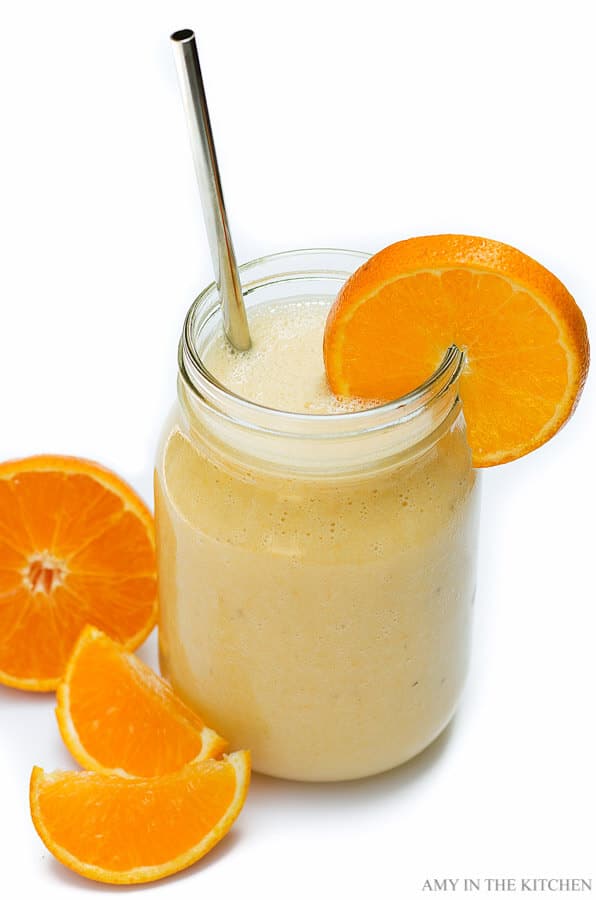 Print
Beet Detox Smoothie
Author:

Prep Time:

5 mins

Total Time:

5 mins

Yield:

1
---
Ingredients
1 half inch round slice of beets, diced
2 cups water
2-3 frozen bananas
2 T PB Fit or any peanut butter powder
1-2 drops of Sweet Drops Vanilla Creme
---
Instructions
Juice the beets. If you don't have a juicer, place the diced beets and water into a blender.
Blend until those babies are a nice, liquid consistency.
Pour the beet juice through a mesh strainer if you do not want the pulp in your smoothie.
Place the beet juice, frozen bananas, PB Fit and Sweet Drops in the blender and blend until smooth.
Add more water if necessary.