Are you looking for the perfect sugar cookie cutout recipe?
Look no further because I've got the perfect sugar cookie cutout recipe for you to try!
For the last several months, I've been on a mission to find a recipe that exhibits the qualities that I look for in a perfect sugar cookie cutout recipe. I've worked and worked through literally a hundred batches of sugar cookie dough and the hard work has been totally worth it!
The following criteria is what I look for in the perfect sugar cookie cutout recipe.
The dough must be simple and easy to make.
The dough must hold the shape of the cookie cutter while baking.
Sugar cookies have to be sturdy but also soft and chewy at the same time.
Flavor! No cardboard, flavorless cookies please!
The recipe development process has been a true labor of love and I'm glad to say that this recipe has all the qualities that I've striven for.
I know you are going to love it so give it a try!
Check out my Tips and Tricks for the Perfect Sugar Cookies!
Check out some of the cookies that I've made!
---
Baby Boy Elephant Sugar Cookies
These elephant-themed cookies were made for a good friend of mine that welcomed his first grandchild into the family recently. Aren't these elephant cookies the cutest? They were made using my favorite plaque cookie cutter and homemade royal icing transfers. 
---
sock monkey chocolate chip sugar cookies
Who doesn't love chocolate chips or sock monkeys?
I designed this set for my son because he has the biggest sock monkey collection I know of and I've made him chocolate chip cookies practically every week of his entire life. So, why not put the two together? They turned out adorable and delicious!

---
holiday door sugar cookies
What says real estate more than a cookie made to look like a front door? Christmas wreaths on doors made the perfect closing gifts for my brokers' real estate clients during the holidays.
Sugar cookies make the perfect gift because they can be personalized anyway you want them to be!
---
snowman face sugar cookies
Snowman faces are definitely one of my favorite holiday cookie designs because they are clean and simplistic. They were a huge hit during the holidays.
These snowmen are super simple to make but so stinking cute! 
---
two peas in a pod sugar cookies
Look at another great example of how using royal icing transfers to decorate sugar cookies can help to create a clean, sharp design. These are my "two peas in a pod" cookies I designed for Valentine's Day. Change the script at the top and you've got the perfect design for a twins baby shower or wedding shower!

---
I'm absolutely obsessed with decorating sugar cookies because it has been a very therapeutic experience for me. I've spent the last several months of my life working on my cookie decorating skills and I gotta tell you, it has made me so happy!
Decorating sugar cookies is a great way to  create something extra special and relax at the same time. Give sugar cookie decorating a try because it might just be the hobby you've been looking for. I know you're going to love it!
Easy Sugar Cookie Cutout Recipe
Ingredients
2 sticks unsalted butter, room temperature
1.5 cups granulated sugar
¼ cup light corn syrup
2 eggs, room temperature
2 teaspoons vanilla extract
1 teaspoon orange extract OR lemon extract (just add an extra teaspoon of vanilla extract if you don't have a citrus extract)
4 cups all purpose flour, sifted
1 teaspoon salt
Instructions
Using a stand mixer with the paddle attachment, beat the sugar and butter on low speed for 3-5 minutes. The mixture should be light and fluffy.
Add the egg and beat on low speed until incorporated. Scrape down the sides of the bowl as necessary.
Add the light corn syrup and the extracts and mix until everything is combined.
In a medium sized mixing bowl, sift the flour and salt together.
Add the dry ingredients to the mixer and beat on low speed for about 30-45 seconds. Scrape down the sides of the bowl and then continue to beat until the dough pulls away from the sides of the bowl.
Place half of the dough between two pieces of wax paper and roll out into desired thickness. Repeat with the other half.
Place them on a baking sheet and chill in the refrigerator for about an hour or until the dough is hard to the touch.
Preheat your oven to 350°.
Cut your shapes out of the rolled out dough, place on a parchment lined baking sheet and bake for 8-12 minutes. If you are using a very intricate cutter, you can place the cutout dough back into the fridge for 10-15 minutes to ensure they keep their shape better.
Remove the cookies from the oven and leave them on the baking sheet to cool down completely before decorating, preferably overnight to avoid butter bleed in the royal icing.
*If you are not planning to bake your cookies the same day as you make the dough, form the dough into a disc and wrap in plastic wrap. Leave in the fridge until you are ready to use. Take the dough out about 10 minutes to let it soften up. This will help you to roll it out easier.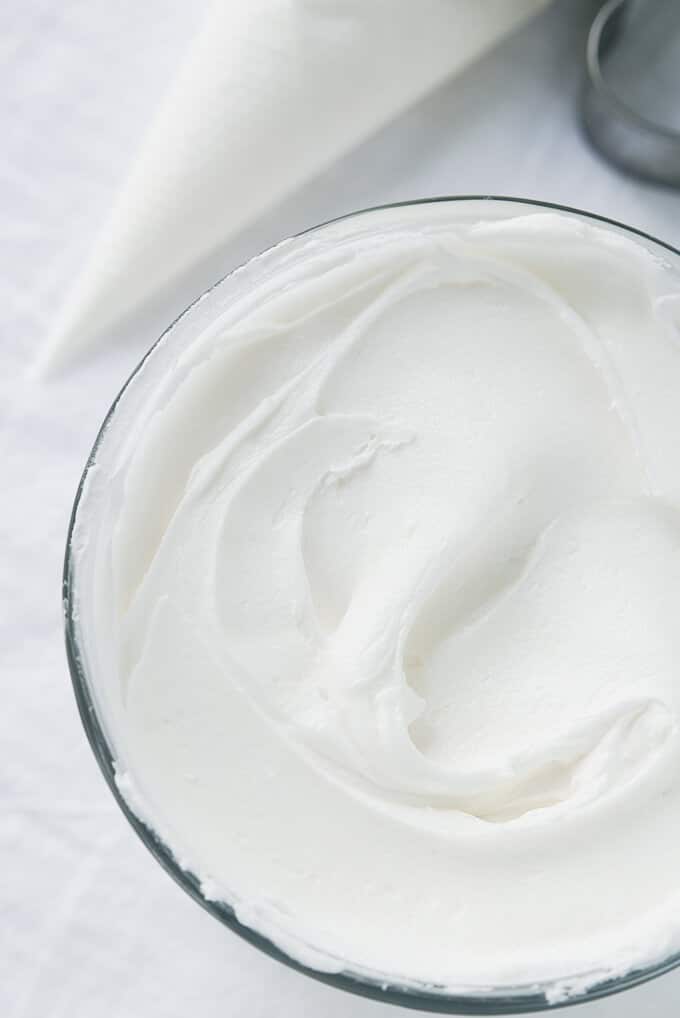 Checkout this video on how to use a "wet-on-wet" piping technique with royal icing!