Simple and cheesecake are not normally used in the same sentence together but, I'm here to prove just how easy it is to make a delicious cheesecake. This Simple Cheesecake Recipe will be your new favorite.
No experience necessary!
When baking a cheesecake one of the most important things to remember is that you want all of your ingredients to be at room temperature. This softens them and makes them easier to mix together which helps prevent over mixing. Over mixing can cause cracks on top of the cake because it incorporates too much air into the batter. Lay your ingredients out at least a half hour before you're ready to start and this will bring them to room temperature. I like to leave them out about 2 hours beforehand…just to be sure.
You do not want a lumpy cheesecake!

Even though this recipe has NO eggs, it has to be baked in order for it to set properly. I've tried chilling it overnight to set up without baking and it's a no go. I definitely prefer my cheesecakes without eggs because the consistency is so rich and creamy, not dense like the New York style.
I also highly recommend using a water bath in the oven, just make sure to protect your spring-form pan from leaks. You can do this by wrapping foil around the bottom or by setting it in a slightly larger pan. Place it in a large roasting pan and fill it with hot water until it's about half way up the sides of the spring-form pan. This helps the cheesecake to cook more evenly, stay moist, prevent cracks and keeps the top nice and flat. Another tip that helps prevent cracking is to run a sharp knife around the inside edge to release the cheesecake from the sides from the pan. Do this after you've removed it from the oven and before you let it cool.
Take a look at this picture of my Chocolate Ganache Cheesecake that was baked without a water bath. Do you see how it has sunken in the middle?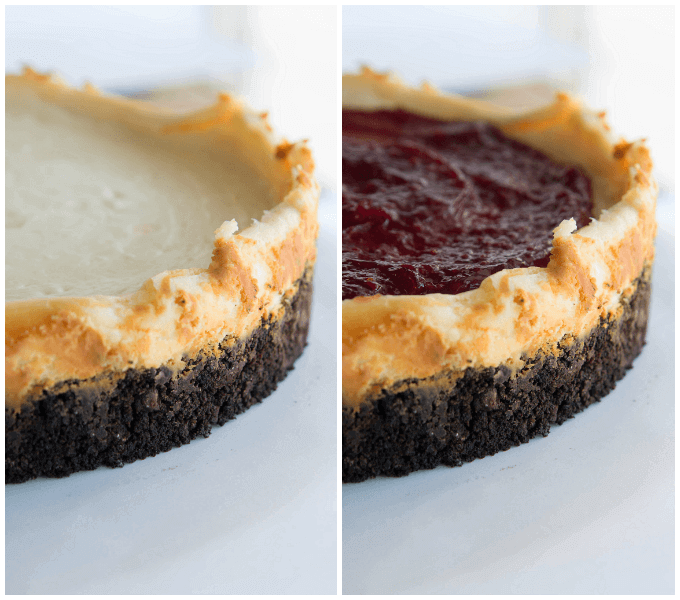 That's not always a bad thing. It's great if you want to top it with some kind of fruit or mousse. The ridge helps to keep the topping in place.
It doesn't effect the taste at all!
My favorite part of the cheesecake is the crust!
The one thing that I love to add into my crust is LIGHT brown sugar. I used dark brown sugar a couple of times and it was just too…well…dark.
Light brown sugar plus a little vanilla extract, give the crust a rich, sweet flavor that is amazing! That's usually the first compliment I hear once someone takes a bite.
I always recommend using parchment paper when baking. It makes life so much easier! Take a look at  this video to see how to cut parchment paper to fit any size round baking pan perfectly every time.
I hope you enjoy this recipe. Let me know what you think in the comment section below!
Simple Cheesecake Recipe
I used a water bath to bake this cheesecake.
Ingredients
Crust
1.5 cup graham crackers, crushed (I think honey graham crackers taste the best)
¼ cup light brown sugar
½ cup butter, melted
½ tsp vanilla extract
Cheesecake Filling
16 oz cream cheese, room temperature
1 cup sugar
1 cup heavy cream, room temperature
1 cup sour cream, room temperature
¼ cup flour
2 tsp vanilla extract
Instructions
Preheat oven to 320 degrees and line the bottom of a 9" spring-form pan with parchment paper.
Crust
Combine the ingredients in a small mixing bowl and stir together with a fork until all of the crumbs are coated evenly.
Press the mixture onto the bottom of the spring-form pan making sure that the crumbs are compact.
Place in the refrigerator until the cheesecake filling is ready.
Cheesecake Filling
Using a stand mixer or electric mixer, beat the cream cheese and sugar together on low speed until there are no lumps and the cream cheese is smooth.
Scrap the sides of the bowl as needed.
Add the rest of the ingredients one at a time, beating on low speed until each one is fully incorporated before adding the next.
Scrap the sides of the bowl between each addition.
Pour the filling into the pan and gently tap it down on a hard surface to help remove any air bubbles.
Prepare water bath (optional)
Bake in the oven for 1 hour.
Turn the oven off, crack the door and let it cool down for 1 hour.
Remove the cheesecake from the oven and run a sharp knife around the inside rim of the pan to release the cheesecake from the sides. (This will help prevent cracking as it cools)
Let the cheesecake sit on the counter until it's completely cooled.
Place in the refrigerator overnight to set up.
When you are ready to serve, remove the spring-form pan and let sit out for 30 minutes before serving.
Do you use an Instant Pot? I tweaked this recipe and came up with a Instant Pot Cheesecake Recipe.
Watch the video to see how easy it is!

Video Tutorial – How to Create a Water Bath for Cheesecakes