"I love that I can have my favorite flavor combination … chocolate and peanut butter … without the guilt!"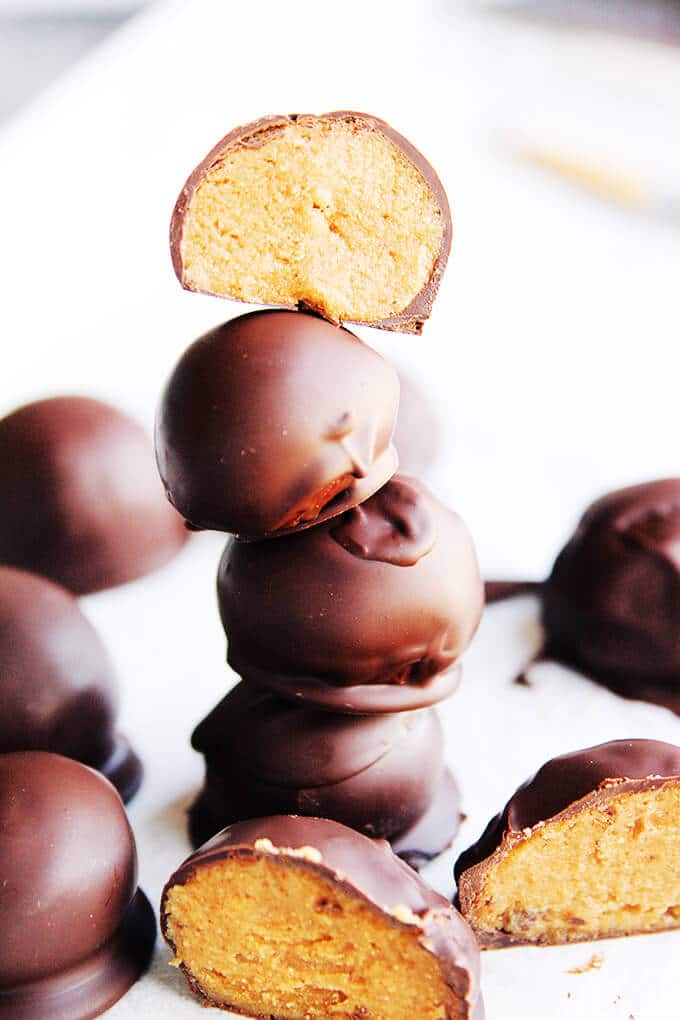 Low Fat Peanut Butter Balls covered in spicy dark chocolate.
I know you're asking … how a peanut butter ball can be low in fat and still taste good?
Have you ever heard of peanut butter powder? If you haven't, you've got to try it.
Peanut butter powder has 75% less calories and fat than traditional peanut butter. You simply mix it with water until you get the consistency you're looking for and use it like regular peanut butter. I use a peanut butter powder call PBfit that I find in the natural foods section at my local grocery store.
Update: I found the large containers of PBfit at Sam's Club. Less than $10 for the biggest jar!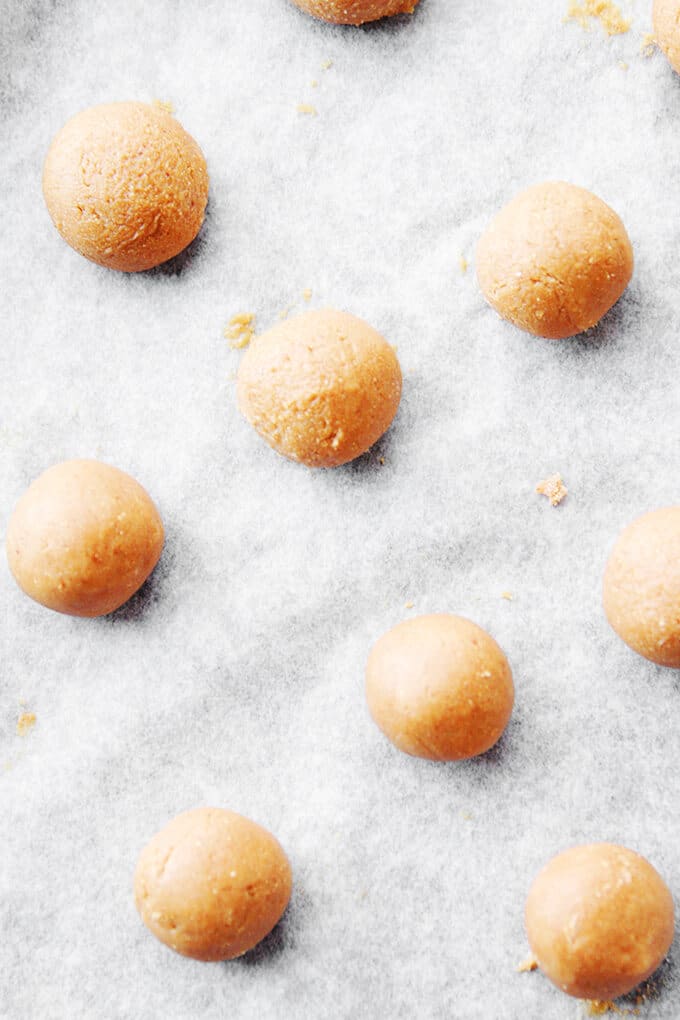 Peanut butter powder is less salty than regular peanut butter so you may want to add more salt than the recipe calls for.
Once you mix the ingredients together, taste the dough and adjust the salt accordingly.
Also, if the dough is too sticky, just add more peanut butter powder, about a tablespoon at a time, until you get a stiffer dough.
Scoop little mounds of the dough onto wax paper, let it chill in the freezer for 30 minutes and then roll the scoops into smooth balls with your hands once the dough has firmed up.
Next, dip the balls into the melted chocolate, place them on wax paper and let them set up. Pop them into the fridge to set up faster!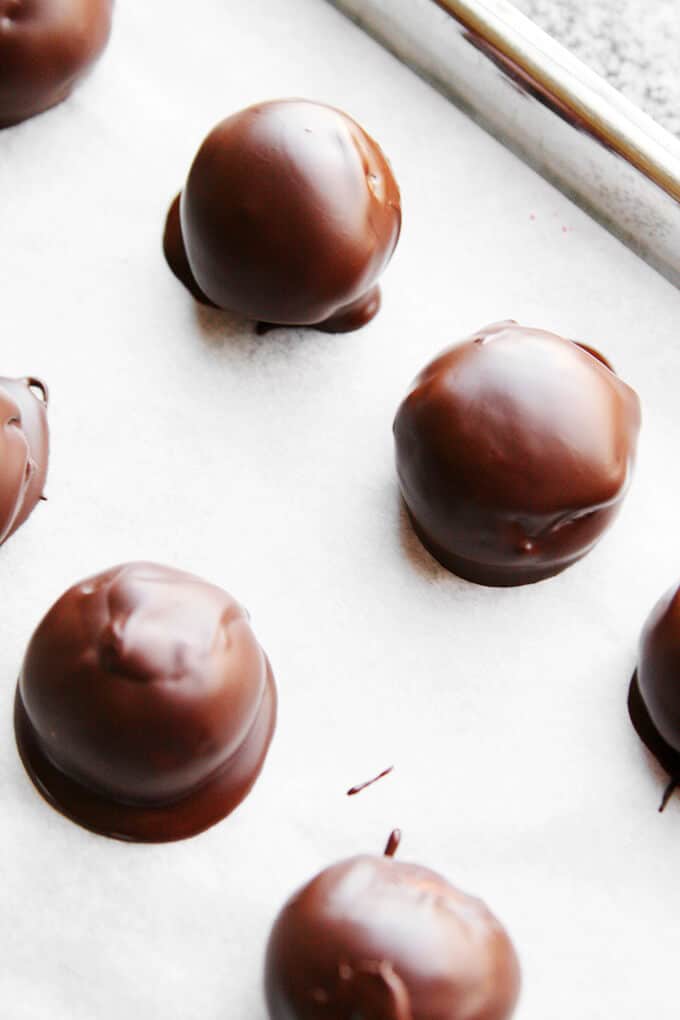 I love chocolate infused with cayenne pepper because … well … I love all things spicy! If you're not into it, just leave the cayenne pepper out. It will still taste delicious. I promise!
They taste better if you let them stay in the refrigerator overnight before serving, so go ahead and make them ahead of time.
I hope you enjoy!
Print
Low Fat Peanut Butter Balls
Author:

Prep Time:

10 mins

Total Time:

10 mins

Yield:

16
---
Ingredients
Peanut Butter Filling
2 cups peanut butter powder
2/3 cup water
2 T coconut oil, melted
1 tsp salt
1 1/2 cup powdered sugar
1/2 tsp vanilla extract
Chocolate Coating
8 oz. dairy free dark chocolate chips
1 T coconut oil
1/4 tsp cayenne pepper (optional)
---
Instructions
In a medium mixing bowl, combine the peanut butter powder and water until you get a thick peanut butter consistency. (Add more or less water as needed)
Add the remaining ingredients and stir until fully combined
Scoop 2 T balls onto on a baking sheet lined with waxed paper. Do not worry about their shape, you will roll them into smooth balls after they firm up in the freezer
Place the balls into the freezer for 30 minutes
Melt the chocolate with the coconut oil in a microwave, stirring every 30 seconds until you get a smooth, shiny consistency. (Add the cayenne pepper)
Remove the peanut butter balls from the freezer and roll them into smooth balls with your hands
Dip them in the melted chocolate and transfer them back to the waxed paper
Place them in the refrigerator to set up
Keep them refrigerated until ready to serve