If you're from the south, then you know you gotta have corn casserole for Thanksgiving. Recently, one of my best friends was raving about a corn casserole recipe that she was making. She was taking it with her to meet her boyfriends parents for the first time and wanted to make a good first impression.  She told me, "This is the ugliest casserole but it's so darn good, you can't stop eating it!" It's called Green Chili Corn Casserole. I have to say she's right, it's one of the best corn casseroles I have ever had.  It's creamy and sweet, with that little hint of green chili in the back ground.  I put it together in no time, and it doesn't take up much room in the oven on turkey day. Here's how to put it together.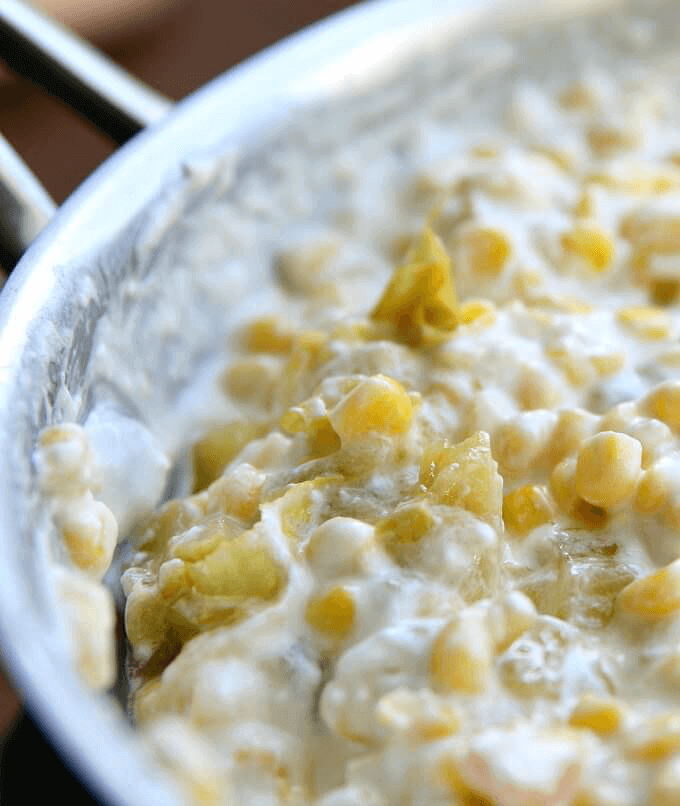 Melt the butter, cream cheese and milk in a heavy saucepan over medium heat and stir until smooth.  Add the corn, green chilis and salt and stir to combine everything.
Place into an 8″ x 8″ baking dish, sprinkle the top with parsley and bake at 300° for 30 minutes.
That's all there is too it folks, it's really that simple. I hope you and your family have a wonderful, safe Thanksgiving this year and every year to come. Happy Holidays!
Green Chili Corn Casserole
Ingredients
4 T butter
8 oz. cream cheese
¼ cup milk
2 cans corn (15.25 oz.) drained
1 can green chilis (4 oz.)
1 tsp salt
2 tsp dried parsley
Instructions
Preheat oven to 300°
In a heavy saucepan, melt butter, cream cheese and milk over medium heat. Stir until smooth
Add corn, chilis and salt and stir to combine
Place into an 8" x 8" baking dish, sprinkle with dried parsley and bake for 30 minutes
 Savory Roasted Sweet Potato Casserole