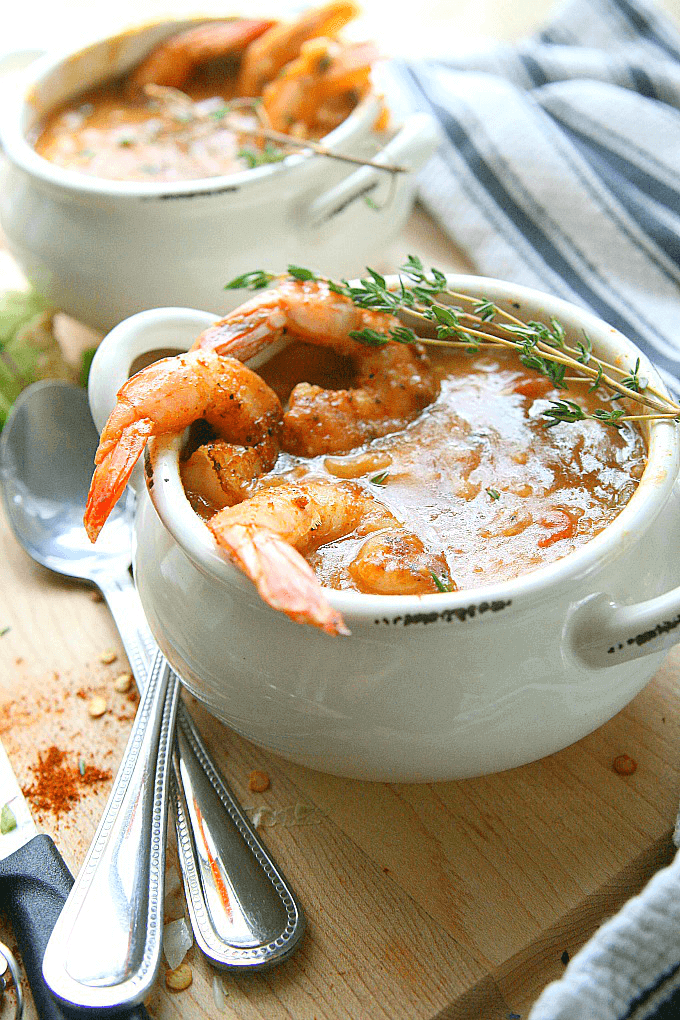 Laissez le bon temps rouler! This Cajun Shrimp Chowder is Louisiana comfort food at it's finest! With big juicy blackened shrimp in a smokey corn and potato chowder…..  It's the perfect choice for a cool fall evening.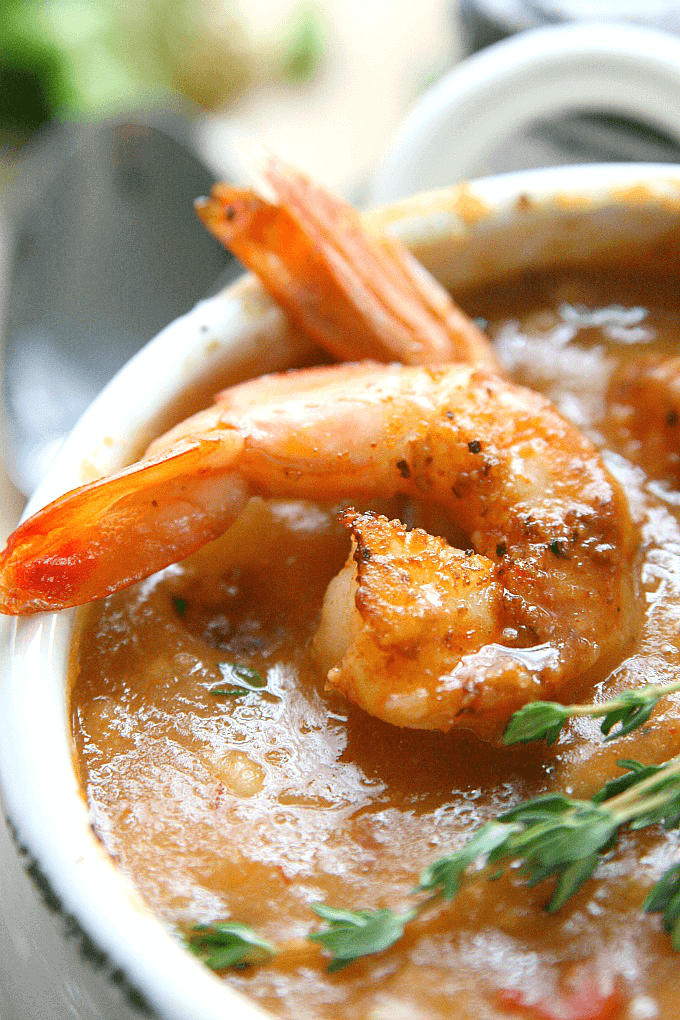 Growing up in southern Louisiana as a child, I developed a love for seafood early on.  My father and his friend would go "shrimping" along the coast and they always came home with coolers full of sweet, delicious shrimp.  I've been completely spoiled with the best seafood money can buy, so for me to enjoy eating shrimp, they have to be fresh and cooked perfectly. This dish certainly does not disappoint.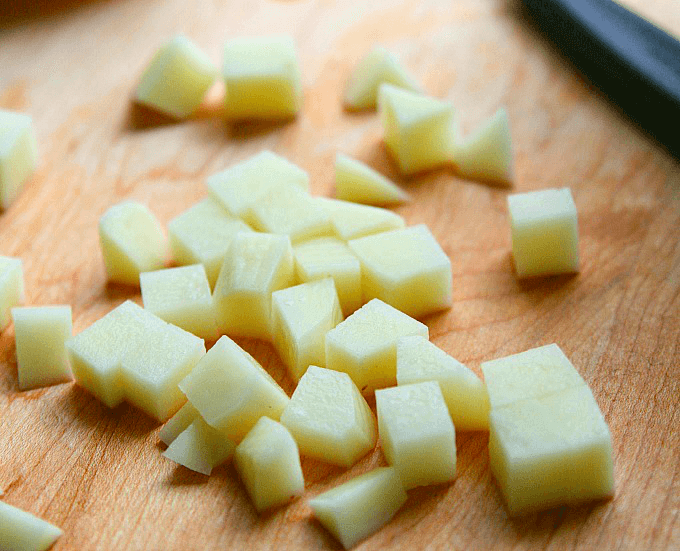 This chowder is incredibly easy to put together. Start by peeling and dicing medium potatoes into small cubes and then placing them in a stockpot with chicken stock and ham seasoning. Let it simmer while you prepare the vegetables. In a heavy sauce pan, saute the diced bell pepper and onion in olive oil over medium-high heat. Once the veggies become soft, add the corn, minced garlic and roasted red pepper and cook until they are heated through. Add the seasonings to the corn mixture while it is in the saucepan so that the heat can help develop each of their unique flavors.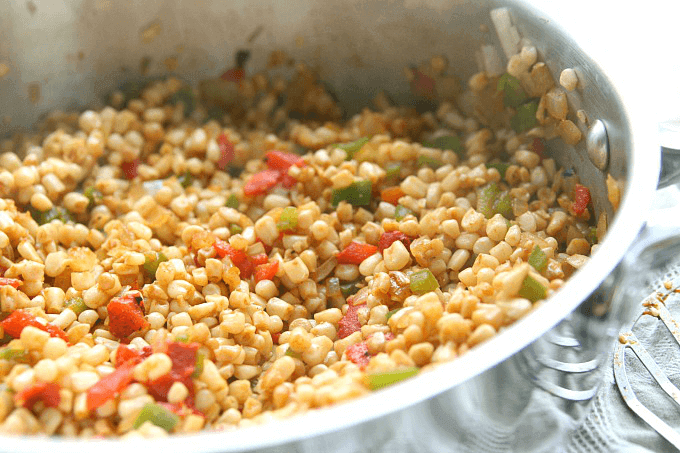 Combine the corn mixture with the potatoes in the stockpot and simmer for 30 minutes, stirring occasionally.  To thicken the chowder, puree about one and a half cups of it in a blender, add it back to the pot and stir.  The chowder should be nice and thick. You could stop here and just call it corn and potato chowder because it is actually good enough to eat on its own. However, I think the addition of blackened shrimp really put this dish over the top.  It gives the chowder that rich seafood flavor that you expect when eating a Cajun dish.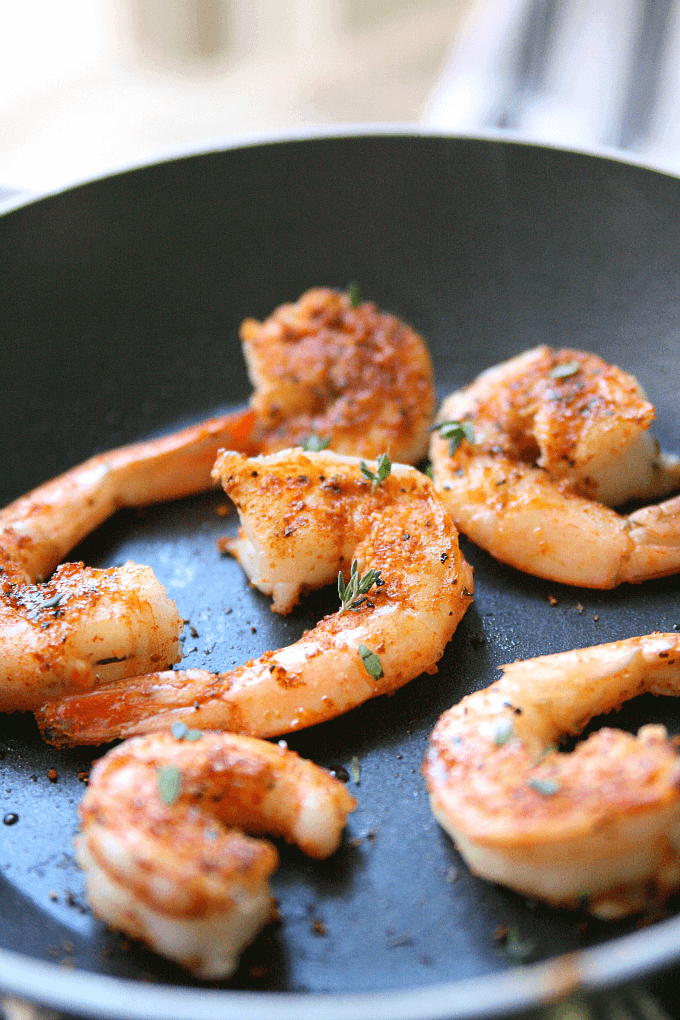 Peel and de-vein the shrimp and coat both sides with blackened seasoning.  Pan fry them for about a minute and a half on each side, making sure they are fully cooked. Spoon some chowder into a bowl and top with the blackened shrimp and a little fresh thyme.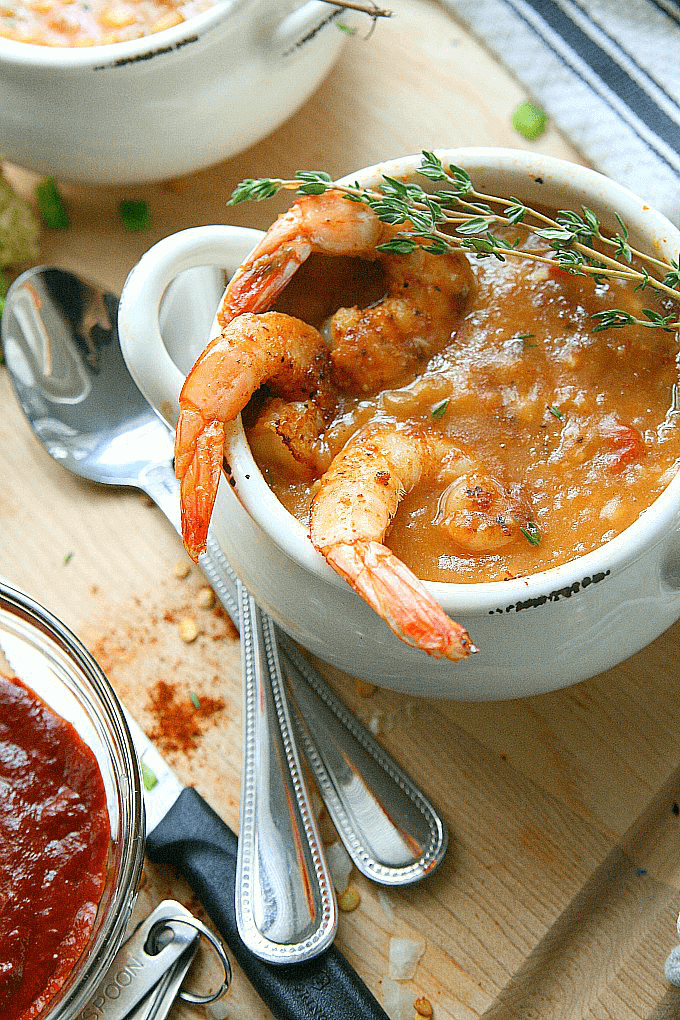 Of course I have to put some good ole' Louisiana hot sauce in my chowder because I love the kick it offers from the vinegar and heat.  One of the things I love about Cajun Shrimp Chowder is that there is no need for butter or heavy cream.  It's packed with tons of flavor without tons of extra calories!
C'est si bon!
Cajun Shrimp Chowder
Ingredients
6 medium potatoes, peeled and diced into small pieces
4 cups chicken stock or water
2 packets of Goya Ham Flavored Concentrate
4 T olive oil, divided
½ cup onion, diced
½ cup bell pepper, diced
1 T garlic, minced
2 cans sweet corn, drained
1 roasted red pepper, diced
2 tsp paprika
1 tsp seasoned salt
¼ tsp cayenne pepper
½ tsp ground thyme
1 lb. shrimp, peeled and de-veined
2 T blackened seasoning
3 sprigs of fresh thyme
Instructions
Place the diced potatoes, chicken stock and ham seasoning in a medium stockpot and simmer on medium heat while preparing the vegetables
In a heavy saucepan, heat 3 tablespoons of olive oil over medium-high heat
Saute the onion and bell pepper until they start to soften, about 5-7 minutes
Add the garlic, corn, roasted red pepper, ancho chile sauce, paprika, seasoned salt, cayenne pepper and ground thyme to the saucepan and cook another 5-10 minutes
Pour the corn mixture into the stockpot with the potatoes and let simmer for 30 minutes, stirring occasionally
Puree 1 and ½ cups of the chowder in a blender and then pour back into the stockpot and stir
Sprinkle both sides of the shrimp with blackened seasoning
Heat a non stick pan with 1 tablespoon of olive oil over high heat
Cook the shrimp for 1 to 2 minutes on each side, making sure they are fully cooked
Spoon the chowder into a bowl and place the blackened shrimp on top
Garnish with fresh thyme